The India Cable: Supreme Court and Dissent, and Rahul Gandhi 2.0
India and the Quad; Bihar politics; Cash is again king, Covid numbers and more
From the founding editors of

The Wire

— MK Venu, Siddharth Varadarajan and Sidharth Bhatia — and journalists-writers Seema Chishti, Sushant Singh and Tanweer Alam.




Editor: Pratik Kanjilal
---
Snapshot of the Day
October 7, 2020 
Pratik Kanjilal
Rahul Gandhi has been allowed into Haryana after picketing at the border. The Hathras outrage continues with the arrest of Malayalam journalist Siddique Kappan and three others under the draconian UAPA, and for sedition, but the specific charge is funding terrorism. Rahul Gandhi has become a serious contender for office, thanks to his willingness to take to the streets. He says that the Opposition is not functioning because the framework of democratic institutions has been captured. And economist Joseph Stiglitz adds that the religious polarisation of India will prevent an economic recovery in the short term, and damage the nation forever.  
The pandemic appears to be slowing, but the numbers could be deceptive. Indians are hoarding cash, like American survivalists hoard canned food. Caste is not a north Indian monopoly, as the fallout of a marriage of a Dalit MLA and a priest's daughter in Tamil Nadu shows. 
Quad ministers decide to meet annually, irritating Beijing. In Bihar, Nitish Kumar is even more upset as the BJP tries to pull the very earth from beneath his feet. 
A study finds that Facebook is indeed tolerant of hate speech in India, and Mumbai vows to go after the originators of fake social media accounts and bots which were used to vilify its police. And its film industry, taking a beating from all quarters, commits to make wholesome, nourishing, nationalist entertainment low on spices and with no imported condiments.
---
Shaheen Bagh: Democracy and dissent go 'hand in hand' but not on the streets
Siddharth Varadarajan
The Supreme Court has yet to hold hearings ― let alone pronounce ― on the constitutionality of the controversial Citizenship (Amendment) Act but it ruled today that the iconic protest against that law waged by the women of Shaheen Bagh on the streets of their neighbourhood had no right to continue indefinitely if it obstructed other citizens. The matter is, strictly speaking, infructuous as the protest site was dismantled in March itself, in the wake of the first COVID-19 restrictions on public gatherings. But the court, which had been approached by litigants connected to the Bharatiya Janata Party in January, decided to weigh in on the constitutionality of protests regardless.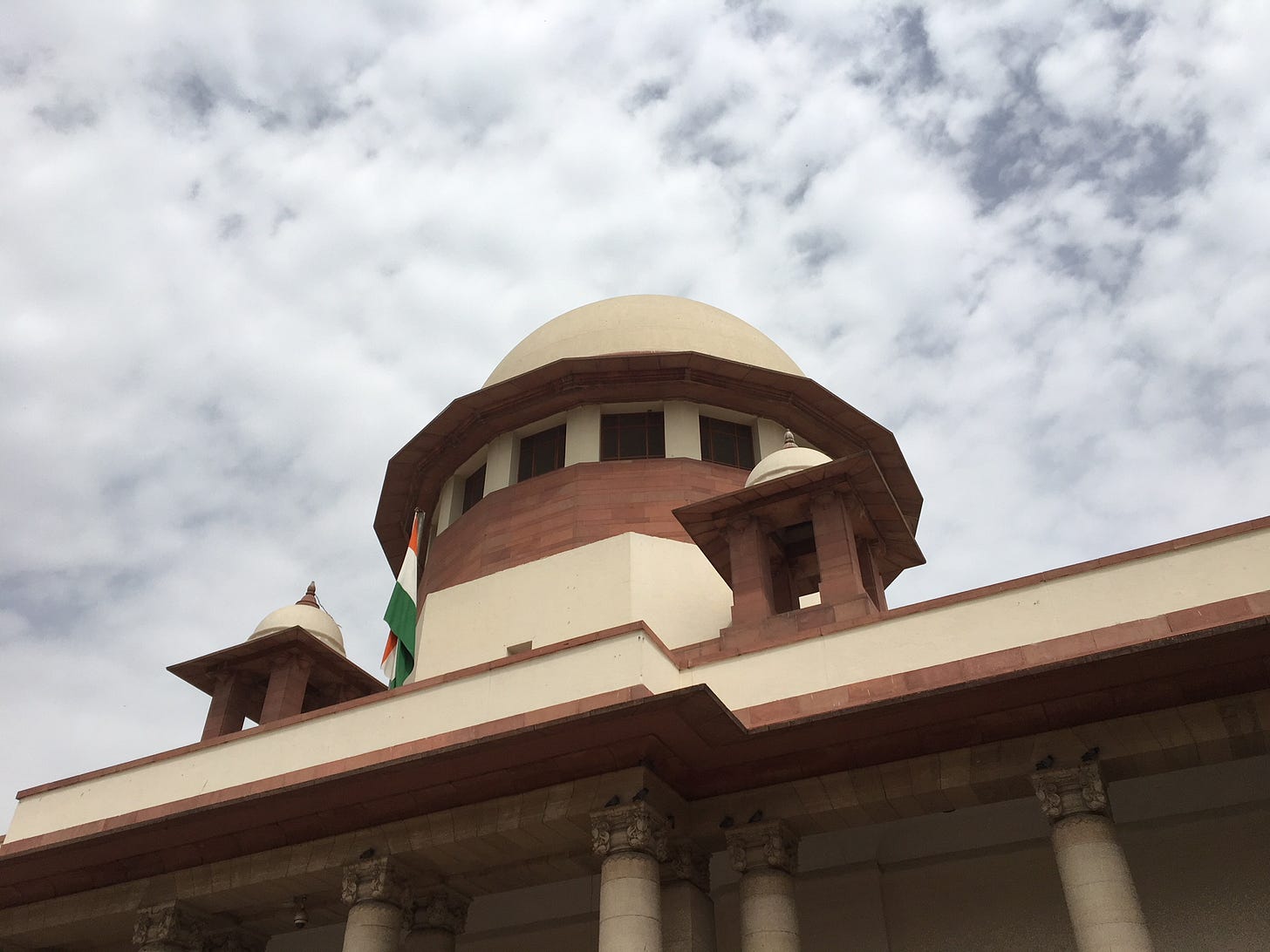 The Shaheen Bagh protest involved the blockage of traffic but the protestors said the police exacerbated the problem by blocking off a number of access roads in the area too. 
At the time of dispatch, the text of the judgment – delivered by a bench of Justices Sanjay Kishan Kaul, Aniruddha Bose and Krishna Murari – had not been uploaded on the Supreme Court's website. However, based on extracts read out in open court, the bench appears to have frowned upon the idea of public protests outside "designated areas".
While any analysis of the judgment's impact must await the actual order, three points are immediately clear. 
First, it will likely become more difficult to stage public protests against government policies across India. Leaving aside the pandemic, the police in many states are quick to impose Section 144 of the Indian Penal Code – which prohibits gatherings of five or more people – across broad swathes of territory. Even if protests are allowed, they are forced into small and out-of-the-way spaces where they are less visible to the wider public and the media. 
Second, the police in Delhi, Uttar Pradesh and other states will use the latest verdict to double down on attempts to criminalise those staging 'unauthorised' protests. Although the Supreme Court has only said that the right of the women of Shaheen Bagh to protest did not extend to blocking roads, and that the police could and should have evicted them, the Delhi Police has already gone several steps ahead and linked Shaheen Bagh and other peaceful protests like it across the capital with the communal riots which shook Delhi from February 23-26 this year.
Third, if as initial media reports suggest, the court has also made observations about how the Internet and social media can be "highly polarising", then overzealous police officers are likely to seize on this aspect to justify restricting the right to protest online as well.
---
Covid count
Is the Covid-19 pandemic slowing down in India? Soutik Biswas of the BBC has a Twitter thread on the topic, where he explains that the sharp drop in cases of infection from 100,000 per day to 60,000 does not provide the full picture. Experts tell him that India's testing numbers may be up but half of the tests are the less specific rapid antigen ones. Moreover, India has allowed on-demand testing, which may have inflated the number of asymptomatic persons detected. The best way to assess if the pandemic is slowing is to look for a sustained fall in death rates, as a moving seven-day average.
---
Cash and carry
Another of PM Modi's dreams has turned sour ― that of the cashless economy, which was to be created by his sudden late night announcement of demonetization in 2016. With the currency in the hands of the public crossing Rs 26 trillion in mid-September, this is the highest ever ratio of cash to GDP since Independence, at 15%. In 2016, when PM Narendra Modi promised a digital economy post-demonetisation, cash in the Indian economy was at Rs 17 trillion, and was 12.2% of GDP. In the four years since, cash in circulation has grown 53%.
---
"Jeans and coolers"
If you thought, because of the Hathras rape case, that caste is a north Indian phenomenon, think again. AIADMK Dalit MLA A Prabhu's marriage with a 19-year-old Brahmin girl has landed in a controversy with the bride's father complaining that his daughter was abducted by the legislator. Prabhu had married the priest's daughter in the presence of his family on Monday amid drama, as the girl's father attempted to immolate himself outside the venue. The Pattali Makkal Katchi, which has a considerable Vanniyar vote bank in the area and is an AIADMK ally, had made remarks in the past that Dalit boys were luring Hindu girls into marriage "by wearing T-shirts, jeans and coolers", the last word local argot for sunglasses. It has come down all guns blazing against Prabhu as well, accusing him of "threatening the girl's family" — a script for a masala Tamil film.
---
Quad core
The Chinese shadow continued to loom large over the region as the US, Japan, India and Australia agreed in Tokyo to make the Quad ministerial meeting an annual event. Besides the US, none of the other Quad members referred to China directly, nor did the separate readouts of the meeting issued in Washington, Delhi, Tokyo, Canberra.  But the foreign ministers of the four-nation grouping affirmed the strengthening of a free, open and rules-based international order, the Japanese government said in a statement issued after the meeting.
In his speech, Indian foreign minister S Jaishankar sought "respect for territorial integrity and sovereignty" and "peaceful resolution of disputes", a thinly-veiled reference to the Chinese incursion in Ladakh. The Chinese Ministry of Foreign Affairs responded with a sharp statement soon after the meeting ended: "Instead of targeting third parties or undermining their interests, cooperation should be conducive to mutual understanding and trust between regional countries."
---
Captive institutions
During his tractor rally in Punjab and Haryana against the three farm laws, Congress leader Rahul Gandhi laid bare in a press conference what many believe is the real malaise of Indian democracy – a forcible capture of institutions that enabled the BJP's dominance over India's polity."Opposition in any country functions within a framework," he said. "What is that framework? It is the press, the judicial system, and the institutions that protect the voice of the people. That entire framework has been captured."
"The entire architecture of giving voice to the people of India is captured and controlled by the BJP. If the entire institutional architecture is captured, then to say that the Opposition is weak… that's not really a correct statement. Give me a free press, give me institutions that are free and the government will not last," he added.
He also referred to the row with China: "Modi said India's land has not been captured. 1,200 sq km has been captured. Ask any army general and he will tell you. China knows this man will give 1,200 sq km to protect his image. Modi lied to the country. Call the Prime Minister to a press conference and ask him. Why is he scared? He is interested only in his own image. He waves his hand in an empty tunnel. He knows the media is in control, no questions will be asked." See the official video tweeted by Rahul Gandhi. 
---
BJP undercuts furious Nitish
Elections to the Bihar Assembly are due at the end of the month, the first to be held in a big state after the pandemic struck. Since it's in the Hindi belt, it also means that it has the BJP's undivided attention, and its results will provide important markers for both the ruling combine and the Opposition. The ruling alliance announced 115 seats apiece, to be contested by the BJP and Chief Minister Nitish Kumar's JD(U). The Opposition Grand Alliance has already announced its seat division. 
Is the BJP undercutting its now oldest partner in government, Nitish Kumar, by propping up its partner at the Centre, veteran Dalit leader Ram Vilas Paswan's LJP, as an independent player? Yesterday, the BJP rushed to "calm" anger as a "furious" Nitish Kumar delayed his appearance at a joint press conference. In the conference, four-time CM Nitish Kumar eventually said that there were no differences between JD(U) and the BJP. 
---
Facebook guilty as charged
The serious charge that Facebook in India is dangerously tolerant of hate speech, which is supported even by some members of the ruling party, seemed to ebb after the social network's representative appeared before a Parliamentary Standing Committee last month. But an investigation has found widespread evidence of incitement and planning by Hindutva groups on Facebook in the days leading to the violence in Delhi. Of course, the Delhi Police finds no evidence that Hindu groups allied with India's ruling party were part of the February riots 'conspiracy'. 
The investigation also found evidence supporting the Mumbai Police commissioner's claim that 80,000 bots and fake accounts were directed against the police and the Maharashtra government ― online groups did incite people over the Sushant Singh Rajput case. State Home Minister Anil Deshmukh has said that the government would take action against social media accounts which had maligned the police.  
---
Stiglitz: sectarian politics will "weaken India forever"
Industry body FICCI and the Columbia University Alumni Association organised an online interaction with economics Nobel winner and former World Bank chief economist Joseph Stiglitz (see video), in which he lumped India with the US and Brazil as a "poster child of what not to do". "It (India) picked up one idea that is important. Lockdown. Did not think about what it means in a poor country. How are people going to live, a large number of people moving across the country. One could not have imagined anything worse for spreading the disease," he said. 
He also pointed out sectarian politics as a national security risk. Asked how to work towards economic recovery, he said: "I would start by trying to create an inclusive society. Politics of division is an antithesis of what needs to be done. Modi has tried to divide your country, Muslims against Hindus, and that is going to undermine your society and economy no matter what else happens. This fundamental division will weaken India forever… So if I were to say where to begin, I would say the politics of division, get rid of that." 
---
Bollywood to polish apples
Under sustained attack from many sides, on allegations ranging from nepotism to rampant drug use, the Mumbai film industry, or Bollywood has offered to make movies that reflect "Indian values and culture." Filmmaker Karan Johar says that he is "inspired by PM Narendra Modi" and a new initiative 'Change Within', to celebrate 75 years of Indian independence (in 2022) will be launched to tell stories of "Indian values and valour."
---
Quite cricket, says Gavaskar
In an interesting interview, batting legend Sunil Gavaskar denies that the "spirit of cricket" exists, any more than ghosts do. He defends the bowler knocking the bails off at the non-striker's end when he is out of the crease and calling for him to be declared out. Gavaskar asks why the use of this law of the game is referred to as being 'Mankaded' (after Vinoo Mankad who famously ― but unusually in his time ― drew upon the rules to get batsmen out through this method).
---
Rahul Gandhi 2.0
Sidharth Bhatia
Congress leader Rahul Gandhi is taking his political battle against the Modi government and its policies to the streets. The pandemic has not prevented him from stepping out with a large number of party members on a range of issues, from the march of the migrants early this year, to the UP government's heavy-handed behavior after the brutal rape and murder of a young Dalit girl. Now, he has taken out tractor rallies in the tradition of Mahendra Singh Tikait against new laws which have angered thousands of farmers in Punjab and Haryana.
On their part, the BJP and its state governments have responded with mockery or refused outright to allow him to enter their states. In Hathras, where the young woman's family lives, a cordon was thrown around the village to prevent outsiders from coming in, and Gandhi and his sister Priyanka Gandhi Vadra faced policemen who had orders not to let them proceed. But soon, wiser counsel prevailed ― the two went to the village, met and hugged the parents, and a thousand media images quickly spread all over.
The Haryana government simply stopped Rahul Gandhi's cavalcade at the border, and he live-tweeted to say he would stay put for as long as it would take to get in. Eventually, he was let in with some partymen. 
Such resistance from BJP state governments can only help Rahul Gandhi, because it shows him as a politician who is ready to stand up to Modi, when no other political party comes out on the street anymore. Street politics is seen as a relic of the 1970s and '80s, and even his own party men and women seem reluctant to step out, preferring social media or the television studio route to criticize the government. In that, Rahul Gandhi is an exception.
On its part, the BJP is well ensconced in power in the Centre and these states, but still appears to be rattled by Gandhi's public protests. The BJP routinely ridicules him on every platform and dismisses him as a leader of no consequence. The Congress is reduced to less than 50 seats in Parliament and is no threat to the BJP, so why does it get so worked up over his utterances and actions? By using force to prevent him from coming to their states, the BJP government has earned him huge media publicity, which can only work to his advantage.
---
Interesting opeds
In 'The Disintegration of the Criminal Justice System', Abhinav Sekhri says that the apparatus of evidence and trial is being replaced by a problem-solving mechanism controlled by the executive.
"What is new is for authorities to brazenly array state powers against a murder victim's grieving family, and deploy the high-tech tools of a surveillance state to intimidate those who are championing their cause." South Asia bureau chief Amy Kazmin in the Financial Times, on the Hathras case in her 'New Delhi Diary'. 
---
Watch Out

Today's recommended viewing is political scientist and columnist Pratap Bhanu Mehta's 56-minute talk on 'The Crisis of Democracy in India', in which he insightfully analyses the causes underlying the present crisis in Indian democracy, with five sharp propositions.
---
Opinion is free
"Peddlers of hard drugs (with more than a small quantity)have been released on bail within a fortnight but #RheaChakraborty remains in jail since Sept 8th when no drugs were found on her. Firstly it is hypocritical , secondly bail should be the norm when the offense is not grave," tweeted Times Group MD Vineet Jain, referencing a clipping in his newspaper, in which it argues that the actress is being held without any substantial evidence being found against her. 
Ironically, his channel Times Now had led the Mumbai witch hunt in the course of which the actress was apprehended and is being denied bail. It was surpassed in its zeal only by Republic World, but that's in a world of its own (see god-tier meme here).
Rhea Chakraborty has finally been granted bail, but cannot leave the country, or leave Mumbai without permission. Her brother's bail plea was rejected. 
That's it for today. We'll be with you again tomorrow, on a device near you. If India Index was forwarded to you by a friend (perhaps a common friend!) you can get up close and personal by SUBSCRIBING. 
---
From the founding editors of The Wire—MK Venu, Siddharth Varadarajan and Sidharth Bhatia—and journalists-writers Seema Chishti, Sushant Singh and Tanweer Alam. Editor: Pratik Kanjilal