The India Cable: Amit Shah and the Media, Scindia Loses Face, IFS Loses Class
Plus: Electoral bonds in business again, government 'Supermodel' finds Covid-19 out of business, content aggregators face curbs, teeniest Chinese investments under lens
From the founding editors of The Wire—MK Venu, Siddharth Varadarajan and Sidharth Bhatia—and journalists-writers Seema Chishti, Sushant Singh and Tanweer Alam. Editor: Pratik Kanjilal
---
Snapshot of the day
October 19, 2020
Pratik Kanjilal
Just when relations between India and China were settling down like a low-grade fever that never goes away, at least one Chinese soldier is in Indian custody in Ladakh. Corporal Wang Walong was taken into custody today from Demchok, an area near the Himachal Pradesh border, where the LAC is disputed but no tensions have been reported so far. In Kashmir, Omar Abdullah tweets that his party has received a summons from the Enforcement Directorate. "This is nothing less than political vendetta coming days after the formation of the People's Alliance for Gupkar Declaration," he said today. And this morning, the Bombay High Court directed the police to summon Arnab Goswami if he is to be added as an accused in the TRP-rigging FIR. The court refused to consider granting him bail.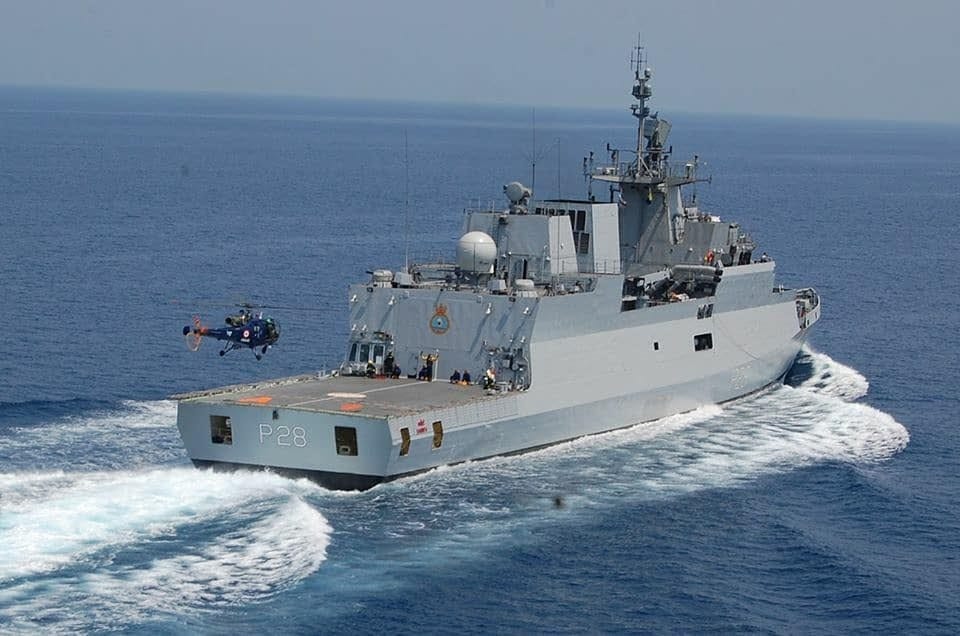 Indian Navy – Sri Lanka Navy Maritime Exercise SLINEX-20 off Trincomalee from 19 to 21 October 2020. Picture: Indian Navy
A government-appointed panel finds that Covid-19 crossed its peak in India in September and cases will become minimal by February. A relieved Union Health Minister Harsh Vardhan takes the rare opportunity to tick off Kerala for being careless during Onam and triggering a spike. But the north Indian festival season is days away, and outcomes spikier than the virus itself are possible. 
In Halishahar, West Bengal, the design of puja pratimas honoured frontline Covid workers. Their contribution to fighting the pandemic was indeed "an act of god", to borrow a phrase misused by the finance minister. 
No sign of Assembly polls in Kashmir, but the government has introduced elected district development councils, a third tier of local bodies under the Panchayati Raj Act, with no other tiers visible. The PDP saw it as the end of politics, and that was before the ED summons. 
Umar Khalid's father reports that all is well with his son, and that he is "refreshed" and rejuvenated. 
With the winter coming on, bad air is being addressed by an app ― which is to the BJP what CCTV is to AAP ― to help citizens to steer clear of smog chokepoints instead of badgering the government about them. And to the "dismay" of the TV ratings agency BARC, its correspondence is being used by Republic News to address its problem of recklessly free speech.  
Rohan Jaitley, son of the late BJP minister Arun Jaitley, has been elected chairman of the Delhi and District Cricket Association and is being roasted on social media. Amit Shah's son Jay Shah is secretary of the Board of Control for Cricket in India. BJP says no to dynasties? No, it's quite cricket. 
A Dalit lawyer was killed in Gujarat for "anti-Brahmin" posts, says the SIT. Further investigations are on. And in Ajmer, gau-seva is rewarded with an impromptu demonstration of the impressive martial art Gai Kwon-do.
---
Corona supermodel
A government-appointed committee of seven mathematicians and epidemiologists declares that India has crossed the peak of the pandemic. "It had peaked somewhere in the middle of September, and now it is beginning to wind down," said Prof M Vidyasagar, who heads the expert committee of the Department of Science and Technology. But Niti Aayog member VK Paul speaks of a second wave, betraying the anxiety of the government about a spike in the festive season. The 'COVID-19 India National Supermodel' study, which predicts minimal cases by February, does not take the expected festival spike into account. Ayurvedic supplements are a concern, as anxious citizens tank up on untested substances. Also, global data still has India on top of the world, with a huge case load and too many deaths over the past fortnight. Simultaneously, it is lowest on the scale for economic recovery, as Kaushik Basu points out.
The Financial Times reports that India's recovery will be led by the hinterland, with tractors and motorcycles moving faster than other sectors. At the same time, an analyst quoted devastates the thesis, saying that they have no idea how rural areas are faring against Covid-19, and that the rural sector cannot be strong if the economy isn't.
---
26% FDI cap: In aggregate, it's bad business
The Modi government clarified yesterday that the new foreign investment limit of 26% for digital news media will also cover news aggregators, to "check foreign influence and interference in India's domestic affairs, and to check Chinese and other overseas funding in news websites." Many news aggregating platforms like Inshorts, Dailyhunt and UC News have Chinese investments and will come under scrutiny. But giant aggregators like Google and Facebook may also be covered by the new regulation. 
There is no clarity yet about whether Google and Facebook, which are now invested in Reliance Jio, will be asked to separate their news aggregating platforms and make them 74% Indian-owned. Google News is one of the most popular platforms aggregating news today. Google could claim that its Indian news aggregation operation is not covered by Indian laws, and disputes over jurisdiction would follow.
The government has argued that the new rules level the playing field for Indian digital news media aggregators and those owned and funded by foreign entities. But most Indian digital news media owners are always looking for more foreign funds to scale up operations. Many currently have foreign investment levels of well above 26%, and will now struggle to find Indian buyers to replace foreign equity investors. Finding Indian buyers would be tough as Indian capital is both scarce and scared. The new rules will harm the Indian news aggregating ecosystem, experts say. 
---
Every yuan to be vetted
Even the most "minuscule" of Chinese investments in India must be green-flagged by the government. In April, a threshold for investments requiring clearance was expected, but that has been abandoned and fresh guidelines could put all Chinese investments under the spotlight, possibly excluding Taiwanese funds. Meanwhile, Xiaomi phone users complained that the weather in Arunachal Pradesh was not showing up on their devices. The company termed it a "technical glitch" and said it had now fixed the weather app to cover the border state.
---
Electoral bonds reopen for Bihar poll
Electoral bonds, which funnel money opaquely into the accounts of political parties, will open again, just ahead of the Bihar state elections. The 14th tranche of electoral bonds will be on sale from today till October 28. The Election Commission of India has said that it has "no objection", with certain conditions. The constitutionality of this controversial scheme has been pending in the Supreme Court for two years now. Before the general election in 2019, the BJP cornered 94.8% of all bonds sold. 
---
Domestic workers' crisis 
A survey conducted in Bengaluru among 2,400 domestic workers in the first two weeks of May showed that 87% were told not to come to work after the lockdown and were not sure when they would be recalled. A staggering 91% of workers lost their salaries for April. Nearly 50% of those above the age of 50 also lost their jobs during the lockdown. With no social security for more than 4.75 million domestic workers in the country, the need for safeguarding their rights is urgent.
---
The Long Cable
An interview that revealed a lot, but about the media and not Amit Shah
Siddharth Varadarajan
The interview Amit Shah gave News 18 editor-in-chief Rahul Joshi on Saturday may have quietened speculation about the home minister's health but it has confirmed our worst fears about the well-being of the Indian media.
Stricken by the coronavirus, Shah had been out of action for several weeks due to apparent post-recovery complications. There were plenty of subjects on which he was neither seen nor heard, especially in areas that directly fall under the broad remit of the Home Ministry, and this interview was the ideal opportunity to draw him out on those. 
Now Amit Shah and Narendra Modi are very careful about whom they give interviews to. You will never see them sitting down with a Karan Thapar or a Ravish Kumar or an Arfa Khanum Sherwani, not even to take a sip of water and then flee. So I do not expect any of the channels and editors who do get the chance, to actually put difficult questions to the government's top management or be in the least adversarial. But how about just using the time to put basic questions on important topics so that the public can at least be better informed about their leaders?
Sadly, very little of that happened.
Half of the 50 minute interview was devoted to Bihar, which goes to the polls this month, and essentially served as a platform for Shah to make the case for why the BJP and its allies deserve to win and are going to win. Then the home minister was asked about the controversial farm laws pushed through Parliament, where the interviewer seemed just as eager to vouch for the government's 'reform' credentials as Shah. On the standoff with China in Ladakh, where Modi is widely acknowledged to have misled the country with his claim that there has been no intrusion by PLA soldiers, Shah would not answer a question on whether the Chinese have taken Indian land.
Shah was not asked about the acquittal of all the 32 Hindutva leaders in the Babri Masjid demolition case, a curious omission given that he acknowledged the BJP's role in the Ram Janmabhoomi agitation which led to the mosque's demolition. A simple question should have been put to him on whether his government intends to appeal the acquittal or not. Instead, Joshi asked him about the demand being raised by some Hindutva groups about replacing a dargah in Mathura with a 'Krishna Janmabhoomi' temple. Shah's answer was highly instructive: "We are not a party to this demand and I have no comment to make about it." Given that Parliament passed a law back in 1991 prohibiting any such conversion, and raising such a demand has obvious implications for law and order, Shah's refusal to speak out against it is highly significant. Yet News18 chose not to pursue the issue any further.
On Jammu and Kashmir, Shah held forth on how the development agenda is being pushed in the erstwhile state ― a claim that flies in the face of all evidence on the ground. He also made the astonishing observation that the law and order situation in J&K was now "normal", yet was not asked why his government is still opposing restoration of 4G data services. He was not asked about the legality or propriety of having imprisoned mainstream leaders, including former chief ministers, for months on end.
Joshi asked Shah about the Hathras rape and murder incident and the Uttar Pradesh government's handling of the case, but allowed Shah to blame any failings on the local police station. The fact that the state is insisting on the record that the young woman was not raped, and was pulled up by the Allahabad High Court for this, was happily glossed over, as was the ridiculous 'international conspiracy' that the Adityanath government has been pushing.
But it was on the Tanishq ad controversy that the interview was the most bizarre. This is the advertisement that celebrated an inter-community marriage. Joshi mentioned the ad, the trolling it generated and the fact that the Tatas subsequently withdrew the ad and asked Shah whether India's social harmony would be hurt by this. "India's social harmony will not be affected by such small attacks," Shah said. "This harmony has stood the test of time, despite attacks on it by the British and the Congress. But there should be no overactivism".
Left unsaid is whether Shah believes the Tanishq ad was an attack on India's social harmony or the reaction it triggered. And whether Tanishq was being overactive (in promoting the idea of an inter-religious household) or the (Hindutva) trolls in attacking that idea.
I can understand why Shah would like to keep things vague, playing all sides. But any sensible journalist would have probed Shah to be more specific. But then this is New india, where big media houses know their red lines.
---
Reportedly
In BJP, Scindia loses face
The most sought-after jersey number in football is 10, but that is clearly not the case in Madhya Pradesh politics. The scion of Gwalior, who switched parties recently and handed over the state government to the BJP in exchange for a Rajya Sabha seat for himself, found himself at Number 10 in the list of 30 star campaigners for the state bypolls. His face is also missing from the election campaign vans or 'raths', as the BJP calls them, an embarrassing omission that his former colleagues have gleefully turned into a campaign issue. And then an elderly man died while listening to his speech. Not a good omen for the Shrimant. 
---
No burra peg, brass band
The top brass of the Army is meeting in Delhi for four days to discuss the China border crisis, and also to approve a proposal to slash wasteful expenditure by cutting back on ceremony, canteens and non-core activities. As always, this is causing heartburn among veterans, who contend that hallowed traditions keep the soldiers going, and not just hard cash. OROP, anyone?
---
Prime number: 4 
India falls short of the threshold to be declared a major power, though it remains Asia's fourth most powerful nation after the US, China and Japan, on the Lowy Institute's Asia Power Index 2020. Its overall score declined by 1.3 points from 2019 and it exerts less influence in the region than expected, given its resources. Lowy projects that India will reach 40% of China's economic output by 2030, down from the 50% estimate last year.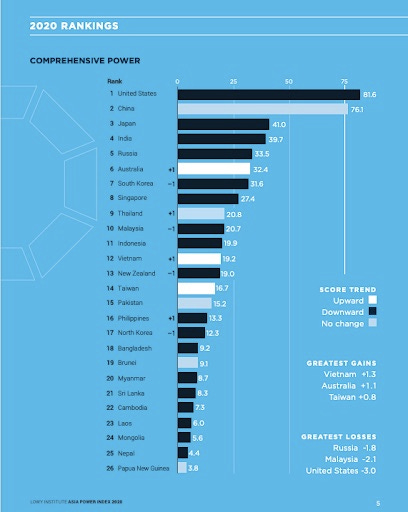 ---
Sen receives Frankfurt peace prize
Amartya Sen has been awarded the 2020 Peace Prize of the German Book Trade, which runs the Frankfurt Book Fair. Previous winners include Sebastião Salgado, Margaret Atwood, Susan Sontag, Günter Grass and Chinua Achebe. (See video from 15:10)
In his acceptance speech, Sen said: "The world does face today a pandemic of authoritarianism, which debilitates human life in distinct but interrelated ways. Given our global connections and the importance of our shared humanity, there are reasons for us to be seriously concerned not only about our own country, but also about others, taking an interest in problems all over the world."
The same day, the Nobel Prize committee published a spread from Sen's math textbook, from when he was in school in Santiniketan on social media. It is in Sanskrit. 
---
Bihar's cycle girl: after the limelight
What happened to the Dalit girl who rode a bicycle for 1,200 km from Gurgaon to Bihar during the lockdown, with her injured father on the pillion? Sunita Paswan has got publicity, a possible Bollywood deal and some money for her family. BBC visited her village in Darbhanga district and found a pucca house and some eight cycles, along with a general sense of affluence. But there is resentment among other residents of the village and the crowds, which were a regular feature earlier, were conspicuous by their absence.  
---
Border conflict: Assam vs. Mizoram
Simmering tensions prevailed on the Assam-Mizoram border after a violent clash between the people of the two states, in which several were injured. Areas in Kolasib district of Mizoram and Cachar, Assam, were affected. The Union home secretary has convened a meeting with representatives of the two state governments this morning. 
---
Delhi Police hit Caravan again
The Delhi Police have taken a special shine to Caravan magazine. Four of its staffers have been attacked by men in uniform this year. The latest case concerns journalist Ahan Joshua Penkar. In a Facebook post, editor Vinod K Jose wrote that Penkar was kicked and slapped by ACP Ajay Kumar in the Model Town police station, while reporting in north Delhi on a protest over the alleged rape and murder of a 14-year-old Dalit girl. Earlier, there had been three attacks while staffers reported on the targeted violence in Delhi earlier this year.
---
Death on the Ganga?
Film Director Vishal Bhardwaj is to start work, early next year, on a film franchise based on the works of Agatha Christie, which will have an entirely new set of sleuths. A young girl with an "unlikely companion" would investigate the whodunits. Bhardwaj has won acclaim for his signature adaptation of Shakespeare into Indian settings ― Maqbool (Macbeth), Omkara (Othello) and Haider (Hamlet).  
---
For Your Reference
'Poverty measurement in India: A Status Update' by the Ministry of Rural Development proposes that "poverty is now not just about basic food to keep body and soul together but about living standards ― sanitation, housing, piped water, electricity, education, health, and jobs. Poverty line assessment, if it were to be done presently, cannot be based on minimum expenditure on subsistence basket." Oho! The last time the need for common security markers was raised, during UPA2, there was a major kerfuffle. Now, with even per capita consumption expenditure down in India after decades, and the entire data set being held back by a data-shy government, how would this new proposed poverty measure be received?
---
Op-eds you don't want to miss
In an altered world, the Indian Foreign Service is utterly changed, writes Mani Shankar Aiyar. London is now a face-saving posting, Moscow is the boondocks, and it is more useful to speak Mandarin than French. The IFS recruits are also-rans, because the revenue and administration services are now more rewarding. It's been a sharp fall for the once-elite service, which Seminar had famously dismissed as a posse of "dispossessed princelings, illiterate cavalrymen and well-connected nitwits". Aiyar says he could classify each of his superiors thus. Perhaps his former boss in Islamabad ticked all the boxes? 
As in the case of Covid-19, Alok Sheel of ICRIER argues, the recovery of an economy is contingent on its condition at the time of contracting the virus. Those with comorbidities are in greater danger.
Sevanti Ninan argues that a pushback from advertisers or Bollywood, or criticism from the courts, means little when regulation of news channels is imposed or subverted according to what the central government wants. 
Prashant Bhushan weighs in on the Jagan Reddy versus Justice NV Ramana imbroglio, saying that only retired judges of high credibility could conduct a robust inquiry into the Andhra Pradesh CM's complaint, and that the Chief Justice of India should set up a credible inquiry committee.
P Chidambaram takes down Arvind Panagariya's attempts to project Narendra Modi as a great reformist, even as the economy toboggans down a slippery slope. 
The arrest of 83-year-old Jesuit priest Fr Stan Swamy on terror charges is an insult to justice, writes Mari Marcel Thakaekara, "A tragedy not just for India's indigenous people but for everyone who believes in truth and justice."
In a column in the Urdu daily Inquilab today, Prof Akhtar-ul-Wasey pays tribute to educationist Sir Syed Ahmed Khan, founder of the Aligarh Muslim University (AMU), which is marking the hundredth year of its founding this month. He asks, "if we are here despite Sir Syed's contribution, imagine where we might have been, if he had not existed."
---
Listen up
Foreign Minister S Jaishankar continues to surprise by expressing continuous surprise (in back-to-back webinars) about why China is behaving like it is on the LAC. Listen to his latest comments while discussing his book The India Way: Strategies for an Uncertain World, and the global challenges confronting India today, with Asia Society Policy Institute president Kevin Rudd. 
Sushant Singh (a contributor to The India Cable) strikes a very different note while discussing the China situation with Vipin Narang. 
https://www.conversationsix.com/p/ZXC8y8qvXZ6qhH3QA
---
Watch Out
RJD's campaign song for the Bihar assembly polls focuses on its leader Tejaswi Yadav in a traditional way while the Congress rap song mocks 15 years of NDA rule with a catchy tune. 
BJP's reply tune has got a rap from Anubhav Sinha, who says it's a ripoff of his 'Bambai mein ka baa'.
The state of India's democratic institutions is getting verse, sings TV actor Nakuul Mehta.
---
Tailender
Deepika, Jacqueline get employment guarantee
In Khargone district of Madhya Pradesh, at least 11 beneficiaries of the NREGA scheme, some of them men, are surprised to find the pictures of Bollywood actors Jacqueline Fernandez and Deepika Padukone on their job cards. Imagine, stars working away in field and farm when they should be assisting the authorities in various illusory quests. The NREGA beneficiaries are incensed to learn that payments have been collected in their name, accompanied by those pictures. Especially because those payments have not enriched them in any way. 
---
That's all for today. We'll be back with you tomorrow, on a device near you. If The India Cable was forwarded to you by a friend (perhaps a common friend!) book your own copy by SUBSCRIBING HERE.