Discover more from The India Cable
India is changing. We help you interpret it. From the founding editors of The Wire — MK Venu, Siddharth Varadarajan and Sidharth Bhatia — and journalists-writers Seema Chishti, Sushant Singh and Tanweer Alam. Editor: Pratik Kanjilal
Over 9,000 subscribers
The India Cable: BJP's 'Jab for Votes', Trump's Jibe on 'Filthy' India, and IPL Blacks Out Black Lives
Plus: Putting dissent in its place, MHA relaxes OCI, PIO visas, AMU hospital reinstates whistleblower, UP files case for reporting conversions
From the founding editors of The Wire—MK Venu, Siddharth Varadarajan and Sidharth Bhatia—and journalists-writers Seema Chishti, Sushant Singh and Tanweer Alam. Editor: Pratik Kanjilal
---
Snapshot of the day
October 23, 2020
Pratik Kanjilal
The Republicans have been courting the Indian-American vote for weeks, but Donald Trump has wrecked it by describing India as "filthy", triggering a social media backlash. But the president could have been retaliating against a pre-emptive strike launched on social media earlier: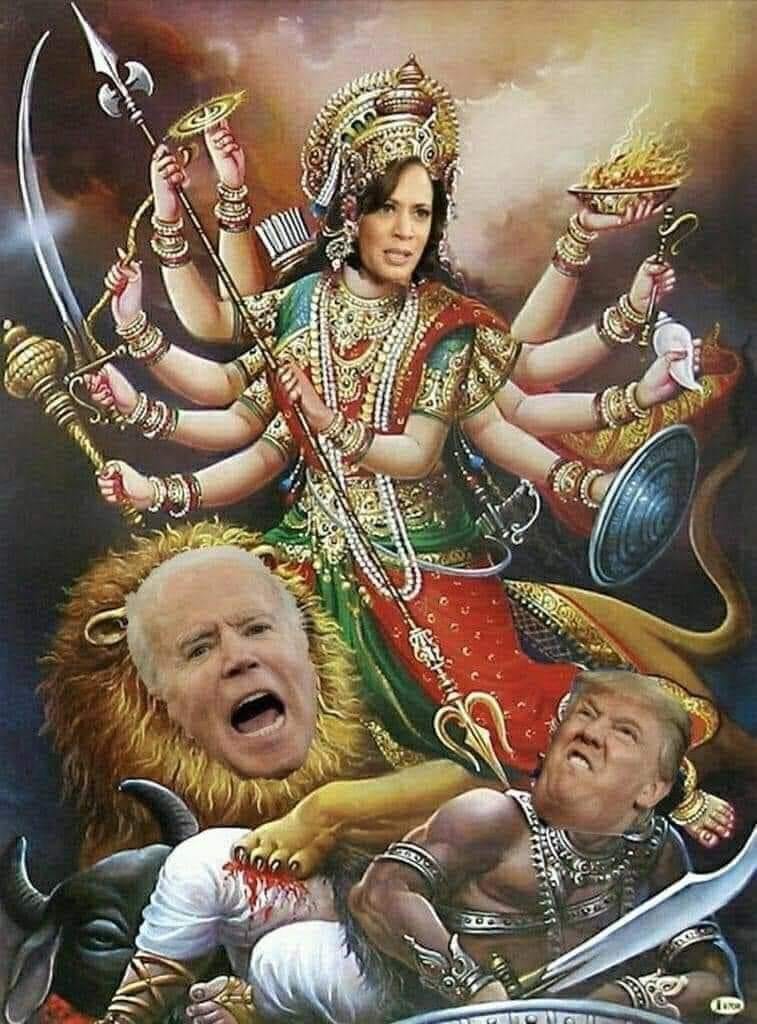 Viral image on social media, artist unknown
Here at home, Durga is being portrayed as a migrant worker, and the demon as the Coronasura. It's bilious green. 
Big guns were out in Bihar today. Narendra Modi reminded Biharis that soldiers from their state died in Galwan, fighting the Chinese. Nitish Kumar and the BJP play hare and hounds, with the Bihar CM referring to the PM as "Shraddehya [i.e. revered] Modiji". Rahul Gandhi was quick with a retort in his campaign speech reminding voters that Modi said that no Chinese had ingressed in Ladakh while Tejashwi Yadav stuck to his pet theme of jobs.
The Modi government, upset about areas of Ladakh being tagged by Twitter as part of China, has served an ultimatum on the US social media company, while it remains surreally calm about losing control over 1,000 sq km in the same sector to China. Now, the PM's equanimity is unlikely to be disturbed by Twitter trending  his friend Trump's statement:  "Look at India. It's filthy." Unless, of course, a dim memory of Swachh Bharat urges him to take umbrage. The lovefests in Houston and Ahmedabad are history, too, but it's weird that a country which is quick to take offence to criticism of idlis is tolerant of a trenchant Trump. 
Ceasefire violations on the LoC are at an all-time high, and more local young men are joining the militancy in Kashmir after the revocation of Article 370 last August. Fewer foreign militants and more security forces personnel have died in this period. In Nepal, Prime Minister KP Sharma Oli is under fire yet again, this time from his own party and three former prime ministers, for meeting R&AW chief Samant Kumar Goel without letting them know. A special court on Thursday rejected the interim bail plea of 83-year-old Jesuit priest and tribal rights activist Stan Swamy, arrested in the Elgar Parishad case.
Vaccines are the new gold. Dr Reddy's Labs received regulatory clearance to conduct human trials of the Russian Sputnik V vaccine on October 17. Yesterday, it joined the august list of vaccine research institutes which have suffered cyberattacks. It isolated its data and expects to be online again today.
In a joint statement, the International Press Institute and the International Federation of Journalists have accused the Modi government of using the pandemic to stifle dissent. Journalistic work cannot be seen as sedition or a security problem, they say, and urge the government to ensure that journalists can work "without harassment and fear of reprisal".
A truckload of unpacked Chinese smartphones has been stolen, and parliament's canteen is ending a 52-year legacy of Northern Railways feeding MPs, officials and sundry others. Another public sector unit, ITDC, will take over the job from November 15. What, Mukesh Ambani was not even considered for this critical role? 
Automobile sales are up because the middle class seeks independent mobility, but detergent sales have fallen during the pandemic. This does not mean that Indians are filthier than before, but that they have put away their nice clothes. No point being all dressed up and nowhere to go. 
---
Shoot up the voter
The Union Finance Minister had to go herself to Patna to promise a free vaccine against Covid-19 in exchange for votes, a brazen act called out by this newspaper editorial. Not to be left behind is BJP ally AIADMK, seeking re-election in Tamil Nadu next year, which has also promised a free jab. The BJP government in Madhya Pradesh, facing a mini-assembly election (28 seats going for a bypoll, the highest ever in India's history), has also promised to pony up. Karnataka is yet to decide, but this clamour by states to take responsibility for vaccinating their people would be music to the ears of the Modi government, which is struggling to balance the budget, and claims to have set aside Rs 50,000 crore ($7 bn) to vaccinate the country's population. For all of Modi's sophistry with Covid-19 data, his government's handling has firmly kept India among the three worst-off nations in the world. Active cases have definitely peaked but the total case count will soon hit 8 million.
---
The India story: Richer, less equal
If you have a net worth of $100,000 (Rs 73 lakh) as an adult Indian, you are in the top 2.3% of the population. That tiny percentage reflects serious poverty and high inequality ― 73% of adults in India have a net worth under $10,000, versus only 19% in China. Inequality has increased during the pandemic because the wealthy have become wealthier. The 4,593 super-rich adults identified in India have wealth over $50 million, as per the findings of the Global Wealth Report 2020 by the Credit Suisse Research Institute.
---
Conversion inversion in UP
More than 200 Dalits in Ghaziabad, UP, converted to Buddhism on October 14, reportedly in protest against the BJP state government's treatment of the Hathras gang rape and murder victim, who was of their Valmiki caste. Rajratna Ambedkar, Dr BR Ambedkar's great-grandnephew and president of the Buddhist Society of India, had tweeted their pictures two days later. But the local police have now registered an FIR against unidentified people for "spreading false rumours about religious conversions". The charge: promoting enmity between groups and circulating statements aimed at inciting violence.
---
In Aligarh, the whistleblower doctor is in
The doctor in charge at Aligarh Muslim University hospital, who was sacked by the AMU vice-chancellor after he exposed the failure of the UP government and police to conduct a medical examination of Hathras rape and murder victim within the  mandatory period, is being reinstated. Dr Azeem Mallik and a colleague were asked to leave days after Malik spoke to the media and contradicted the police's 'no rape' claim. Now, the hospital management says that "their services are needed to attend to Covid patients". They didn't know this before? Or are they being reinstated because someone from Delhi has explained that it is better to keep them inside the tent until judicial scrutiny of the case is over? 
---
Social media explain themselves
Facebook and Twitter have been summoned to appear before the Joint Parliamentary Committee on the Personal Data Protection Bill, 2019, headed by BJP MP Meenakshi Lekhi. Facebook's India head will meet the committee today and Twitter representatives will appear on October 28. Amazon will face action for refusing to appear. Meanwhile, the Jammu & Kashmir government's IT department has also summoned the Facebook India head, to appear in person in connection with an online cheating case. And peeved at Leh being geo-tagged as part of China, the IT secretary has written to Jack Dorsey that it is "unacceptable". Twitter must "explain". 
---
Trump's statement leaves Indians gasping for breath
Indians woke up on Friday morning to tweets from the US about President Trump calling India "filthy" in his debate with Joe Biden. 
"Look at China, how filthy it is, look at Russia, look at India, it's filthy, the air is filthy," Trump said.
Cue outrage and high-dudgeon, though a broader look suggests he was referring to India's air quality, which is hardly clean, and not the country, per se. What this has to do with the US's own obligations on the climate change front is, of course, another matter altogether.
Outrage soon gave way to jokes and ridicule, with some wondering how this reconciled with claims of close friendship between Modi and Trump, and others slyly suggesting that he would lose the support of Indian Americans, who matter in the swing states and who cannot digest slights against the mother country.
Meanwhile, after months of clear skies, Delhi's Air Quality Index has touched hazardous levels in some areas.
---
The Long Cable
Without dissent, democracy is a hollow claim
Pratik Kanjilal
The Shaheen Bagh protest, which turned into an impromptu movement as it spread like wildfire from Delhi to several other cities, marked a turning point in the history of dissent in India. Its moment of glory was captured in a recent collection, Shaheen Bagh and the Idea of India: Writings on a Movement for Justice, Liberty and Equality(Speaking Tiger), which appeared in July.
Now, after the long caesura imposed on protest by the pandemic, in which the state has been pottering about arresting people whose crime is mainly to protest, two works on dissent demand our attention. Shashi Tharoor takes a break from lambasting the British Empire (Inglorious Empire and An Era of Darkness) while preserving its legacy in his fruity diction (Tharoorosaurus, out last month). Now, he brings us The Battle of Belonging: On Nationalism, Patriotism and What it Means to be Indian (Aleph Book Company, to be released November 1). Polemical as usual, Tharoor writes, "Our choice is clear. We can have a New India that belongs to all of us. Or we can have a New India that belongs to some, and serves the interests of a few. That is the difference between the civic nationalism enshrined in the constitutional republic and the ethno-religious-linguistic nationalism of the Hindutva movement."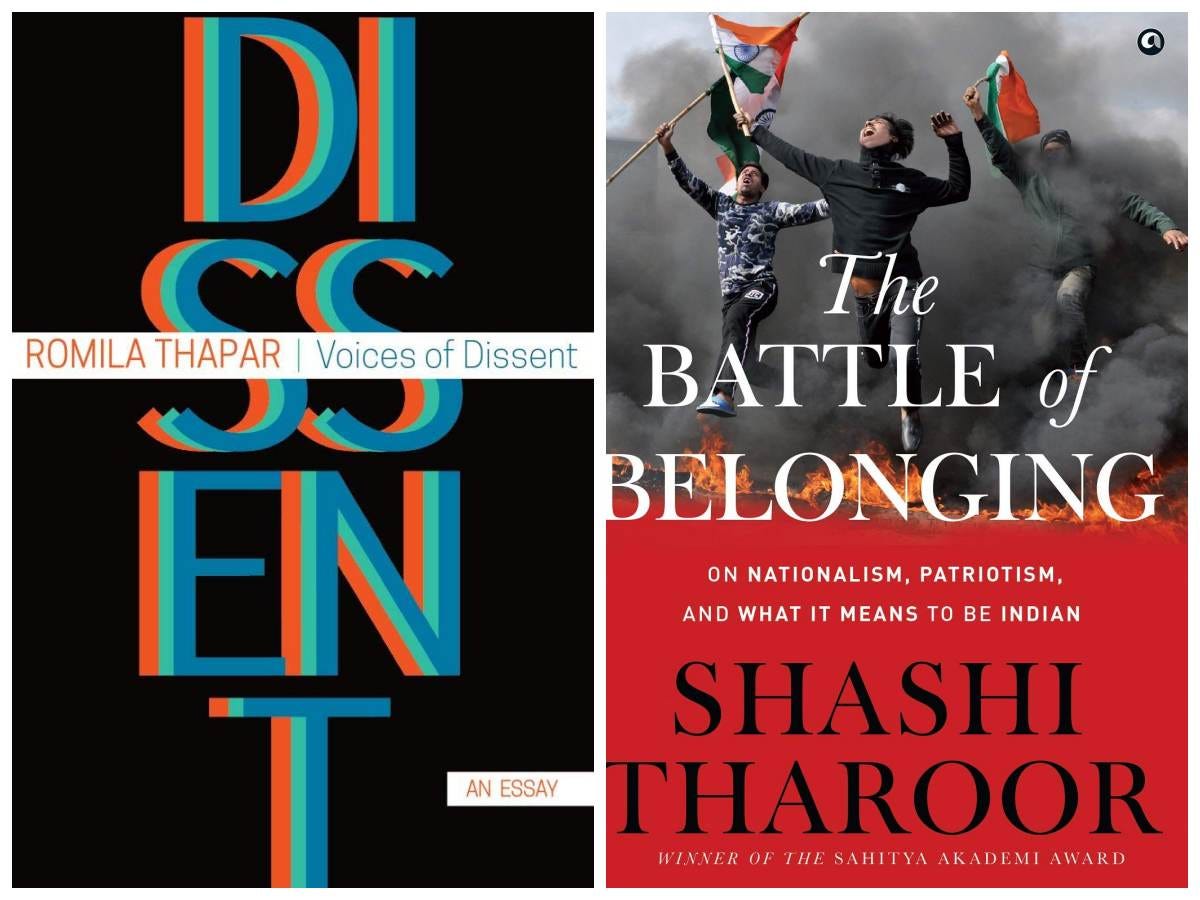 While Tharoor uses the active voice, Romila Thapar's exploration of the history of protest in our region, Voices of Dissent: An Essay (Seagull Books, released October 19), appears to be set in a philosophical register. But that's deceptive. The essay bristles with observations that should be obvious, but are startling because the obvious is now drowned out by majoritarian propaganda: "Democracies can only be secular since every citizen has equal status… In a true democracy, the right to dissent and the need to meet the demand for social justice are core concepts. Since it includes all citizens and they are legally of equal status, a democracy cannot be other than secular." If you aren't secular, logically, you surrender the right to call yourself a democrat.
Thapar takes a structuralist approach, as sharply drawn as an architectural blueprint, to understanding dissent, which is the corrective opposition of the Other to the numerically superior Self, which declares itself to be more authentic. If the study were not restricted to Indian history, perhaps it would have included the most shadowy dissenter in ancient times, Jesus of Nazareth, who was apparently executed for what was essentially sedition (such a common crime now!), but whose name does not appear even once in the records of the Roman Empire. Empires are positively mad about recording every executive action in triplicate, and they didn't record an event which inspired a tradition of dissent and changed the very nature of Rome? 
Thapar writes, in another context: "It is said that dissent itself was imported into Indian society from the West. It is an argument made by those who visualize the Indian past as free of blemishes and therefore not requiring dissenting opinions." In the absence of dissent, there is only the void of self-satisfied certainty, a paralysis of the body politic. Temporarily, the majority lives in denial of the million mutinies and reform movements throughout Indian history, from the rise of Buddhism to the Santhal rising, and on to Shaheen Bagh. We trust the palsy will pass. 
But at such times, polemic is politically essential. Tharoor calls his book "a call to action by those who see the merits of civic nationalism, to rise to defend it against the regressive depredations of those who wish to set the clock back to an ancient era that in fact never existed outside their fevered imaginations."  It's fairly obvious, but it needs to be said and written. Again and again, and even if it must lean on the crutch of nationalism. Which, of course, is an imported Western concept. 
---
Reportedly
What's up in Karnataka?
Politics makes for strange bedfellows but even so, the Leader of Opposition in the Vidhan Soudha coming out in support of the chief minister, and against the state unit chief of the ruling party, is truly extraordinary. Gossip has it that the BJP's central leadership would like to see the back of BS Yediyurappa, but the great survivor is cosying up to a former PM who is a "humble farmer", and now, his former acolyte Siddaramaiah of the Congress, to fight back against his party's central leadership.
---
No B-1 if not H-1B
The US State department has proposed on Wednesday that it will not issue temporary business visas (B-1) which allow hundreds of Indians to go and finish a job on site in the US. This provision has been used by many Indian companies for Indians, in lieu of the H-1B visa. The notification came in response to a case involving 500 Indian professionals taken to the US by Infosys in 2019. California ruled against the company's use of B-1 as an alternative to H1-B. 
In India, actuated by economic necessity, the Ministry of Home Affairs has relaxed visa restrictions on visitors travelling here on work, or for an education, or for medical reasons. Overseas Citizens of India and Persons of Indian Origin can also apply for any visa, except in the tourist category.
---
Prime number: 3800
Number of ceasefire violations recorded this year on the Line of Control, the de facto border between India and Pakistan in Jammu and Kashmir. In comparison, there were 3,289 violations in all of 2019, and 2,936 in 2018. 
---
Maintenance: role reversal
A family court in Muzaffarnagar has ordered a government pensioner to pay a monthly maintenance allowance to the spouse. Nothing unusual, except that the pensioner is a woman and the order followed a petition filed by her husband in 2013, under the Hindu Marriage Act.
---
IPL Blackout 
The Indian Premier League's silence over Black Lives Matter has left some of the world's top cricketers concerned. Jason Holder, the West Indian test captain who represents Hyderabad Sunrisers, said that he was disappointed that IPL showed no sentiment or gesture towards BLM. Premier South African fast bowler Kagiso Rabada of Rajasthan Royals has asserted that sportsmen must speak their mind on causes like race equality, as they have the platform to do so. "It is your responsibility to keep reminding at times that fighting for the right causes is important." 
Indian superstar cricketers and commentators would baulk at this advice ― how many times have we seen them speak against the lynching of Muslims or the rape of Dalit women in India? They advertise fairness creams instead. A Michael Holding moment, when he held forth eloquently and passionately on the black question on national TV in the UK, remains a pipedream in 'New India'. 
---
Same disease, different impacts
UK's Minister for Equalities Kemi Badenoch has set out government findings on the impact of Covid-19 on ethnic minorities in the country, including Indian-origin Brits. Two new expert advisors on Covid-19 and ethnicity have been appointed. It is an important step acknowledging the differential impact of the same disease on people in different circumstances.
---
Op-Eds you don't want to miss
The artist Arpana Caur writes on the centrality of geography and the absurdity of relocating the National Museum and the Indira Gandhi National Centre for the Arts. The relocation would be a consequence of the Modi government's decision to tear down the Central Vista and reinvent it.
The lawyer Dushyant digs into the opposition to the Hindu Reform Bill in the 1950s and finds huge parallels with the current stance taken by the Central government and other myriad groups against recognising same-sex marriages.
US Senator David Perdue "deliberately fumbled" with Kamala Harris's name and infamously referred to her as "Kamala-mala-mala". Francis Wilkinson opines on what this reveals ― the "political flotsam" of racism in US politics which keeps bobbing up, reflecting the much darker, deeper issues within. 
Andrew Fidel Fernando argues that Sri Lankan cricketer Muttiah Muralidharan has been cast by the critics as a 'generic' Tamil to inflame their biases, while his story is more deeply layered.
Claude Arpi wants India to bring France into the Quad to put more pressure on China.
---
Listen up
Anatol Lieven, Professor at Georgetown University in Qatar, and Rudra Chaudhuri, Director, Carnegie India, discuss and analyse the implications of the recent inter-Afghan negotiations with Srinath Raghavan. 
---
Watch Out
AR Rahman speaks about his plans with the late SP Balasubrahmanyam. Rehman had got SPB to agree on a musical work involving several of the hit songs that he had sung, but not for Rehman. Even arrangements and schedules had been fixed, but then Covid-19 struck.
---
Faking it on Pakistan
Indian news websites such as CNN18, Zee News, India Today and several social media accounts have been buzzing with fake news this week, claiming joyously that civil war had broken out in Pakistan's Karachi. But for all Indians who may be soaking in schadenfreude, cartoonist Sandeep Adhwaryu offers sarcasm:

---
That's it for today. We'll be back with you on Monday, on a device near you. If The India Cable was forwarded to you by a friend (perhaps a common friend!) book your own copy by SUBSCRIBING HERE.