Discover more from The India Cable
India is changing. We help you interpret it. From the founding editors of The Wire — MK Venu, Siddharth Varadarajan and Sidharth Bhatia — and journalists-writers Seema Chishti, Sushant Singh and Tanweer Alam. Editor: Pratik Kanjilal
Over 9,000 subscribers
The India Cable: Ghost of Balakot Raised, Saudi Banknote Crosses Lines of Control
Plus: AICC to convene, more raids in Kashmir, Information Commission gets a head and a controversy, inward remittances fall, HDFC's Aditya Puri 'world's best banker'
From the founding editors of The Wire—MK Venu, Siddharth Varadarajan and Sidharth Bhatia—and journalists-writers Seema Chishti, Sushant Singh and Tanweer Alam. Editor: Pratik Kanjilal
---
Snapshot of the day
October 30, 2020
Pratik Kanjilal
News of the gruesome killings in Nice, and the justification offered by Mahathir Mohamad, will take days to sink in. But the day these happened, the Saudi Arabian Monetary Authority issued a 20 Riyal banknote honouring the G20, which ceded most of Kashmir to Pakistan and China. That's familiar territory.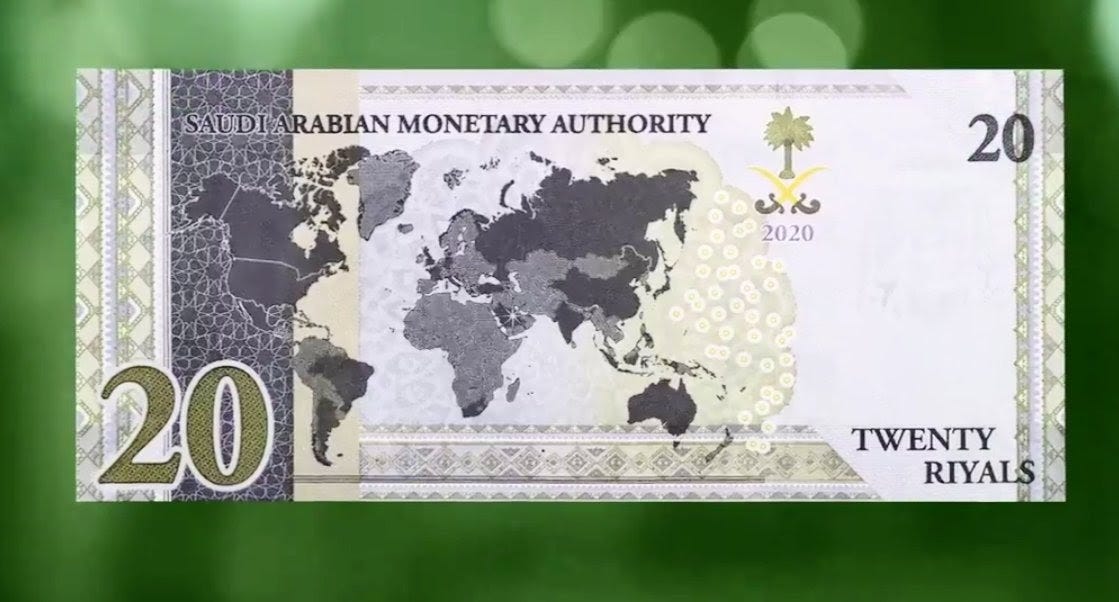 (Via Twitter)
Just days ago, Twitter had ceded Ladakh to China rather prematurely by geo-tagging Leh as Beijing's territory. Company officials apparently had to apologise profusely to the authorities in Delhi to put the matter behind them. The Saudi Arabian gaffe is being handled diplomatically. However, India should also be quite concerned about the blotchy nuclear explosions which seem to be going off all over the Pacific in that banknote. Just when we had invested deeply in this Indo-Pacific idea…
On Friday, former CM and Srinagar MP Farooq Abdullah was prevented from offering prayers at Hazratbal on the occasion of Milad-un-Nabi, while three BJP leaders were killed on Thursday evening in one of the deadliest militant attacks on politicians in the Kashmir Valley in months The killings, which come after home minister Amit Shah last week declared the law and order situation in Kashmir 'normal', has triggered panic and the announcement of resignations by several BJP activists. Protests have hit Jammu as well, where many believe the new land laws for the erstwhile state are an assault on the Dogra identity.
The Economist names HDFC Bank CMD Aditya Puri, who retired this week, among the world's top two bankers, who gave shareholders 16,000% in cumulative returns (22% annualised) since his bank launched in 1994. With a market value of $90 billion, it is bigger than Citi and HSBC. Earlier, only Wall Street banks figured in this list, and most were bailed out during the 2008 crash. But shockingly, the bank's market cap is over twice that of all Indian PSU banks put together, betraying a long history of "privatisation by benign neglect".
Lawyers in Tripura Thursday staged a protest against inaction by police and administration after an assault on a colleague inside the district and sessions court in Agartala the previous day. The lawyer was attacked for appearing in an inter-faith marriage case in the court, recalling the challenge posed by hate to big brands in India.
Keshubhai Patel, the first BJP chief minister of Gujarat, who was put in the shade by Narendra Modi, has died, aged 92. Amazingly, the Congress's internal election committee has declared that the "All India Congress Committee intends to convene anAICC meeting as soon as possible." And Facebook reveals that over Rs 1.11 crore has been spent on political ads for the Bihar polls on the platform between September 26 and October 25. The NDA accounts for almost 40%, and some high-spending unaffiliated pages were also found, whose purpose is to vilify particular candidates.
The existence of the All India Station Masters Union (AISMU) is news to us. It has come to light following the withdrawal of the night duty allowance to station masters with basic pay higher than Rs 43,600/ per month, and a move to recover allowances paid since 2017. About 35,000 station masters will work on an empty stomach tomorrow in protest, demanding a withdrawal of the order, Rs 50 lakh insurance for line staff, and a stop to privatisation of the railways. Later, they will light candles at stations and wear black badges in protest. Mahatma Gandhi, who pointedly travelled third class, would have been mighty pleased to see a hunger strike in the railways, which were established for colonial interests.
Manohari Tea Estate in Dibrugarh hits the big time with Manohari Golden tea, a malty second flush whose buds are plucked only at dawn. Guwahati auction price tag: Rs 75,000. It will be shipped worldwide by 9amtea.com. For decades, premium prices were commanded by Darjeeling, led by Goodricke's Castleton, but now, specialty Assam tea from Manohari and Dikom, in Upper Assam, have pulled well ahead.
---
The Long Cable
Current controversy revives dangers of escalation after Balakot
Sushant Singh
On the day the former BJP MP from Ladakh said that Chinese forces had occupied more Indian territory on the northern bank of Pangong Tso, the attention of the country's media was fixed on Pakistan, or rather, statements emanating from Pakistani politicians about the Pulwama terror attack of February 14 last year, the Balakot airstrike by the Indian Air Force 12 days later, and the subsequent capture and release of IAF pilot Wing Commander Abhinandan.
Abhinandan was captured on February 27 when his Mig-21 was shot down in aerial combat with the Pakistan Air Force inside Pakistan-occupied Kashmir, and he was released on March 1, after Pakistan PM Imran Khan announced on February 28 in parliament, "As a peace gesture, we are freeing him tomorrow and sending him back to India." In a meeting held by Pakistani Foreign Minister Shah Mahmood Qureshi with parliamentary leaders of other political parties on February 27, he reportedly discussed the threat of an Indian missile attack that night. The current controversy began on Wednesday, when former Pakistan National Assembly Speaker and MP of the Opposition PML(N), Sardar Ayaz Sadiq, who attended that meeting, alleged on the floor of the National Assembly that the PTI government had released Abhinandan in capitulation, fearing an imminent attack from India.
The events of the night of February 27 have been shrouded in the fog of modern military tensions as there was a complete blackout in major Pakistani cities and its military was on full alert. Media reports later confirmed that India and Pakistan had come perilously close to launching missiles at each other that night, and in April 2019, PM Narendra Modi alluded to nuclear weapons being prepared for use around that time. The controversy now is not over whether nuclear-armed India and Pakistan were close to launching missiles, but whether Pakistan had capitulated to an Indian threat, or that a counter-threat by Pakistan had deterred Delhi, leading to intervention by the US and other foreign powers, which resulted in the captured pilot's release.
In his speech, Sadiq said that the PTI government had "pleaded" with parliamentary leaders to let Abhinandan go free: "I remember Shah Mahmood Qureshi sahib was present in that meeting, which the prime minister had refused to attend. The chief of army staff also attended." Sadiq claimed that "with his legs shaking and sweat on the forehead, Foreign Minister Shah Mahmood Qureshi said to us, 'For God's sake, let him (Abhinandan) go back now.' No attack was imminent; they only wanted to capitulate and send Abhinandan back."
As his comments were picked up by Indian news channels and elicited a response from former IAF Chief Air Chief Marshal BS Dhanoa, Sadiq issued a clarification on Thursday ― Indian media reports were "totally contrary" to what he had actually said in parliament. "Abhinandan had not come to Pakistan to distribute sweets; he had attacked Pakistan and it was a victory for Pakistan when his plane was shot down," he said in a video message.
As expected, there were multiple rebuttals from Pakistani ministers. Foreign Minister Qureshi said, "I did not expect Ayaz Sadiq to say such a thing," adding that parliament had been taken into confidence about intelligence received regarding tensions with India, and it did not involve Abhinandan. Information Minister Shibli Faraz said Sadiq had "pleased the enemy" with his comments. Minister for Planning Asad Umar tweeted to say that India had planned to attack Pakistan at 9 pm that night, but it never materialised because Islamabad informed Delhi that it was aware of the plan and would deal a "heavy blow" in response.
Umar's tweet came soon after the big daddy of them all, DG ISPR, the chief spokesperson of the all-powerful Pakistan military, held a press conference to rebut Sadiq's statement, calling it "extremely disappointing and misleading to link Wing Commander Abhinandan's release with anything other than a responsible state's mature response" (Pakistan, responsible and mature!). At the weekly press briefing, Pakistan Foreign Office spokesperson Zahid Hafeez Chaudhri reiterated that Pakistan had released Wing Commander Abhinandan as a gesture of peace and ruled out any pressure.
But all the damage control by Pakistan will not calm the storm unleashed by Sadiq about the events of last February. If this renewed attention brings the spotlight back to the events of those days, fully clarifying why the two nuclear-armed countries were threatening to launch missiles at each other and how such incidents can be avoided, this kerfuffle would serve some purpose.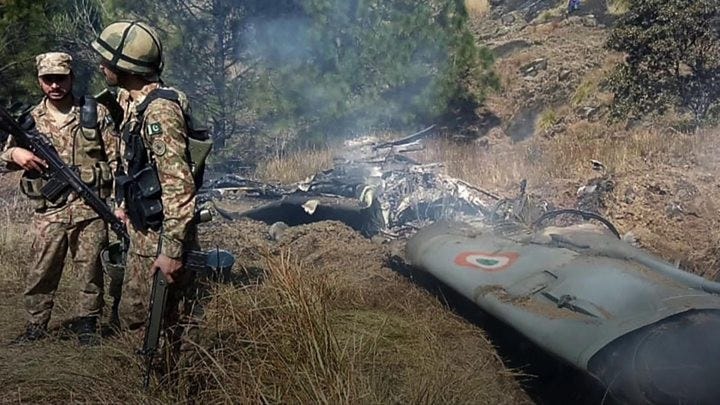 A related controversy was created by motormouth Pakistani minister Fawad Chaudhry, who was Information Minister at the time of the Pulwama terror attack, in which 40 CRPF troopers died in a suicide car bomb strike: "Humne Hindustan ko ghus ke maara (We hit India in their home). Our achievement in Pulwama is the achievement of the entire community, under the leadership of Imran Khan," Chaudhury said in the National Assembly. As his statement created an uproar in the assembly, Chaudhury quickly took a U-turn and added: "Pulwama ke waqiye ke baad, jab humne India ko ghus ke maara (When we hit India in their home after the incident at Pulwama)." He issued a statement to that effect as well, saying he was referring to the dog fight between the Pakistani Air Force and the IAF, which took place after the Balakot airstrike.
The Indian media – a section of which also reported that 'Modi-Modi' chants were raised in Pakistan's Parliament, when it was actually a call for voting – was however quick to pick it up and brand it as a confession of Pakistani complicity. And the BJP, always ready to milk Pakistan while maintaining complete radio silence on China, sought an apology from Congress MP Rahul Gandhi. That was in Patna, the capital of a state in the midst of a keenly contested assembly election. Will the BJP be sending a thank you note to Sadiq and Fawad on the day the Bihar poll results are out, or will the Bihari voter prove wiser, and remain focused on bread and butter issues?
---
In Kashmir, raiders come in uniform
After Income Tax raids in Kashmir, which were read as political signalling, the National Investigation Agency has now searched the premises of NGOs and public trusts in the Valley and in Delhi, in search of funds raised for charitable purposes but allegedly used "for carrying out secessionist and separatist activities". They include a charity run by Zafarul Islam Khan, founding editor of the Milli Gazetteand former chair of the Delhi Minorities Commission. The day before, the NIA had raided the offices of the Greater Kashmir daily, two human rights activists and a journalist.
Security forces on Thursday foiled the first demonstration by any mainstream political party in the Kashmir Valley since the August 5 clampdown last year, when they rounded up protesting leaders and activists of Mehbooba Mufti's People's Democratic Party from Srinagar's streets. Mehbooba was prevented from visiting the Kothi Bagh police station, where PDP leaders had been detained, prompting her to say that the Modi government had turned the Valley into a jail but was unable to fight the Chinese: "Go and get the land occupied by China, which has killed so many of our jawans. No, the BJP can't and won't do this because it can't overpower China. It is instead suppressing the helpless people of Kashmir."
---
Delhi gets pollution supercop
As the smog descends and winter establishes the annual chokehold on Delhi, the 22-year-old Environmental Pollution (Prevention and Control) Authority (EPCA) is being replaced by the permanent Commission for Air Quality Management in the National Capital Region and Adjoining Areas (what a mouthful!). Its domain is the capital and the adjoining states of Rajasthan, Punjab, Haryana and Uttar Pradesh, and its writ will supersede all other authorities and jurisdictions in enforcing the Environment (Protection) Act. The ordinance through which it has been created awaits examination by the Supreme Court.
Since the body has been created by fiat, in the BJP's preferred manner, without consultation with stakeholders, it remains to be seen how well it works on the ground, in a complex political landscape cutting across state borders. The EPCA was also accorded suitable powers, but failed miserably in containing air and water pollution, bringing on a public health crisis. The new pollution supercop remains to be tested, and could also be revealed to be a common beat havildar.
---
H-1B cuts out Indian companies
With just days left for the presidential polls in the US, there is no flagging of enthusiasm to tweak H-1B visa rules which will impact Indians adversely. In the latest change of rules, about 85,000 visas now offered through a lottery system will be given out to candidates earning the highest wages. This would hurt Indian firms and benefit US tech firms, which offer far higher salaries. According to h1bdata.info, the median salary offered by Facebook is $167,000. The same dataset lists the median salary offered by Infosys as $82,763 in 2020.
---
Inward remittances fall, return migration rises
Foreign remittances to India will fall this year by 9% to $76 billion due to the coronavirus pandemic and global recession, according to the latest estimates published in the World Bank's 'Migration and Development Brief'. But India will remain the top country receiving foreign remittances in 2020. And for the first time in recent history, the volume of international migrants is likely to decline as new migration has slowed and return migration has increased.
---
Prime number: 115%
The fiscal deficit of the Centre in the first six months of the current financial year already stands at 115% of what was budgeted for the entire financial year. And the government's gross tax receipts have fallen by 21.5% year-on-year in April-September. 
---
Information Commission: Don't ask, don't tell
The seat of the Chief Information Commissioner, vacant for two months now, will finally be warmed. A former diplomat and Information Commissioner, Yashvardhan Kumar Sinha will be the new chief. His appointment has not been smooth because the Opposition nominee on the selection committee, leader of the Congress in the Lok Sabha Adhir Ranjan Chowdhury, submitted a dissent note. He alleged that Supreme Court guidelines were violated and the name of journalist Uday Mahurkar was slipped into the list of candidates though he was not shortlisted. Incidentally, Mahurkar has written a book in praise of PM Modi, Marching with a Billion.
The Supreme Court had issued guidelines on how these vacancies were to be filled in January after information activists took the government to court over vacancies and the method used to fill the top slot. It had asked the search committee to make public the names of shortlisted candidates and the criteria adopted for selecting them, which the Modi government has refused to do even now.
Meanwhile, the Bombay High Court fumed at the Ministry of Information & Broadcasting after it discovered that personal details of over 4,000 RTI applicants were pasted on its website. Asking questions is a fraught enterprise. A whopping 451 RTI users have been attacked and 187 have died, according to this 'Hall of Shame' tracker.
---
Aarogya Setu: Unsafe bridge
Despite the chaos created by the government in first disowning the Aarogya Setu contact-tracing app before the Central Information Commission and then offering to embrace it as a creation of "top academics" and technologists, questions are being raised about the data security of its 160 million users. Read this to understand how (un)safe the bridge is.
---
Deep Dive
Consumption of status in India
On aspiration, conspicuous consumption, white goods, status perceptions and the not-so-poor Indian, the paper 'Keeping up with the Patels: Conspicuous consumption drives the adoption of cars and appliances in India' by Anjali Ramakrishnan, MatthiasKalkuhl, SohailAhmad and Felix Creutzig in Energy Research & Social Science looks at attitudes towards consumption and sustainability. They find that "while income and household demographics are predominant drivers of car and appliance uptake, the household's perception of status… emerges as a key social dimension influencing the uptake."
---
Op-Eds you don't want to miss
---
Listen up
Milan Vaishnav joins Pavan Srinath on BIC Talks to speak about the rise of Indian-Americans in US politics. They discuss how they might vote in the upcoming 2020 US presidential elections, political views across the community, and what really matters to them.
---
Watch Out
The much-acclaimed Vox map explainer on India, Pakistan and Kashmir, made late last year, which covers Pulwama, Balakot and Abhinandan.
---
"How's this?"
Yesterday, a letter printed on the official stationery of Rajinikanth circulated in Tamil Nadu, in which the superstar abjured the political career that he has been threatening to embark upon for decades. It argued that in the midst of the pandemic, his health and age disbarred him from public life. The letter was clearly fake, but Rajini later said that it was partly true. To steal a punchline from the star himself: "Idhu eppadi irukku (How's this)?"
---
India now has more than eight million officially confirmed cases of Covid-19, 80,88,851 to be precise. The official death toll stands at 1,21,090. Go on, wear a mask. If you still need to know why, read this ― and stay safe as you enjoy the weekend.
We'll be back with you on Monday, on a device near you. If The India Cable was forwarded to you by a friend (perhaps a common friend!) book your own copy by SUBSCRIBING HERE.