Discover more from The India Cable
India is changing. We help you interpret it. From the founding editors of The Wire — MK Venu, Siddharth Varadarajan and Sidharth Bhatia — and journalists-writers Seema Chishti, Sushant Singh and Tanweer Alam. Editor: Pratik Kanjilal
Over 9,000 subscribers
The India Cable: Hyderabad Flooded, Democracy Bogged Down, Bangladesh Swims Ahead of India
Plus: Gupkar gets real, Akkitham is dead, NRC creaks to life, TM Krishna sings Ashokan edicts, and mysteriously, Kashmiri terrorists will infest Bihar
From the founding editors of The Wire—MK Venu, Siddharth Varadarajan and Sidharth Bhatia—and journalists-writers Seema Chishti, Sushant Singh and Tanweer Alam. Editor: Pratik Kanjilal
---
Snapshot of the day
October 15, 2020
Pratik Kanjilal
More than 100 top scientists have questioned a Modi government agency's claim that cow dung can shield against radiation. Last year, more than 100 economists had written to the PM to demand the publication of reliable data on the economy. Year on year, the number is always over 100. 
Chinese President Xi Jinping has asked his soldiers to be prepared to go to war, but there is confusion about the country he wants them to go to war with: Taiwan or India? And respected economists read the entrails of India's economic crisis and agree that tiny Bangladesh will pull ahead on GDP markers in a few months. 
At home, ad bodies weighed in against the takedown of Tanishq's ad featuring an inter-faith baby shower. And residents of Tamil Nadu are surprised to learn that the state's industrial development corporation is a bigger shareholder in Tanishq than the Tatas themselves. Now, they want to know the Tamil position on the matter.
In India's poorest district, Nabarangpur in Odisha, a man aged 20 has committed suicide after he tested positive for Covid-19, fearing social stigma. An 80-year-old man was 'buried alive' in Meghalaya on suspicion of witchcraft and a man was killed in an elephant attack in Assam, while the state grapples afresh with the other elephant in the room, the NRC. Mulayam Singh Yadav and his wife have contracted Covid-19 and are in Medanta, Gurgaon.
Rajnikanth fans are upset over Khushboo joining the BJP, even more so than the Congress. And after torrential rains, Hyderabad goes the way of Chennai, as long-forgotten rivers and streams return to life.  
BARC will suspend weekly TV ratings, it has said, until it reviews methodology. That'll take  a while, since the problem is the tiny sample size, and neither the industry nor the state will pony up to increase the number of metered households. Former RBI governor Raghuram Rajan tells  The Financial Times today that "the solution to economic adversity is to strengthen local communities." In a sign of elite recovery, Mercedes-Benz India reported strong third-quarter sales, though it's still lower than last year's figure.  And Kerala Finance Minister Thomas Issac says that some states may decide to approach the Supreme Court today over GST compensation. But they've been deciding to decide to do that since August 28.  
---
Gupkar gets real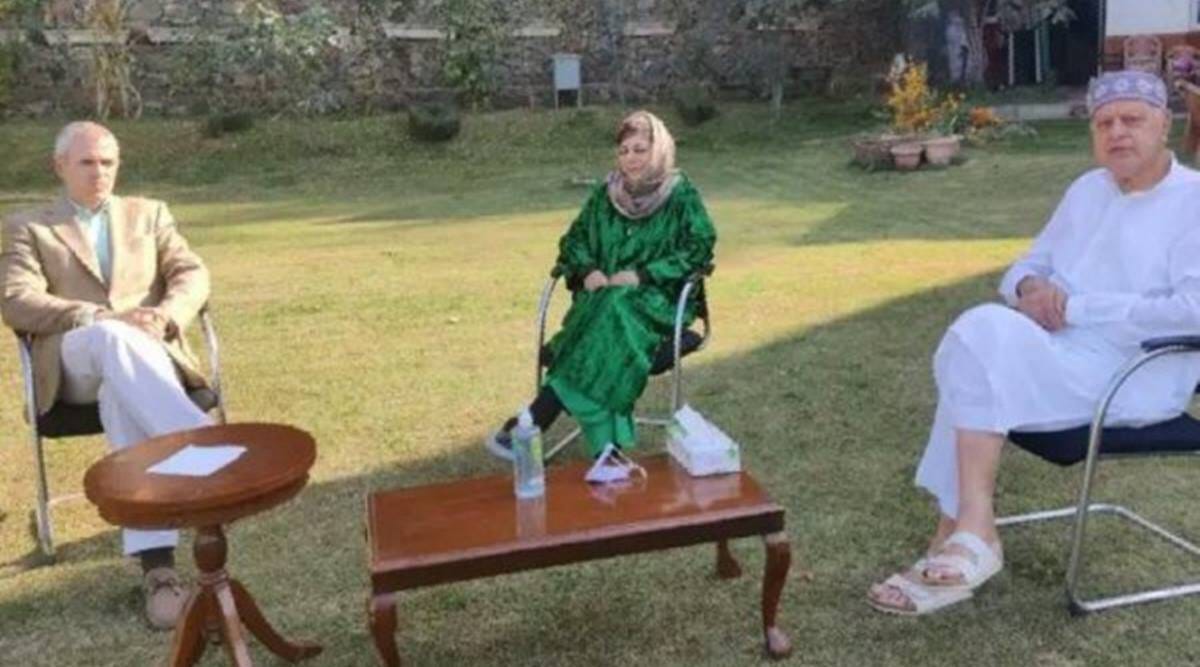 All the mainstream Kashmiri political parties who signed the Gupkar Declaration in Srinagar a day before the Modi government scrapped Article 370 last August will meet at the residence of National Conference president Farooq Abdullah on Thursday afternoon. This will be the first full meeting of the political parties after more than a year, about the declaration that vowed to "fight for protection of J&K's special status". A second meeting in August this year upgraded the demand to restoration of the now scrapped status. Now that former CM and erstwhile BJP ally, Mehbooba Mufti has been released, a third meeting was proposed when National Conference leaders and former chief ministers Farooq Abdullah and Omar Abdullah called on Mehbooba at her residence on Wednesday. Erstwhile BJP ally Sajad Lone also called on Mufti and will be present at Thursday's meeting. Sworn political enemies coming together ―  it's a seminal moment in mainstream Kashmiri politics as the BJP continues to struggle to deal with the fallout of its August 2019 decisions within Kashmir, on the Line of Control with Pakistan and on the Ladakh border with China. 
---
MoS Home: Opp-ruled Bihar will be haven for Kashmiri terrorists
Following on from his boss Amit Shah's 'warning' in 2015 that a victory for the Mahagathbandhan in Bihar would be celebrated with fireworks in Pakistan, and displaying a singular lack of imagination, MoS for Home Nityanand Rai told an election rally that Bihar would become a safe haven for terrorists from Kashmir if the Opposition forms the next state government. He forgot the fact that the centrally-ruled UT of Kashmir has seen an unprecedented spike in local recruitment into militancy, particularly in South Kashmir, over the past year.
---
"Light brings sorrow": Akkitham has died
Akkitham Achuthan Namboothiri, the Malayalam poet whose deceptively simple diction turned his poetry into popular sayings and elements of everyday speech ― the most famous is, "Light brings sorrow, my child, darkness is bliss" ― has died at his home near Palakkad. In September, he was conferred the Jnanpith award in a special ceremony at his home. It had been announced in 2019, but was delayed by the pandemic. A Padma awardee, Akkitham was also a social activist, had participated in the Paliyam Satyagraha against untouchability in 1947, and worked for reform in the Namboodiri community. 
---
Thundering editorials batter Koshyari
Editorials in most major newspapers have taken Maharashtra Governor BS Koshyari to task for the letter he wrote to Chief Minister Uddhav Thackeray. Hindustan Times says that "to demean the word (secularism) is not just to undermine the Preamble [of the Constitution], but also encourage a majoritarian conception of the nation" while The Indian Express writes that Koshyari needs to be reminded of the document he promised to uphold when he took the oath of office. The Hindu posits that the intent, purpose and premise of the letter were all wrong, and that the governor has reduced himself to the level of a troll. How can holders of constitutional office profess views that go against the letter and the spirit of the Constitution, asks The Telegraph, while Deccan Herald says that the man is unfit for high office and should be sacked by the president. The Times of India says, "Let the governor stick to his constitutional functions, let not zealotry determine policy."
---
New Atlantis: Hyderabad flooded
Torrential rain continued overnight in Telangana, leaving at least 16 dead in Hyderabad and 31 in the state.  Neighbouring northern coastal Andhra Pradesh also experienced unprecedented rainfall ― a month's worth in one day. Large areas have been submerged for over two days now, and rivers long dead, choked by poorly planned development, came back to life. Hyderabad saw people, animals and cars being swept away as streams gushed onto roads. A deep depression over the Bay of Bengal has caused these rains and wrought misery across both states. The Urdu broadsheet Siasat has a detailed editorial on rain and the city, blaming bad planning and governance. 'God has saved the city many times, it notes, but those in power have spared no effort to destroy it'.
---
In Assam, NRC gears grinding again
The National Register of Citizens (NRC) in Assam continues to inflict misery, without any closure either for the BJP state government which had drummed up the "foreigner" question in the state. State NRC coordinator Hitesh Dev Sarma has written to all district commissioners and confirmed that they would now start deleting some names of 'ineligible persons' from the register. 'Ineligible' signifies persons declared foreigners by Foreigners Tribunals, 'Doubtful Voters' or persons whose cases are pending at tribunals. Anxieties about their fate are bound to dog thousands of the 19 lakh excluded from the state's population. Follow Parichay, a repository "on Citizenship and allied issues", a collaborative effort by Indian law schools to provide legal aid to those appealing against exclusion from the NRC.
---
Bangladesh unbound
Bangladesh has been mocked as a poor neighbour pushing undocumented immigrants into India for years. The IMF projection that real GDP per capita in Bangladesh is set to zoom past India's this year has left many Indian spin masters very uneasy, particularly after Rahul Gandhi  asked if "BJP's hate-filled cultural nationalism" had brought things to this in six years. In fact, Bangladesh had already pulled ahead of India on several human development indices. Economist Kaushik Basu confirmed that Bangladesh's per capita GDP would indeed surpass India's in 2021. India's slump is alarming, given a 25% lead five years ago. India won't be able to get to its 2019 level even by 2021, the only country in South Asia apart from Afghanistan to achieve this feat.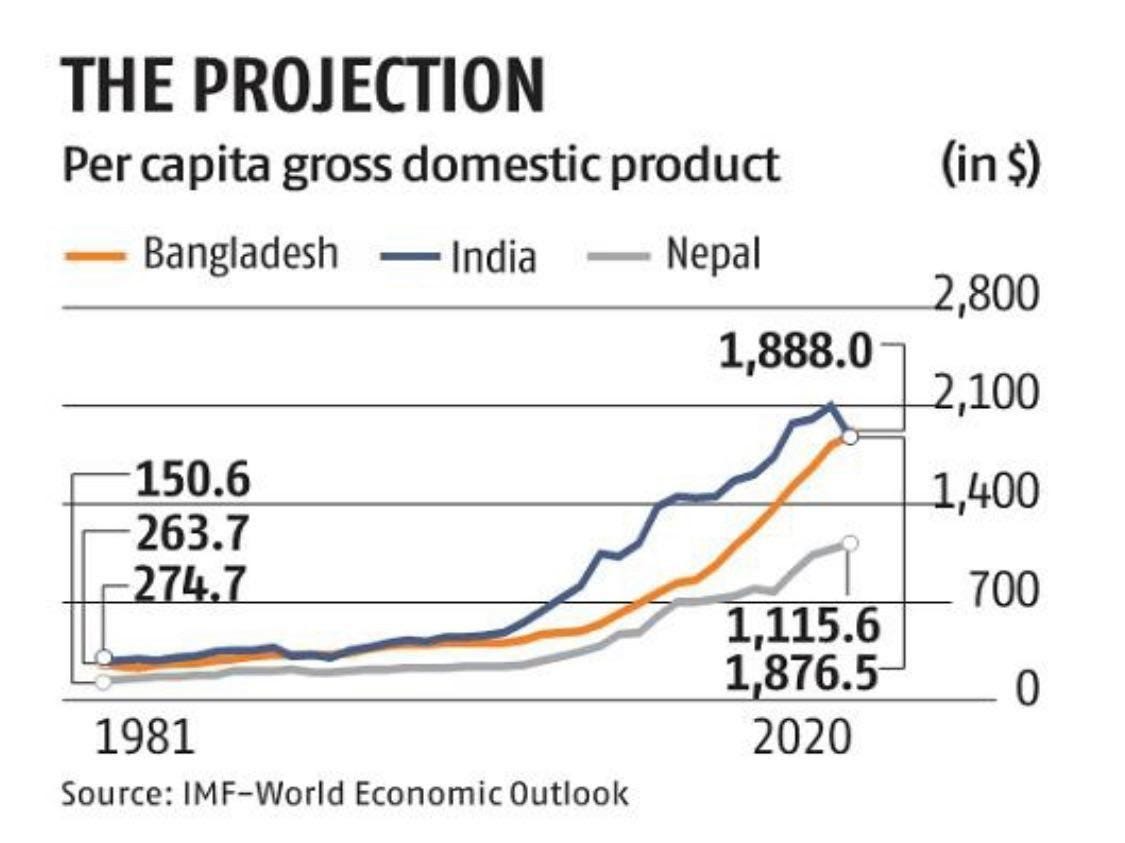 Prime number: 47

 
That's the number of nurses who have 

died of Covid-19

, in the line of duty, according to the Trained Nurses Association.
---
RT-PCR: Not enough, not good enough
Mumbai is staring at a shortage of RT-PCR tests, as its supply of kits will run out at the end of the month. The state has received faulty testing kits for the most reliable method of diagnosing Covid-19 from a private supplier, which has been blacklisted. Meanwhile, the rise in mysterious cases where patients test negative for RT-PCR but are found to have serious Covid-19 infection, detected through high resolution CT scans, has stumped Karnataka.
---
The Long Cable
Democracy in a digital swamp
Seema Chishti
When the drama surrounding Bollywood actor Sushant Singh Rajput's death dominated the headlines, many argued that it was linked to the Bihar polls. The case has not been proven. But there are deep interconnections between the digital melee that ensued and its implications on democracy as it is playing out. The Bihar assembly polls provide the latest instance. 
A University of Michigan report, Anatomy of a Rumour: Social Media and the Suicide of Sushant Singh Rajput, analysed multiple digital and social media sources following SSR's untimely death and reached revealing conclusions. 
Many discernible 'spikes' indicate concerted efforts to talk up the death as a conspiracy, or suggesting bias in the Mumbai Police, and traffic was traced back to those feeding the frenzy. "This happened during mid-July, when politicians started a coordinated effort to ask for a CBI enquiry. The majority of active accounts belonged to BJP politicians. Interestingly, journalists also pushed a strong anti-Maharashtra government narrative in early August 2020," the report said. In addition, Mumbai Policefound that over 80,000 fake accounts were created on social media to discredit it and the Maharashtra state government. 
Even as India battled its most severe defence, health and economic crises in decades, digital discussion was dominated by vicious gossip. It should worry those who believe in India as a vibrant democracy. This highlights the dangers of seamlessly sliding into a 'digital' election, as is happening in Bihar.
The (mis)conduct of Facebook India in indulging hate posts of the ruling party has been widely reported, but evidence of the hold of majoritarian ideology on the digital space has been available for some time. In April last year, Huffington Post  reported on the existence of an NGO, later turned into Association of Billion Minds (ABM), which leveraged its full-fledged digital presence to aid the BJP's electoral politics. "ABM's campaigns — which are often communal and divisive — are ramped up on the eve of critical elections and throttled down in the interludes between polls, even as the BJP has maintained a public distance from the firm."
The SSR case is an example of a perfect digital storm, of politically primed social media being made to seep into television debates, and vice versa. Venkat Ananth wrote, "Most of these theories have since been mainstreamed in various news channels — both on television and those who exclusively operate on the internet, specifically on YouTube and Facebook."
Writer and artist, the petitioner Kota Neelima placed on record in the apex court "a study on the way television debates are conducted and how they constitute hate speech". During a crisis with China on the Ladakh border, a raging pandemic where India is among the three nations hit hardest, and a 24% slowdown in the economy, "65% of total debates conducted by Arnab Goswami and 69% of debates by Navika Kumar were on the Sushant Singh Rajput case." 
In the digital swamp, players with money and organisation have an unfair advantage, especially now, when the real world is heavily dependent on digital communications. If the Election Commission does not acknowledge the power of those with heft to twist the information universe, it is missing the essence of a fair election.
The Supreme Court is yet to rule on the constitutional validity of electoral bonds, which allow massive sums of unaccounted money to flow into parties with neither trail nor consequences. In April 2019, it asked for all information on bonds to be given to the EC, but refused to stay the opaque scheme. Election watchdog ADR found that BJP secured 94.5% of the electoral bonds before the 2019 polls. 
The health of India's digital environment is no longer a technology issue or the subject of tired humour. The ability of money and muscle to poison the digital space is damaging our plural society's ability to speak to its many selves and live with its diversities. If our democracy ends up dependent only on that very poisoned swamp for the mediation of political debates and the transmission of public information, it will be a democracy only in name, or of just calling names.
---
Reportedly
Amit Shah shies away from Kolkata
Union Home minister and former BJP President Amit Shah has postponed his visit to West Bengal before Durga Puja, which was earlier announced by "party sources" with much fanfare. The minister, who has been hospitalised three times since he was diagnosed with Covid-19 and has invited speculation about his health, was fourth in the list of star campaigners for his party in Bihar ― after Narendra Modi, JP Nadda and Rajnath Singh. The Thakur from UP is really coming into his own this year as the face of the government, while the rest of the establishment sounds clueless about dealing with the China border crisis and the farmers' protests.
---
Fadnavis in choppy waters
The Uddhav Thackeray-led Maharashtra government has launched an SIT probe into the Jalyukt Shivar Abhiyan, the flagship water harvesting scheme of former BJP CM Devendra Fadnavis. This followed the CAG report which had raised questions about Rs 9,633.75 crore spent on the project by the previous state government. It was to make 25,000 villages drought-free by 2019, but the CAG found that it had made very little difference. 
---
Missing minister, talks fail
Representatives of 29 farmer organisations walked out of the meeting called by the Modi government to resolve their issues over the new farm laws, as the meeting was being chaired by the secretary, with the agriculture minister missing from the deliberations. Agitated union leaders raised slogans and tore copies of the farm laws outside Krishi Bhawan in Delhi, as they alleged that the meeting was "an effort to create a false impression that the Centre is engaging with farmers, when it is going all out to enforce the black laws." The BJP faced further embarrassment as its rally in support of farm bills in Ambala was blocked by farmers showing black flags. 
---
India-Pak: Squabbles and miffed silence
India and Pakistan sparred at a Commonwealth Foreign Affairs Ministerial meeting on Wednesday, after the latter raised the issue of Jammu and Kashmir and accused India of "targeting" its religious minorities. Meanwhile, the Modi government is maintaining a studied silence on the claim by the security advisor to Pakistan Prime Minister Imran Khan that India has expressed a desire for "conversation". The Pakistani claim negates the Modi government's much-touted position that talks and terror cannot go together, and undermines its domestic political campaign against Pakistan, particularly on the issue of Kashmir.
---
India and Nepal: General to enter labyrinth
As India and Nepal squabble over a boundary dispute, the man responsible for exacerbating the crisis by hinting that the Himalayan republic was doing it at China's behest, will be visiting Kathmandu next month. Following a 70-year-old tradition, Army chief General MM Naravane will be conferred the rank of Honorary General of the Nepal Army during the visit, something that has already been delayed for 10 months.  
---
Opeds you mustn't miss
India finds dishonourable mention in an editorial in Nature, which explains why the scientific publication intends to publish more politics and comment ― the future of science depends on policy and public discourse. It mentions that last year, "more than 100 economists wrote to India's prime minister, Narendra Modi, urging an end to political influence over official statistics — especially economic data — in the country." Now, we look forward to seeing cutting edge dung research covered in Nature. 
Under the Modi government, the Lok Sabha and the Rajya Sabha have ceased to be places for debate, write Christophe Jaffrelot and Vihang Jumle. And a triumph of ancient Indian mathematics has manifested itself in the business of the House ― exactly zero bills have been referred to parliamentary committees this year.
A nationalistic government that makes a mockery of Indian science by passing off rubbish as scientific facts must remember that science Nobels are generally won by those who attend good universities with inspiring teachers, argues Prasenjit Chowdhury.
Rahul Verma says that if the families of migrants turn out in the Bihar assembly election, actuated by the grievances they suffered during the lockdown and its aftermath, they could change electoral equations in a substantial number of constituencies with high out-migration.
The chances of a country characterized by gender and caste inequalities becoming the next Asian tiger range from low to negligible, Rahul Jacob writes in the wake of the Hathras rape case.
---
Listen up
Even if you have read King's College London scholar Dr Alice Evans' provocative blog on why women in South India have far greater levels of autonomy and experience more fulfilment across parameters than women in North India, you must hear her in this podcast on the same subject. Meanwhile, a new study by Human Rights Watch has found that poor Indian women who work in the informal sector are routinely subjected to sexual harassment and abuse, despite a groundbreaking law.
---
Watch Out 
In the Edict Project, TM Krishna sets Emperor Ashoka's public communications to music. 
See India's Cricket captain Virat Kohli talk about wanting to take the Decision Review System, or the DRS, boldly into areas where no man has gone before. Currently DRS, the tech-assisted process of helping match officials on the ground, only allows players to review lbw and decisions involving close, edged catches. Should its scope be expanded to allow reviews for wides and no-balls for high full-tosses? Kohli tells his colleague KL Rahul that "as a captain" he wants DRS to review those too.
---
Tailender
Setu to nowhere
The WHO Chief tweeted "Shanti" in Devanagari. That was it. That was the tweet.  Two days ago, Dr Tedros Adhanom Ghebreyesus mystified millions with praise for the Aarogya Setu app, which has quietly receded to the background of the effort against Covid-19. Digital activists publicly wondered how, with privacy concerns raised about the app, and India's general failure to contain the pandemic, the Aarogya Setu app could be talked up. 
---
That's it for today. We'll be with you again tomorrow, on a device near you. If The India Cable was forwarded to you by a friend (perhaps a common friend!) book your own copy by SUBSCRIBING HERE.