Discover more from The India Cable
India is changing. We help you interpret it. From the founding editors of The Wire — MK Venu, Siddharth Varadarajan and Sidharth Bhatia — and journalists-writers Seema Chishti, Sushant Singh and Tanweer Alam. Editor: Pratik Kanjilal
Over 9,000 subscribers
The India Cable: India Seriously Hungry, Its Billionaires Seriously Richer
Plus: Naga leader talks tough, Centre caves in on GST, Prasar Bharati spurns 'anti-national' PTI, Uddhav holds his own and a Modi fanboy reaches UNESCO
From the founding editors of The Wire—MK Venu, Siddharth Varadarajan and Sidharth Bhatia—and journalists-writers Seema Chishti, Sushant Singh and Tanweer Alam. Editor: Pratik Kanjilal
---
Snapshot of the day
October 16, 2020
Pratik Kanjilal
The Centre has buckled to the Opposition-ruled states on how to fund the GST revenue shortfall of Rs 2.35 lakh crore. It will now borrow from the market to fund the states' compensation shortfall. Meanwhile, addressing the ministerial-level committee of the IMF, the Finance Minister said that a V-shaped recovery is being seen in several indicators. However, IMF chief economist Gita Gopinath doesn't think a V-shape recovery is expected overall, though Mukesh Ambani is flashing the V sign as his assets have done rather nicely.
After four months of peevishness over an interview which embarrassed the Prime Minister at a delicate moment, Prasar Bharati has cut the cord with the country's largest news agency PTI, which serves as the backbone of the news industry. Fresh bids will be invited, and who wins could be instructive. 
As the Bihar elections draw near, the Election Commission has reminded all that strictures on exit polls under the Representation of the People Act also apply to astrologers, tarot readers and analysts who predict outcomes on TV. It is a novelty for analysts to be clubbed with fortune-tellers.   
Cinema halls reopened yesterday, but no one had much fun. In fact, a hall in Delhi ran shows for its own staffers. In Bengaluru, a man watched Thappad all alone in a hall with a capacity of 175. Staff took selfies with him after the show at Inox Brook Lido Mall. And to general acclaim, Rajinikanth has recanted and paid property tax of Rs 6.5 lakh on his kalyana mandapam or marriage hall in Kodambakkam, Chennai. He had contested the sum in court, drawing criticism for pinching pennies when the poor were suffering in the pandemic. One of his most famous lines was thrown back at him by the Congress: "System seri illai (The system isn't right)!"
And following exhaustive investigations by the agencies, The Centre has found that the metros are prime destinations for narcotics. Who would have ever thought.
---
India is seriously hungry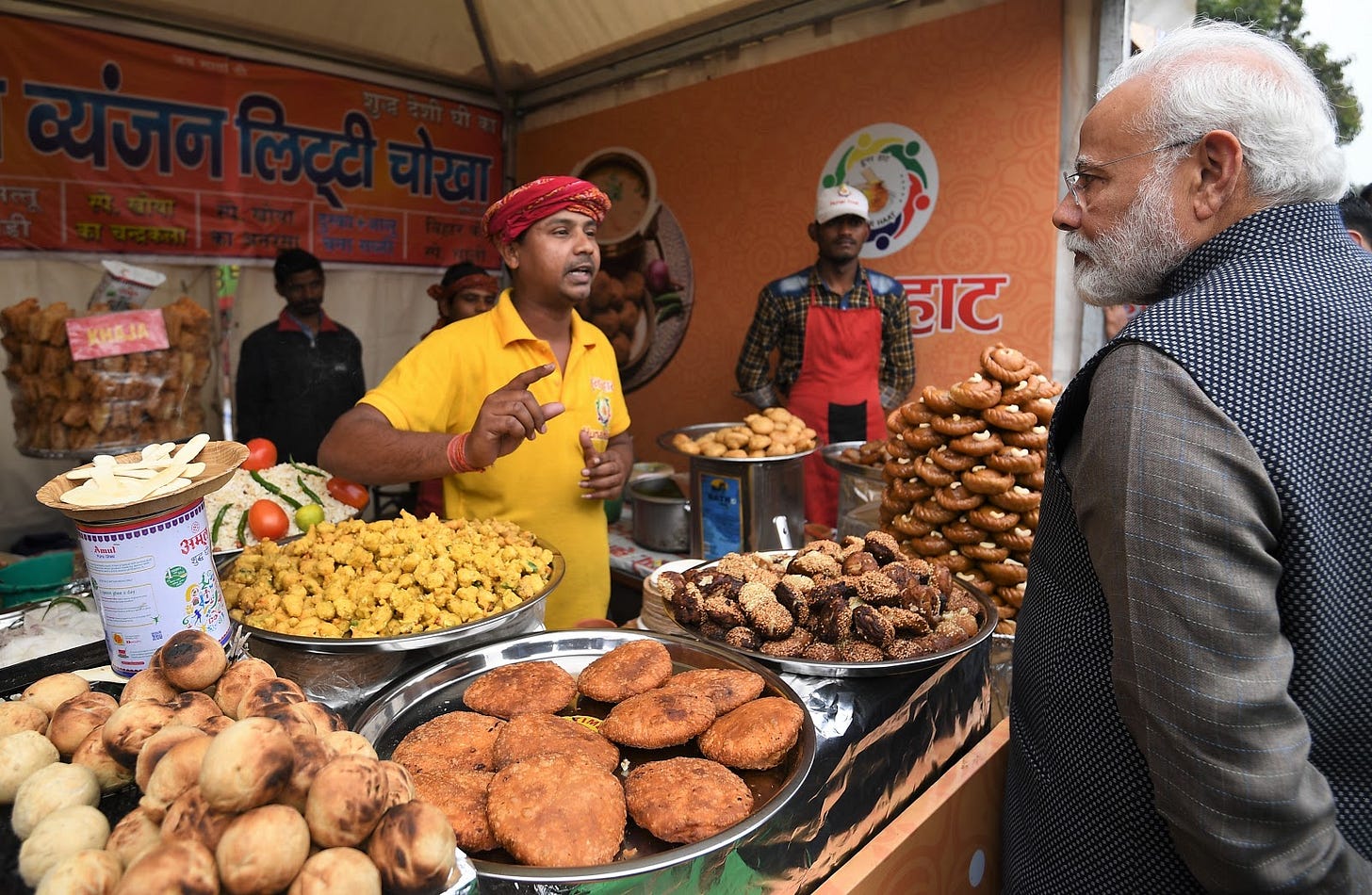 (via Twitter @narendramodi)
In the 2020 Global Hunger Index, India ranks 94th out of 107 countries evaluated. With a score of 27.2, India has a level of hunger that is classified as 'serious'. Ahead of India on the scorecard are Nepal (21 places above), Bangladesh (19 places above) Pakistan, Ethiopia, Angola, Congo and a host of war-torn nations. The biggest improvement in India's score was visible in 2006-2012.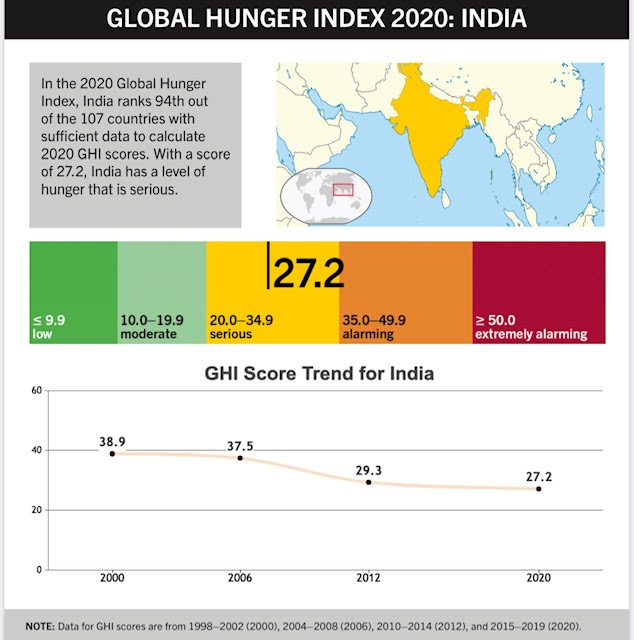 ---
That's rich: billionaires 33% fatter
Refuelling serious concerns about the surge in crony capitalism, especially when GDP is set to contract by over 10% in India, the Billionaire Insights Report 2020 from UBS and PwC finds that the combined net worth of India's billionaires rose by a third (33%) between April 2019 and July 2020. In 2017, 73% of India's wealth had gone to the top 1%.  And the wealth of India's top billionaire, Mukesh Ambani, grew at the rate of Rs 90 crore per hour since the lockdown began. At the beginning of this month, it was 6.6 lakh crore, more than double the figure before the lockdown. 
Does class or caste matter? You bet it does. The 'Time Use' survey, the first by the government in 20 years, tells you how much. 
---
'Nagas will never be part of India'
The General Secretary of the National Socialist Council of Nagaland (NSCN) has said that the Nagas will never be part of the Indian Union nor will they accept India's constitution. In an interview to Karan Thapar for The Wire, Thuingaleng Muivah added that there could be no compromise on the NSCN's insistence on a Naga flag and Naga constitution. "We have stood our ground on these two non-negotiable issues and we shall continue to stand till the last man standing", he added. His remarks raise questions about the Modi government's ability to deliver on the 'secret' framework accord it signed with the NSCN in 2015 and reflect the extent to which the relationship between the two sides has soured.
---
Gupkar's remit for Kashmir widens
The BJP had sold the revocation of Kashmir's special status as a measure against corruption. But the J&K Anti-Corruption Bureau, which re-investigated the 2009 Gulmarg land scandal, has again indicted Baseer Ahmad Khan, an IAS official who has since retired and is now advisor to the Lieutenant Governor, for his alleged role in the case. Meanwhile, everyone who matters in mainstream Kashmiri politics ― a fact sharply pointed out to a news channel by Mehbooba Mufti, who is finally able to operate her own Twitter handle  ― met in Srinagar and expanded the ambit of the Gupkar declaration to seek a resolution of the Kashmir issue, well beyond the "restoration" of the erstwhile state's special status before August 5, 2019.
---
GST impasse cleared
The Centre has finally swallowed its pride and agreed to borrow from the market to fund states as part of the GST shortfall compensation mandated by the Constitution. Until yesterday, the Centre was refusing to borrow Rs 1.1 trillion on behalf of the states. It would have scored a self-goal for India's public finance, since states' loans cost 100 basis points more than the Centre's. The Prime Minister was deaf to the simple logic offered by the RBI. Most GST Council members believe that Finance Minister Nirmala Sitharaman was taking instructions from the PMO, and therefore not responding to suggestions from Opposition-ruled states.
Just two days ago, Sitharaman had said that central borrowing would "jack up" the cost of borrowing for all, but the Centre has climbed down four days after the last GST Council meeting ended in an impasse. Some states have been looking at legal options, including approaching the Supreme Court. Former Finance Minister P Chidambaram thanked academics, newspaper editors and economists who had supported the Opposition's position. 
The money the Centre will borrow will flow to states in the same manner as World Bank loans. Bookkeeping magic will keep it off the Central fiscal deficit, but state governments will record it as a capital receipt.
---
PTI: Press mistrust
Prasar Bharati has sundered relations with PTI, the nation's largest news agency, and will take bids for a new English news provider. Supplying innumerable news organisations who do not have enough reporters, PTI is the backbone of the Indian news ecosystem. It has never been adversarial to governments, but being independent, is not sufficiently darbari either. In June, it was dismissed as anti-national over an unwitting propaganda faux pas. It had quoted Vikram Misri, Indian ambassador to Beijing, saying that Chinese troops must withdraw to their side of the LAC, while the Prime Minister insisted that there were no Chinese troops in Indian territory. Now, who wins a contract with Prasar Bharati would be politically instructive. The privately owned ANI is a perennial government favourite. There is also the RSS-backed Hindustan Samachar, which the Modi government has been promoting.
---
Prime number: 968% 
With Bihar going to the polls soon and other key states following next year, it pays to note that  between 2012-13 and 2018-19, donations from corporates to national parties increased by 968%, reports ADR. Out of five national parties, the BJP received the maximum donations of Rs 698.082 cr from 1,573 corporate donors, followed by the Congress, which received a total contribution of Rs 122.5 cr from 122 corporate donors, and NCP with Rs 11.345 cr from 17 corporate donors.
---
Hands off Bollywood, says Uddhav
"Moves to finish off the film industry or shift it elsewhere (from Mumbai) will never be tolerated," Maharashtra Chief Minister Uddhav Thackeray said at a meeting with multiplex and theatre owners. His statement came not only in light of the relentless attack on the Hindi film industry by social media accounts and TV news channels speaking for the BJP-RSS ideology, but also after the BJP government in Uttar Pradesh recently announced a plan to create a film city near Noida to woo filmmakers.
---
The Long Cable
The surprising success of Uddhav Thackeray
Sidharth Bhatia
When the governor of a state mocks a political party for turning 'secular' and an aggressive political party acts with uncharacteristic restraint, it is a topsy-turvy moment in Indian politics.
Maharashtra has been on a bumpy road in recent months.The state leads in Covid-19 cases, massive rains and squalls have hit its coastal areas and the political scene has seen drama. Repeated attacks on Bollywood have also been perceived as a way of undermining the state's economic and cultural status.
Facing these multiple crises with equanimity is Uddhav Thackeray, chief minister and son of the fiery Bal Thackeray, whose Shiv Sena party was known for aggression and street violence for five decades. Thackeray heads a coalition government and when he took over almost a year ago, pundits were betting that it would collapse speedily.
Not only has he managed to provide stability, he has done something no one had thought possible — he has tempered the militant tendencies of his troops. In other times, the Sena's stormtroopers would have been out on the streets protesting against the governor. Instead, they remained silent. Even as Covid-19 numbers have kept rising, Thackeray has been transparent and provided sober and reassuring leadership to the state.
Most importantly, he has staved off constant threats to his government from the BJP, whose ally he was until 2019, and which is still smarting at its humiliating loss of the country's richest state. The BJP wants to snatch Maharashtra back and has thrown everything at him ― hostile media coverage from friendly TV channels, behind-the-scenes political manoeuvring, and even a remarkably partisan governor, who is supposed to be a neutral officer sworn to uphold the Constitution. His latest action, of taunting the government for opening bars but not temples, involved a jibe about secularism. Thackeray is a rare chief minister who has stood up to the BJP and its central leadership. Chief ministers of other states have either made their peace by keeping quiet or tried to ally with the Big Brother. Thackeray has shown that defiance can and does work.
His bigger problems remain, however. The state's economy is suffering and Covid-19 numbers are still high, with over 40,000 deaths. Thackeray has been easing the lockdown, and is trying to calibrate further opening up, without boosting the case-load.
---
Reportedly
Minister or bureaucrat?
In a negotiation process, if one side harps on about keeping the deliberations confidential, while the other keeps hitting out in public, it is not hard to imagine which side has the weaker hand and is unable to find a convincing position to articulate. This is a general observation, which ought to bear no resemblance to Foreign Minister S Jaishankar's response to a question at an event on Friday – "What is going on is obviously something confidential between us and the Chinese" – whereas the Chinese foreign ministry and military spokesperson keep shooting from the hip on India. Does it explain the satirical quiz question often posed in Delhi: who is the cabinet minister who behaved like a minister when he was a secretary, but behaves like a bureaucrat, now that he is a minister?
---
Premature injection
Health Minister Harsh Vardhan said on Thursday that India will get a vaccine in the "next few months". How optimistic. Today, WHO Chief Scientist Dr Soumya Swaminathan was categorical inThe Guardian: "an average person" may have to wait till 2022 to get a jab.
---
Not cool: After TVs, import ban on ACs
From October 1, money invested out of India under the Liberalised Remittance Scheme attracts a 5% tax. But the government could now allow Indian corporates to list directly in seven countries ― all the major exchanges, except Hong Kong. Top beneficiaries will include Reliance Jio and LIC, which has been plagued by rumours of bad investments and losses. At the same time, the Directorate General of Foreign Trade has prohibited the import of ACs, after TVs and tyres were banned. The government wants granular control over the flow of money across borders, which is never a great idea for growth. 
---
Hyderabad: What the waters took away
The magnitude of the calamity in Telangana and Andhra Pradesh, following incessant rain, is brought home by the story of Taher Qureshi of Hyderabad, who lost eight members of his family in a few minutes around midnight. Four were found dead two kilometres from home, and four more, taken away by the raging waters, are missing. They include a child of five.
But near Tenali, when a woman went into labour while her village was preparing to evacuate, the community got together and helped her deliver on the flood bank, and the Kollur police took the newborn to hospital. The Telangana government estimates losses of Rs 5,000 crore. Rs 5 lakh have been offered to the kin of each victim of the downpour.
---
Pregnancy and Covid-19 
BYL Nair Charitable Hospital, a 99-year-old government-run institution in Mumbai, has treated the largest number of pregnant women with Covid-19 in India — and possibly in the world. Having delivered nearly 700 babies from infected mothers, the hospital's experience is playing a key role in global research on how the coronavirus affects pregnant women and newborns. Researchers are using the data to establish whether the virus is linked to higher rates of miscarriage, premature birth or maternal mortality. Incidentally, this is the very hospital where three doctors who were alleged to have abetted the suicide of a Dalit doctor, Payal Tadvi, were allowed after a court order to join post-graduate classes under police escort.
---
Shooting, and not only with a camera
Dramatic visuals have surfaced of a crowd, including officials, witnessing a 46-year-old man being shot dead, allegedly by a UP BJP MLA's aide in Ballia, eastern UP. People are seen running helter-skelter in a video shared by ANI. This happened in the presence of state officials including police, who will be suspended by the UP government.
---
Modi: Chip on the old motherboard
Vishal V. Sharma will be India's next ambassador to UNESCO. He was OSD (officer on special duty) to Narendra Modi when he was chief minister of Gujarat. Sharma is said to have organised Modi's public meetings conducted via holograms in 2014. The next year, in a gushy article in the World Hindu News, he wrote that Modi, who had apparently not taken a day off in 15 years, was "unappreciated" only because he was constrained by history, being  "a supercomputer having to work on an outdated motherboard".
---
Op-eds you don't want to miss
Julio Ribeiro adds his voice to the petition filed by eight retired DGPs of Maharashtra, asking the Bombay High Court to extend the scope of its inquiry into the kangaroo courts that TV channels have become, conducting parallel proceedings to those being held in courts.
Suhas Palshikar argues that caste remains the firm basis of atrocities and ostracisation, but the remedy does not necessarily lie in politics on caste basis alone. A solution needs politics that addresses three imperatives ― the Dalit condition, social justice and democracy in general.
TCA Raghavan recalls the original partitionist, Lord Curzon, and is struck by the extent to which the security anxieties of the Raj have been inherited by the leadership of the independent nations of South Asia, and continue to steer military and foreign policy. 
Ruchir Sharma hails Communist-ruled Vietnam for following the same path as the one followed by the "Asian miracles" – first Japan, then Taiwan and South Korea, most recently China – after the Second World War, when they built themselves into manufacturing export powerhouses, and lifted themselves out of poverty.
Prosperity needs stability, a semblance of equanimity and equality, reminds Santwana Bhattacharya, asking us to look east for wisdom — to our perennially mocked 'poor neighbour' Bangladesh, which has overtaken us on just about all indices.
---
For your reference
Written by Sunaina Kumar and produced by Supriya Nair, this long read is the tale of aristocrats, enigmatic wives and spymasters (with a special appearance by filmmaker Satyajit Ray) in the drama of Sikkim's merger with India.
Listen up
"Yoga will not project power in the neighborhood." Aparna Pande, author of a new book, Making India Great: The Promise of a Reluctant Global Powerat The Tea Leaves Podcast, on tensions in the India-China relationship, protectionist dynamics in local Indian politics and society, and assessing the future trajectory of the US-India relationship.  
Watch Out
Bhanu Athaiya, the first Indian to win an Oscar, has died at the age of 91. She was honoured in 1983 for best costume design in Sir Richard Attenborough's Gandhi.
There's a great story about the Academy awards that year, where Steven Spielberg was nominated for best director's award for E.T., but Gandhi was the sensation. "Steven and I were at opposite sides of the room, and when the winner's name was announced after all the speeches and such, I literally had to be nudged. I couldn't believe it," Attenborough says in the 1997 book Steven Spielberg: A Biography, by Joseph McBride. "I got up from the table and it was a sort of knee-jerk actor's reaction. I didn't go to the podium, I went over to Spielberg. He got up, I put my arms 'round him, and I said, 'This isn't right, this should be yours.'"
Don't miss the Prof. Satish Chandra Memorial Lecture on 'Migration and the Making of Cultures in Ancient India', by Romila Thapar, with an introduction on Prof Chandra by Mridula Mukherjee. Usually, migration studies focus on the modern period, but as always, Thapar is "more comfortable in the BCs than the ADs", a time when the world was surprisingly globalised. 
---
Tailender
Mind your language
Poignant and sharp answer from a Bihar voter, when asked if 'Vikas' had arrived; 'I wasn't there, I had gone to the doctor'.
And on Thursday, when a lawyer in the Supreme Court asked, "May I please your Lordships", Chief Justice Sharad Bobde ticked him off for his English. "Speak correct English. You should say 'may it please'. We don't want anyone to please us." The India Cable rests its case.
---
That's it for today. We'll be back with you on Monday, on a device near you. If The India Cable was forwarded to you by a friend (perhaps a common friend!) book your own copy by SUBSCRIBING HERE.