Discover more from The India Cable
India is changing. We help you interpret it. From the founding editors of The Wire — MK Venu, Siddharth Varadarajan and Sidharth Bhatia — and journalists-writers Seema Chishti, Sushant Singh and Tanweer Alam. Editor: Pratik Kanjilal
Over 9,000 subscribers
The India Cable: Jagan and the Judges; and Delhi Gets a Real Probe
Plus Aarey saved, Covid and the WTO, child trafficking and rural crisis rise, LSR shoots for perfection and FELUDA to hit the streets soon
From the founding editors of The Wire

—MK Venu, Siddharth Varadarajan and Sidharth Bhatia—and journalists-writers Seema Chishti, Sushant Singh and Tanweer Alam.




Editor: Pratik Kanjilal
---
Snapshot of the day
October 12, 2020
Pratik Kanjilal
Parts of Mumbai and its suburbs, including Juhu, Andheri, Mira Road, Navi Mumbai, Thane and Panvel, suffered a rare power grid failure today. But stock exchanges were unaffected, Republic TV's top executives are being grilled in the TRP fixing matter and the controversial Aarey metro shed, for which hundreds of trees were cut, has been nixed by Uddhav Thackeray. Life goes on in Maximum City. 
Over the weekend, Andhra Pradesh Chief Minister YS Jagan Mohan Reddy wrote an open letter against Supreme Court Justice NV Ramana, who is slated to become the next Chief Justice, alleging impropriety. Justice Ramana heads a bench seeking the fast-tracking of cases against former and sitting legislators, in the course of which a disproportionate assets case against Reddy has resumed. 
The CBI takes over the Hathras rape case, but will not be investigating the fascinating international conspiracy that Yogi Adityanath Bisht sees everywhere. The Constitutional Conduct Group (CCG) steps in to probe the Delhi riots, like other citizens' groups had done after Godhra. Child trafficking surged during the pandemic, which had stressed vulnerable families. Ironically, BJP Union Health Minister Harsh Vardhan has had to urge against congregating at temples and other religious places in the festive season, for fear of surging infections. And GDP Council acrimony and the India-China border talks do what they do best. They continue. 
Facebook's public policy department gets itself some window dressing, in the form of Sunil Abraham. Srikant Datar, alumnus of Bombay University, IIM Ahmedabad and Institute of Cost and Works Accountants, before he moved to Stanford and Harvard, has been appointed dean of Harvard Business School.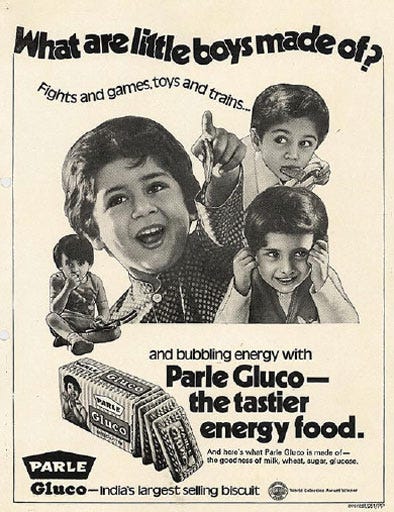 And after Bajaj, Parle has pulled advertising on news channels that broadcast toxic content and abuse.
---
Delhi riots: Private investigators step in
Even as the Delhi government finds in seven videos, evidence of police complicity in the February 'riots' in the capital, the worst communal violence since 1984, the Constitutional Conduct Group (CCG) of former administrators, diplomats and police officers, has constituted a six-member committee to create a "contemporary record of acts of omission and commission".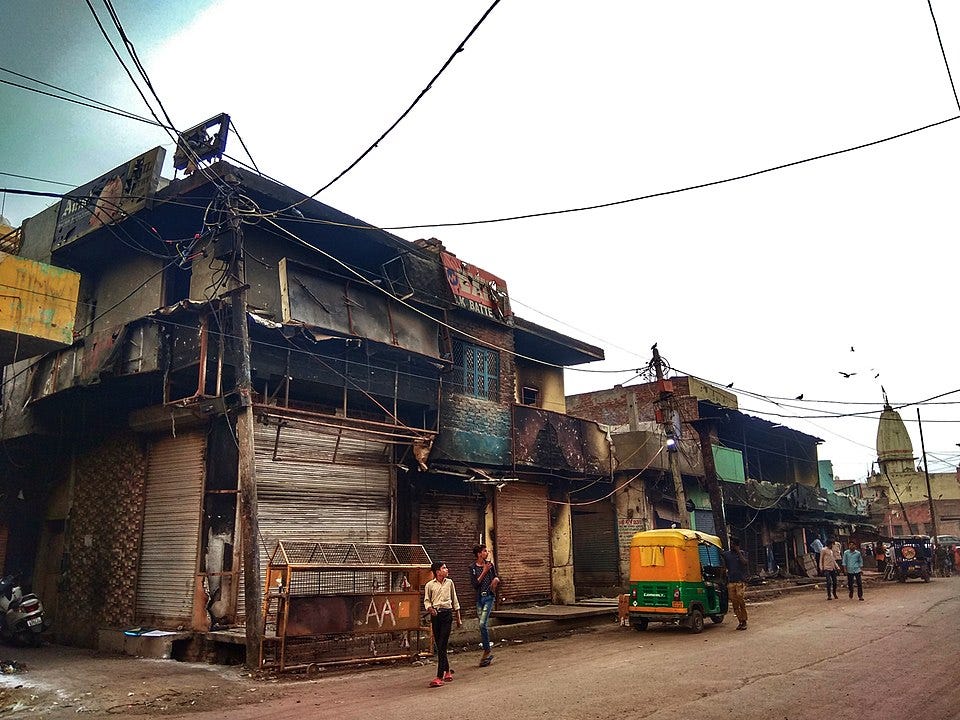 Burnt shops in Shiv Vihar, north-east Delhi. Photo: Banswalhemant/Wikimedia
It comprises Justices Madan Lokur, AP Shah, Anjana Prakash and RS Sodhi, former Union home secretary GK Pillai and Meeran Chadha Borwankar of the IPS. The development recalls the Gujarat 2002 'riots', when independent probes into the arson at Godhra railway station and the violence that followed proved to be far more reliable than the government's efforts.
---
Facebook India has a new face, but the problem remains
Following the Ankhi Das debacle, in which Facebook was accused of being hand in glove with the BJP in India, the company has appointed Sunil Abraham, open source advocate and co-founder of the Centre for Internet and Society, as director for data and emerging technology. The widely respected industry veteran will report to the usual suspect ― Ankhi Das.
---
RTI anniversary: what's the score? 
It's the kind of report card that children feed to the dog before their parents can see it. For the 15th anniversary of the Right to Information Act, the Satark Nagrik Sangathan and the Centre for Equity Studies have compiled a damaging report on information commissions, many of which remain headless. On July 31, 2,21,568 RTI requests were pending, and the backlog is rising. If a new request is filed with the Odisha information commission, it will be responded to in seven years and eight months. For a copy, or more information, mail satarknagriksangathan@gmail.com. 
---
India, SA, take vaccine deals to WTO
India and South Africa have formally intervened in the WTO, seeking the support of other nations in creating a special IPR dispensation for Covid-19 vaccines, to permit local mass production. Big Pharma in the US and Europe will lobby hard to protect their interests. A partner at a top Indian law firm representing pharma majors running vaccine projects said that they appreciate the humanitarian aspect, but would like to negotiate a reasonable price so that research costs are covered. Price will be the most contentious issue. India has the capacity to produce 60% of the world's demand, and delivery price would reflect a balance between the public interest and profitability. Amidst global lobbying, governments and pharma companies will have to rise above self-interest.
---
Multiple vaccine providers for India, and FELUDA on the scene, too
India's Health Minister Dr Harsh Vardhan has said that considering the large population of India, one vaccine or vaccine manufacturer cannot fulfil its requirements. For complete protection, India may have to tie up with multiple manufacturers. Neither the Health Minister, nor the PM, have addressed a single press conference on this to date, but he said on social media that prioritization of groups for vaccination would be based on occupational hazards and risk of exposure, and the risk of severe morbidity or mortality. He denied that young and working class people were being prioritised, and announced an early roll-out of the FELUDA paper strip test forSARS-CoV-2, named after Satyajit Ray's famous detective. 
---
GST: Fiscal federalism failing
The GST Council meets on Monday, for the third time to discuss the issue of funding the shortfall of GST revenue of states. The non-BJP ruled states have rejected the Centre's proposal that state governments should borrow to cover the shortfall, and had asked for a vote in the last council meeting. The Centre had abruptly ended that acrimonious meeting to avoid the vote, and has argued that the question of borrowings is outside the jurisdiction of the Council. Opposition-ruled states are now keen on setting up a dispute resolution mechanism with respect to recommendations of the GST Council. Or else, they will have to approach the Supreme Court.
Former Finance Commission member Govind Rao writes that "the controversy surrounding the compensation for the loss of revenue to the states due to the implementation of GST is not merely about revenue loss. [It] could impact the confidence and trust that states decide to place on the Centre. The real issue at stake is whether commitments and agreements will be honoured or not."  
---
Aarey: Mumbai breathes again
A controversial decision to build a car shed for the city's Metro line in Aarey has been overturned by the Maharashtra government and 800 acres of forest land, popular forever for school picnics and film shoots, will now be protected. 
For years, citizens groups have fought the development, which would have almost certainly lured in developers and choked over-developed and polluted Mumbai. Hundreds of old trees were cut down in a swift, overnight action by the Metro authorities. Now, citizens wonder why the previous government under Devendra Fadnavis was so pig-headed about the project.
---
Khushbu Sundar jumps ship
Chennai-based Congress national spokesperson, the actor Khushbu Sundar, vocal for  progressive change and frequent victim of trolls for her life-choices, has jumped ship after being removed from her post, and may join the BJP. "Not completely unexpected as Khushbu has been unhappy in the Congress ever since she was not given a ticket to contest in the Lok Sabha election," the Newsminute says, wondering if there's a Rajya Sabha seat in the offing. 
---
Droning on: India-China border talks
A full 160 days of border tensions in Ladakh, and India and China are still talking. The Corps Commanders will meet for the seventh time on Monday but there is little hope of any breakthrough with Beijing insisting that Indian forces first vacate the heights in the Chushul sector they had occupied in end-August and early September. The Indian stance is that there can be no piecemeal discussion on any one section of the border, and is therefore not insisting any more on restoration of status quo ante as of April. Rahul Bedi writes in The Wire that the better living conditions of Chinese troops in the harsh environment of Ladakh will give them an overall advantage over their Indian rivals during the winters. In another fallout of the border standoff, the government blocked more than 500 social media accounts, pages and websites in September, up from 200-250 cases per month last year.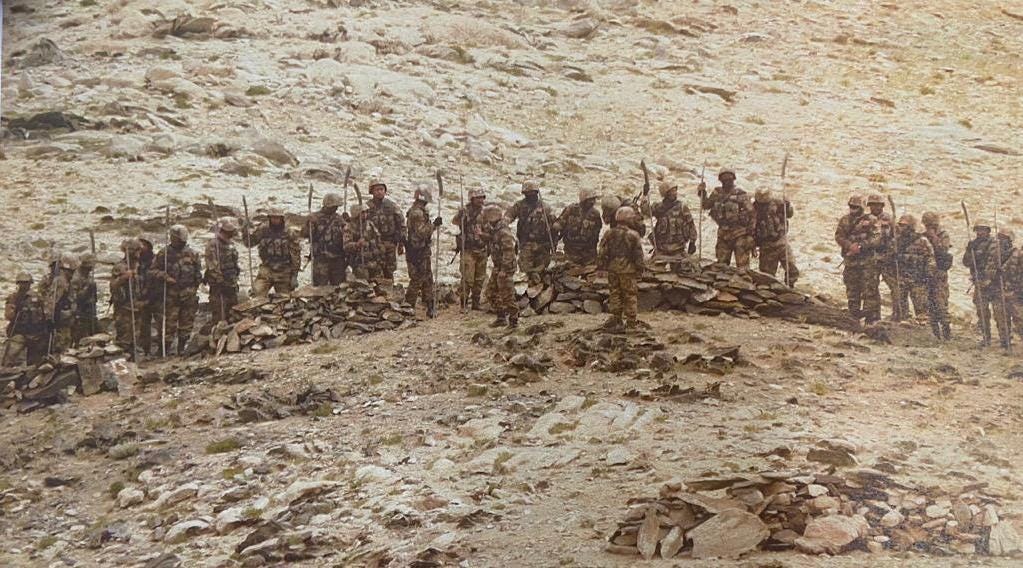 ---
Hathras: CBI takes over case, but spurns international conspiracy probe 
In the Hathras (UP) rape and murder matter of a young Dalit woman, the Central Bureau of Investigation has filed an FIR under sections of murder, attempted murder and gang-rape of the IPC, apart from the SC/ST Act. The Hindu noted that the FIR was removed from the CBI's website "just hours after" being posted but CBI watchers say this is not a conspiracy, given that the crime involves rape. If reporters are wary, it is because the UP govt has refused to acknowledge the rape. It communicated this to the media via a PR company and to the Supreme Court last week in an affidavit that a former DGP of Kerala says was "brimming with legal falsehood". 
On Monday afternoon, the family of the victim recorded its statement before the Lucknow bench of the Allahabad High Court. A good samaritan from Jabalpur, Rajkumari Bansal, who travelled to the Hathras village to offer help to the family, has been falsely branded a 'Naxal' by a section of the media and now threatens to sue for defamation. Though the Adityanath government insists it is the victim of an 'international conspiracy' to trigger riots and has filed over 20 FIRs and arrested four men, including a journalist and a cab driver (who was simply ferrying passengers) on sedition charges, the CBI has declined to probe this aspect of the matter.
---
The Long Cable
Kingdom of justice for a horse's hair
Siddharth Varadarajan
India is in the midst of its greatest constitutional crisis in decades but you wouldn't get to know that from watching television or even reading the newspapers.
Never in the past 73 years has a chief minister of a state publicly accused a Supreme Court judge and several high court judges of colluding with a political rival to unseat his government. In an extraordinary letter to Chief Justice of India Sharad A. Bobde that was made public on Saturday, Andhra Pradesh CM YS Jagan Mohan Reddy not only did just that, but he also insisted that the Supreme Court judge was linked to a corrupt land deal. Of course, the most incendiary element of Jagan's missive is the fact that the judge in question, Justice NV Ramana, is next in line to head India's top court.
There is another element too, which is that the letter was sent to Bobde on the very day that Jagan met Prime Minister Narendra Modi – a meeting that triggered speculation about Jagan's party, the YSR Congress, offering support to the Bharatiya Janata Party. Finally, the fact that Jagan is himself facing the prospect of an expeditious criminal trial thanks to a recent ruling by Justice Ramana is a reminder that this is a story with no heroes.
Since no one else will do this for you, let me spell out the meaning of these events as bluntly as I can: they tell us that the Supreme Court will soon be even more in thrall of the Modi government than it already is.
Let me explain.
Jagan has levelled grave charges against Justice Ramana, but, as V Venkatesan notes, he has, curiously, not asked for any formal remedy. The letter also draws attention to his still-pending request that the Central Bureau of Investigation probe the shady Amaravati land transactions (which we cannot describe thanks to an unusual gag order imposed by the Andhra high court last month, which is also alleged to be part of the same 'plot'). His government obviously wants to pursue the FIR it registered on the land deal but that petition is already pending in the Supreme Court so it is not clear what he wants CJI Bobde to do in response to the letter. In effect, Jagan has drawn blood, only to hand his sword over to Modi, whose nominees will decide ― should matters ever reach that point ― whether a motion of impeachment for a judge can be moved in Parliament. Without such a motion, even an in-house inquiry by CJI Bobde will have no effect. So why would Jagan do such a thing?
The ancient legend tells us that Damocles got to sit on the throne of his king for a day but the sight of a sharp sword hanging above his head by a horse's hair was all it took to ensure that he developed no royal pretensions. But in Cicero's telling, there were any number of 'enemies' who could cause that sword to drop. In India, if and when Ramana gets to occupy the post of CJI, the fate of that single strand of hair will rest entirely on the goodwill of the Prime Minister.
Modi has enjoyed this power before and loves it. His government deliberately sat on the explosive allegations a former chief minister of Arunachal Pradesh, Kalikho Pul, had made in a suicide note in 2016 about the relatives of two judges, Justices JS Khehar and Dipak Misra, approaching him for a bribe. No probe was launched and the two judges went on to become chiefs of the Supreme Court. Their tenures marked the beginning of its descent into what is now widely recognized to be an 'executive court'. Justice Ranjan Gogoi, who succeeded Dipak Misra as CJI and took the executive nature of the court to such high levels that Modi made him an MP when he retired, was similarly handicapped by the government helping him cover up the case of a Supreme Court employee who alleges she was sexually harassed by him.
So when Modi saw the draft of Jagan's letter on Ramana, he would have said to himself, 'been there, done that', and filed it away in the top drawer of his desk. The fact that he has other options before him as well would have made him happier still.
CJI Bobde retires in April 2021 and in the normal course of things, Justice Ramana will succeed him as CJI and remain in office till August 2022. If CJI Bobde and Modi decide it is best that he be passed over, then Justice Rohinton F. Nariman ― a highly respected, independent-minded judge ― would be next in line as chief, but for just four months, as he retires in August 2021. Since the court's summer recess falls within that short period, the government may believe the risk associated with having someone like Nariman as CJI is within acceptable levels. And after him would come Justice U. Lalit who, as a lawyer, had represented BJP leader Amit Shah in a custodial killing case and was one of the first judges to be appointed to the Supreme Court when Modi became prime minister in 2014. Justice Lalit will make it to the CJI's post even if Justice Ramana is not bypassed, but with a tenure that will barely last two months, instead of the 14 months he would have if Ramana is out of the picture completely.
Modi, in short, is spoiled for choice. Whatever happens next, his track record of never meeting a CJI with whom he feels totally comfortable will remain unblemished.
---
Children first: Trafficking rises during lockdown
The Indian Express has begun an investigation into a surge in child trafficking during the lockdown, based on data about SOS calls and complaints to the 1098 child helpline number of the Ministry of women and Child Development. Over 27 lakh distress calls were fielded in the March-August period. While that could partly reflect mental health problems which developed during the lockdown, the staggering score of 10,000 cases of child marriage logged probably points to financial distress among families.  
---
Jobs: the rural crisis
Indicating the gravity of the recession and the resulting unemployment crisis, the average number of workers enrolled in the Mahatma Gandhi National Rural Employment Guarantee Scheme (MGNREGS) every month has been substantially higher month on month. In May, 2.51 crore people were offered work every day, which is 73% higher than 1.45 crore in May 2019. June's figure was 92% higher, the July average was 114% higher, August 97%, September 86% and October 109% higher.
Even after the target was enhanced to 300 crore days of work for the fiscal year, eight states demanded more allocation. The government is thus looking to raise the target to provide 320 crore days of work under the world's biggest employment scheme, which was once attacked by PM Modi in the Lok Sabha as a 'living monument of poverty' and a testament to the Congress party's failure.
---
In Delhi Univ, my cutoff is bigger than your cutoff
Delhi University colleges have released their admission cut-off marks ― which candidates must score in their school-leaving exam to be eligible to apply ― and the only credible response is black humour. Lady Shri Ram College demands 100% in honours courses in economics, political science and psychology. Less perfect humans need not apply. 
In the Shri Ram College of Commerce, the cutoff for the BCom course (99.5%) is higher than for economics (99%), inverting traditional perception of importance. Absurd figures indicate that the admission system is worthless and a burden on students, and other options, including foreign universities or their wings established in India, will benefit from this failure. 
---
Prime number: 5%
Due to the extended closure of schools amid the COVID-19 pandemic, the average child in South Asia may lose $4,400 in lifetime earnings after entering the labour market, equivalent to 5% of a lifetime's earnings, finds the World Bank in its latest South Asia report, Beaten or broken: Informality and COVID-19.
---
Meanwhile
On the weekend, AR Rehman congratulated the team of Freddie's Piano, the official selection for the Scottsdale International Film Festival 2020.
---
Opeds worth your while
Pharma and patients' rights activist Ellen 't Hoen writes on a waiver proposal from the governments of India and South Africa to the WTO, seeking the suspension of some intellectual property rights related to managing the Covid-19 pandemic. It will be discussed this week in the TRIPS council. Less powerful countries are trying to shield their people from the exploitative vaccine nationalism of technologically and economically powerful nations, and pressing for local production of generics and biosimilars. 
With its handling of the Hathras (UP) case, the "insensitive regime may have reached an inflexion point" and ended its moral authority, writes Prof Zoya Hasan.
Bharat Bushan says that UP Chief Minister Adityanath will not be sacrificed by the BJP-RSS  over heavy-handed attempts to cover up the Hathras rape and murder. Instead, he will be carefully ring-fenced and cultivated as Hindutva's new iconic leader. UP, with the largest Muslim population after Jammu and Kashmir, is for them the most appropriate new laboratory of Hindutva.
Despite low conviction rates, a chequered history and continuing criticism of sedition law and UAPA, there are no signs that the government is planning to repeal or curtail these draconian laws which have been amended last year to make them harsher. An increase in the number of cases filed under these provisions has a chilling effect on any form of dissent, a trend that does not look like it will abate in the near future, Leah Verghese writes.
An "informal Emergency," says former diplomat and Bihar CM Nitish Kumar's confidante Pavan Varma. "The trick, therefore, is to unleash the powers of harassment of the state just below the threshold of something as drastic as the imposition of an Emergency. Intimidation can then succeed largely unobtrusively…"
---
Listen up
As the Indian forces and the PLA dig in for a bitter winter in the heights in Ladakh, former Army officers Srinath Raghavan and Sushant Singh (a contributor to the Cable) put their heads together to divine what lies ahead.  
---
Watch Out
As part of a public lecture series, Tim Harford of the Oxford Mathematical Institute offers a ready reckoner on statistics in the era of lies and damned lies. Whether you're tracking R0 in your country or are baffled by the K-shaped recovery curve, this is a universal specific. 
---
A pandemonium of parrots
Possibly the last cartoon on the fake Rhea Chakraborty drug case, which has collapsed and will soon vanish from public memory. 
---
That's it for today. We'll be with you again tomorrow, on a device near you. If The India Cable was forwarded to you by a friend (perhaps a common friend!) book your own copy by SUBSCRIBING.