Discover more from The India Cable
India is changing. We help you interpret it. From the founding editors of The Wire — MK Venu, Siddharth Varadarajan and Sidharth Bhatia — and journalists-writers Seema Chishti, Sushant Singh and Tanweer Alam. Editor: Pratik Kanjilal
Over 9,000 subscribers
The India Cable: New Body Will Tackle Delhi's 'Filthy' Air, Ladakh is too Serious to Risk MPs Visit
Plus: MeitY and Modi raise eyebrows with Covid claims, Poonawala promises vaccine in December, Bihar seriously out of work, Trouble in DU and Rajini quits
From the founding editors of The Wire—MK Venu, Siddharth Varadarajan and Sidharth Bhatia—and journalists-writers Seema Chishti, Sushant Singh and Tanweer Alam. Editor: Pratik Kanjilal
---
Snapshot of the day
October 29, 2020
Pratik Kanjilal
The new-fangled Ministry of Electronics and Information Technology (MeitY) and the doughty old National Informatics Centre were pulled up by the Central Information Commission for "extremely preposterous" responses to a Right to Information query about the authorship and ownership of the Aarogya Setu app. A controversy was sparked off when the government bodies replied that they had no idea. There is no controversy about its utility. Without a significant user base, the app remains as useless as it was before the event.
Rahul Gandhi weighed in with the observation that the app "is a sophisticated surveillance system… Technology can help keep us safe, but fear must not be leveraged to track citizens without their consent." In an election speech in Bihar, he also said that he is not in the Prime Minister's league ― he "does not know how to lie, and never will learn."
Prime Minister Narendra Modi has given his "first detailed interview after the outbreak" (all his interviews are first interviews). He told the Economic Times that "India believes in the market and market forces," and that it would be the "most preferred investment destination." A day earlier, the finance minister had admitted that growth rates would be zero this year, or negative. The PM also claimed to have saved many lives by timing the lockdown and the unlock just right, following a "pre-emptive, proactive, graded, whole-of-government and whole-of-society approach…", an assertion many have disputed and not just because the government isn't counting those who died due to the unplanned imposition of the lockdown.
On the ground, far from the Aarogya frontline, the virus did not affright voters in Bihar, which saw a 54.3% turnout. With Delhi recording the highest single-day spike of cases ever, at 5,673, its schools will remain closed "until further notice". Mizoram, the only state without fatalities so far, reports its first. And Smriti Irani is the ninth Union minister to test positive for the virus.
After Hong Kong banned Air India yet again for flying in infected passengers, international flights to the island will remain suspended until November 10. Only flights to bilateral travel bubble countries like the US, the UK, France, Germany, the UAE and Qatar will operate. But as France heads for another lockdown, destinations could dwindle. Never mind, Goa's casinos will reopen next month.
The Supreme Court has ticked off state governments for summoning citizens from all quarters for their social media posts for 'defaming' state governments. A resident of Delhi had been summoned to West Bengal to face the music for criticising Covid-19 containment measures there. The court has also rejected the Delhi Police's objection to the bail plea of Pinjra Tod activist Devangana Kalita, accused under the anti-terror law for being part of the so-called Delhi Riots conspiracy. The state had argued that she would influence witnesses.
Uttarakhand Chief Minister Trivendra Singh Rawat has moved the Supreme Court against the state High Court's direction ordering the CBI to register an FIR against him in a corruption case. In its order, the HC had quashed an FIR against the journalist who filed the case against him, noting that "criticising the government can never be sedition".
And a candidate who scored 99.8% in the JEE-Mains engineering college joint entrance examinations in Borjhar, Assam, has been arrested along with his father, a doctor. He had only passed the biometric test to gain admittance to the venue. A talented impostor took the real test.
---
New air for old
Delhi's air was recently described as 'filthy", and rightly so. On Thursday, the Centre issued an ordinance creating a new Commission for Air Quality for the National Capital Region and surrounding areas. The ordinance has been drafted hurriedly to justify refusing the services of Justice Madan B. Lokur – whom the Supreme Court had tasked with finding a solution to the problem of stubble burning only to then hold its order in abeyance when the government baulked at his appointment.
The new Commission will replace the existing Environment Pollution (Prevention and Control) Authority, or EPCA, which was headed by Bhure Lal, with noted environmentalist Sunita Narain as a member. It is also structured as any sarkari body might be, eg. the ordinance says the head has to be a former secretary to the government of India and no domain knowledge of any kind is prescribed. Environmentalists say the new body has its work cut out for it but everything will depend on the kind of chairperson and members who are appointed.
---
In aid of the truth
Economical with the truth, or misinformed, or just imaginative? PM Narendra Modi told a UN forum on July 18 that India has extended medical and other assistance to over 150 countries for tackling Covid-19. But an RTI response from the Ministry of External Affairs shows that New Delhi had committed aid of Rs 97.73 crore to only 81 countries, as of the first week of August. Of this, aid worth Rs 69.72 crore was delivered till August 5.
---
Ladakh: Condition serious, no visitors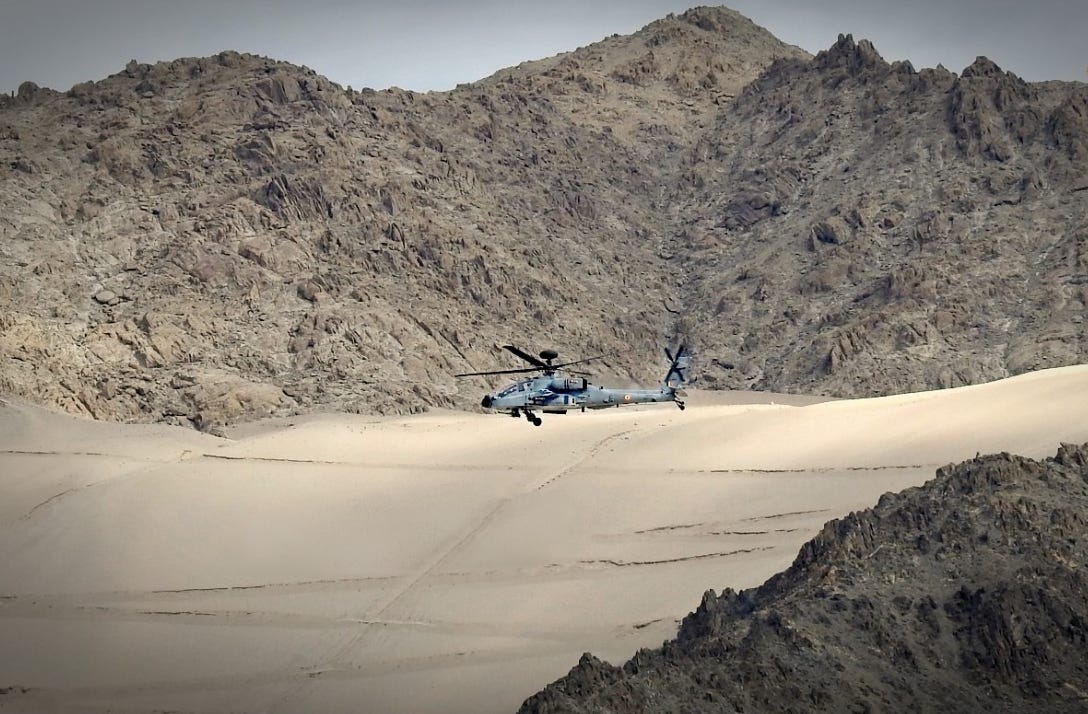 An Apache helicopter at a forward base in Ladakh. Photo: IAF
How bad is the situation in Ladakh? The Department of Military Affairs in the Ministry of Defence, headed by Chief of Defence Staff General Bipin Rawat, contends that the present situation with China on the LAC is not conducive to a visit by MPs to Leh. Its objection: "The present situation with soldiers from both sides in close proximity; all officers and men are involved in ensuring full preparedness, to prevent any escalation in the situation. Accordingly, it may not be advisable…" In a letter sent a day earlier, the department had not mentioned such concerns, but then it advised Parliament's Public Accounts Committee (PAC), headed by Congress's Adhir Ranjan Chowdhury, against going to study the working conditions of soldiers deployed in high altitude forward locations, even after the visit had been cleared by the Lok Sabha Speaker.
Meanwhile, speaking to the top army brass, Defence Minister Rajnath Singh "expressed confidence that while troops are standing firm, the ongoing talks for peaceful resolution of the crisis will continue." The eighth round of talks at the Corps Commander level have been delayed due to a lack of response from China. But a "peaceful resolution" is distant when the tanks of both armies are barely a few hundred metres apart, though with guns pointing away.
The defence minister's conciliatory tone was echoed by the Chinese foreign ministry spokesperson in Beijing who said that "the situation across the border is generally stable and the two sides are resolving relevant issues through consultations and negotiations", even as he asked the US to "stop" its Indo-Pacific strategy, terming it an attempt to impose American hegemony in the region. The Chinese embassy in India joined in with a statement on Wednesday urging the US to stop hyping up the "China threat" and sowing discord between the world's two most populous nations.
---
Govt owns up to Aarogya Setu
After making itself ridiculous at the Central Information Commission, the government has come up with an unsigned statement stating that Aarogya Setu was developed by the National Informatics Centre in "21 days" in a "public-private mode partnership". The controversy arose because the Ministry of Electronics, the NIC and others kept bouncing RTI queries to different departments, all feigning ignorance about the controversial Covid-tracing app and its data. But the Central Information Commission has issued a notice to the government for being niggardly with information. Here is a dated piece with a list of contributors to the app.
In an unconnected development, the Joint Parliamentary Committee examining the Personal Data Protection Bill has summoned representatives of Airtel, Jio, Uber, Ola and Truecaller.
---
Jab jabber
The Oxford coronavirus vaccine to be produced by the Pune-based Serum Institute could be ready as early as December and the first batch of 100 million doses should be available by the second or third quarter of 2021, CEO Adar Poonawalla claimed on Wednesday. Serum Institute is the world's largest vaccine maker by unit capacity. It is working on several vaccine candidates ― including from AstraZeneca-Oxford University ― and developing its own, too.
Meanwhile, the BJP's promise to provide Covid vaccine shots for free isn't swinging the Bihar election, and Ayurveda practitioners in Kerala have come out against a recent government order, issued on directions of the High Court, prohibiting AYUSH doctors from prescribing medicines as a cure for Covid-19.
---
The Long Cable
In Bihar, only one in three are employed
MK Venu
The first phase of voting took place yesterday and remarkably, the Opposition has set the poll agenda in Bihar by making unemployment the core issue. Tejashwi Yadav's promise of one million government jobs caught the young voter's imagination and put Chief Minister Nitish Kumar completely on the back foot. Even the BJP, whose reflex is to manufacture divisive agendas, like it did in Maharashtra, Haryana and Jharkhand, did not stray from bread and butter issues until very recently.
Unemployment is always an issue, but it is now critical, post-Covid, and parties will have to grapple with this in all future elections. Multiple surveys and CMIE data show that urban unemployment has increased sharply. The rural economy also offers fewer jobs and lower income realisation. MNREGA employment demand has nearly doubled, and there are calls for an urban employment guarantee scheme. PM Modi addressed self-employed street vendors in Madhya Pradesh this week, promising to scale up microcredit for them. It shows concern and nervousness in the establishment about India's self-employed ― nearly 50% of the total employed ― in both rural and urban areas.
In his election speeches, Tejashwi has cited CMIE data showing 46% peak unemployment in Bihar in April, when it was 24% in the rest of India. CMIE now shows the unemployment rate normalised at 7% nationally, with Bihar at 12.5%. Does this mean that India is back to its pre-Covid rates of employment? Absolutely not. Millions of migrant workers, not formally laid off, are still in their villages and would report themselves in surveys as employed. Under-employment and income loss post-Covid is also not adequately captured by surveys.
If the overall unemployment rate is returning to pre-Covid levels, why is the economy still in a recession and de-growth phase? Mahesh Vyas, head of CMIE, which conducts the most exhaustive unemployment/employment survey, suggests that politicians and policymakers must focus on how many Indians above the age of 15 are actually employed. In Bihar, CMIE data shows that only one out of three employable persons is actually employed. The rest are not working, either out of choice or compulsion.
The all-India employment rate is 40%. This means that only 40% of all employable Indians above the age of 15 are actually employed. The total employable population in that bracket is about 1 billion. India has the lowest employment rate among comparable emerging economies in Asia, Africa and Latin America. The employment rate in China and many middle income economies is at least 15 percentage points ahead.
Vyas argues that policy must focus on the actual employment rate, not the current measure of unemployment, because the number of unemployed is calculated as a percentage of those looking for work, whereas the employment ratio is a percentage of the total employable population. For India, this is the appropriate measure. Bihar's growth strategy and policymaking must be based on its employment rate of 33% rather than its unemployment rate of 12.5%, which may suggest that the problem is less serious. An unusually large proportion of the employable population, especially among women, is shown as not looking for work at all.
In Bihar, less than 6% of women are shown as looking for work and 94% are out of the employment market. This is unusually low, even if one assumes that many young employable girls are staying home and learning new skills. This distortion may have become more acute in the post-Covid period. A low middle income country like India with no welfare state to speak of cannot afford to have such a large proportion of the employable not looking for work. Both politicians and policymakers will have to grapple with this issue.
---
JNU, DU: Trouble at the top
Delhi University vice-chancellor (VC) Yogesh Tyagi has been suspended by the President of India (in his capacity as Visitor) and will be probed for dereliction of duty. JNU has advertised for a new VC. Once India's pre-eminent institutions for the humanities, the past few years have been disastrous for both. JNU has been all about court cases (and the VC's wild urge to install a main battle tank on campus) and DU's admission process has frustrated students and teachers. The vice-chancellor's suspension, apparently the product of infighting among pro-BJP teachers, is the first in its 98-year history. Tyagi is the sixth VC appointed by the Modi government to face action. Meanwhile, the university at the top of the Education Ministry's all-India rankings, Jamia Millia Islamia ― where the Delhi police had beaten up students and tear-gassed the library's reading room last year ― is marking its centenary today and is all lit up.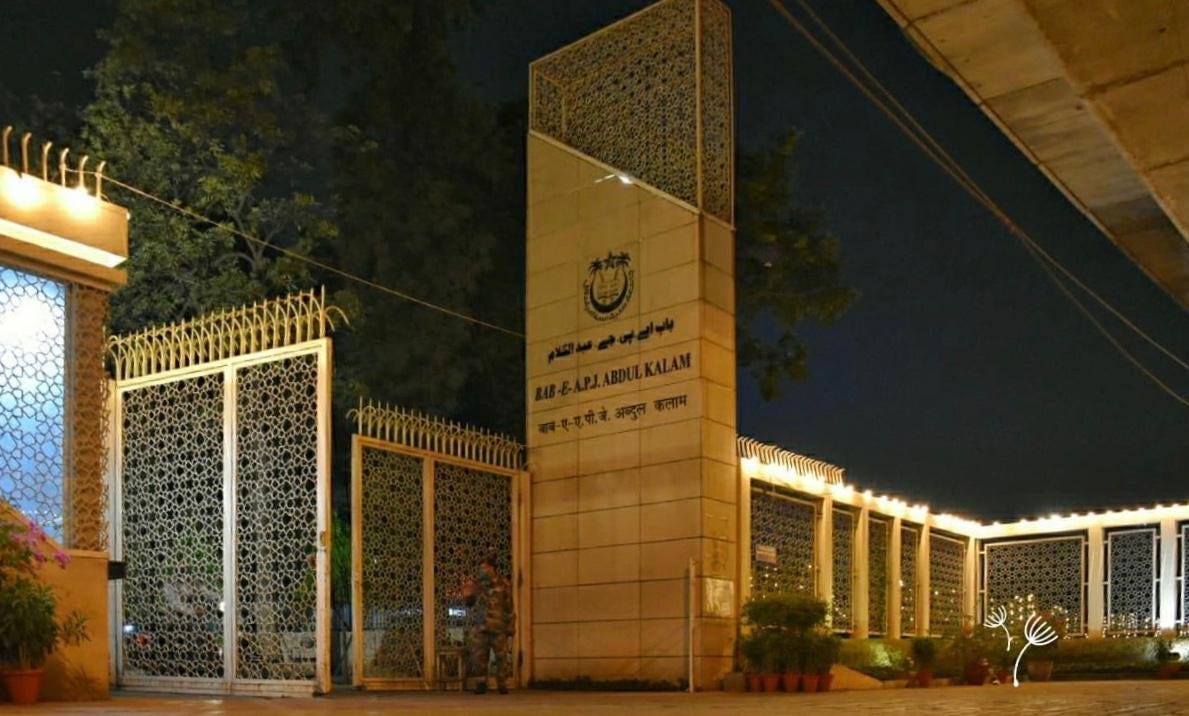 Jamia Millia Islamia. Photo: Jamia PRO
Cricketer Virender Sehwag, an alumnus, wishes his alma mater well.
---
Reportedly
Mayawati embattled
There is a churn in Opposition politics in the largest state, Uttar Pradesh. While the Congress under Priyanka Gandhi is more active and visible, Bahujan Samaj Party leader and former chief minister, the once-fiery Mayawati, seems confused. Having fought the last Lok Sabha elections in alliance with Akhilesh Yadav's Samajwadi Party, she has now positioned herself against him, even if it means supporting the BJP. Her recent soft corner for the BJP has brought more trouble her way, as four of her MLAs dramatically claimed that their signatures on nomination papers for the party's Rajya Sabha nominee Ramji Gautam were forged. That claim was not upheld, and nomination papers of SP-supported candidate Prakash Bajaj were rejected, but not before seven BSP MLAs met and hinted to Akhilesh Yadav that they could cross over. Mayawati has suspended them from the party. Assembly elections in the politically crucial state are due in 2022.
---
Prime number: 36% 
The Annual Survey of Education Report (ASER) 2020 reveals that less than 36% of rural schoolchildren received any learning material or activities from school, and 20% had no textbooks at home. In the week in September when the survey was done, one in three had not gained any learning at all. Signs of digital learning increasing inequalities, visible in the largest survey of the cost of the pandemic to school education in rural India, are sobering. 
---
Flops offline, hits online
Hindi movies that flopped in cinemas have found a new lease of life on video streaming platforms, buttressing the notion that Indians go to movie theatres for a family outing, and the film is incidental. Earlier, niche genres and non-mainstream, experimental films, often featuring relatively unknown faces, were at a huge disadvantage. Digital platforms, designed for individual viewing, are levelling the field. Films like Luck By Chance, Sahib Biwi Aur Gangster Returns, Gori Tere Pyar Mein and I Am Kalam often trend on Netflix, and rival streaming platform Eros Now reports that audiences also love box office disasters like Mukkabaaz and Manmarziyaan.
---
Pawar crushes Koshyari
Not one to mince words, NCP supremo Sharad Pawar has launched a frontal attack on Maharashtra Governor Bhagat Singh Koshyari over his coffee table book Jan Rajyapal, saying that the term does not exist in the Constitution. In a letter dripping with sarcasm, addressed to Koshyari, Pawar also said, "The book doesn't have information about your advice to the Chief Minister on secularism, which was taken note of by the Union Home Minister." And he mocked Koshyari's hurried early morning swearing-in of Devendra Fadanvis and Ajit Pawar, without naming the two leaders.
---
Po la ma?
Rajinikanth is quitting politics even before he joined it properly. In a note purportedly authored by the superstar, he has cited the Covid-19 pandemic, his age, health condition and uncertainty over the availability of a vaccine as reasons for his decision to call it quits.
---
Op-Eds you don't want to miss
---
Deep Dive
Bihar's sorrow
In his three-part series on the Kosi river disequilibrium, Kanak Mani Dixit explains how massive engineering projects to tame the 'Sorrow of Bihar', propped up by vested interests, have added to human misery. He critiques the ill-conceived push for a high dam to curb the flooding of the Kosi and urges South Asian scientists to focus on preserving river ecology as a means to protect communities, rather than be awed by expensive, diversionary "river engineering".
---
Listen up
Author Pankaj Mishra talks to Milan Vaishnav about the state of Indian democracy, the (absent) standard-bearers of Indian liberalism, and how the Cold War-era conception of democracy helped India geopolitically. On Grand Tamasha, they also discuss what the British Raj can teach us about Brexit and the future of big government, for good and for ill.
---
Watch Out
Would a Joe Biden presidency lead to a significant shift in the US approach to India? What would a potential second term for President Trump mean for India? How would the outcome of the election influence the future of India-US relations? What is the future of multilateralism, whether Biden or Trump win? Ashley Tellis, Suhasini Haidar and Rudra Chaudhuri discuss the upcoming US elections and the state of India-US ties.
---
Bengal is safe
With a little help from poll strategist Prashant Kishore, the Trinamool Congress has launched a 'mark yourself safe from BJP' campaign for the 2021 assembly elections. It's simple ― you click a button to mark yourself safe, joining 5.35 lakh people who have done so. Leading questions follow: Do you oppose hate? Do you oppose divisive politics? Will you speak against the rule of a single leader? It is not clear if the last question will come with a disclaimer: *Does not apply to Trinamool Congress.
---
That's it for today. We'll be back with you tomorrow, on a device near you. If The India Cable was forwarded to you by a friend (perhaps a common friend!) book your own copy by SUBSCRIBING HERE.