Discover more from The India Cable
India is changing. We help you interpret it. From the founding editors of The Wire — MK Venu, Siddharth Varadarajan and Sidharth Bhatia — and journalists-writers Seema Chishti, Sushant Singh and Tanweer Alam. Editor: Pratik Kanjilal
Over 9,000 subscribers
The India Cable: Pompeo Blows Hot on China, Facebook's Ankhi Blinks, Kashmir on Sale
Plus: Uttarakhand CM faces probe, Covid takes toll on state finances and transparency, women's low GDP contribution explained, and Chirag Paswan in a hairy situation
From the founding editors of The Wire—MK Venu, Siddharth Varadarajan and Sidharth Bhatia—and journalists-writers Seema Chishti, Sushant Singh and Tanweer Alam. Editor: Pratik Kanjilal
---
Snapshot of the day
October 28, 2020
Pratik Kanjilal
When Article 370 was scrapped last year, Kashmiris had expected that demographic change would follow. It will now, with the Centre amending laws to allow people from other states to buy land in the Union Territory. The Gupkar parties say that J&K has been put on sale to change the nature of the region. As if on cue, the National Investigation Agency has raided the respected human rights activists Parveena Ahangar and Khurram Parvez, NGOs and the office of Greater Kashmir newspaper in Srinagar in a 'terror funding' case.
Apart from signing a pact with Delhi in the two-plus-two meet, top Trump cabinet members call out Beijing's "aggression" and promise to stand with India against threats to liberty. Fake news spread on WhatsApp to Indian Americans plays a stealth role in the U.S. election.
Facebook India public policy head (what does that designation mean?) Ankhi Das, who was accused of favouring the BJP on the social platform, quits to do "public service", a common euphemism for politics. Her role has been taken over by Shivnath Thukral, who was accused of giving hate speech a free run on WhatsApp in 2019, as the in-house regulator. In August, the Congress's Pawan Khera had alleged that before the 2014 general election, Thukral had operated websites that were part of the BJP's online campaign, along with others who are now in government. Serious question: is there anyone at Facebook who did not work for the BJP?
Attorney General KK Venugopal wants the Supreme Court to live-stream proceedings as "even clients deserved to know what is happening in the courts," while Solicitor General Tushar Mehta stated that live streaming would lead to people filing petitions just for the sake of "being heard all across the country". Is vanity litigation feared, or is it sunlight, "the best disinfectant"?
The Uttarakhand High Court directs the CBI to initiate investigations into allegations against state Chief Minister Trivendra Singh Rawat by a journalist. An attempted kidnapping of a 21-year-old woman student outside a college in Ballabhgarh, Faridabad goes awry and she is shot dead. Union minister Ramdas Athawale of "Go Corona Go" fame tests positive for Covid-19, is hospitalised in Mumbai.
In the government's first remarks about the growth outlook for this year, Finance Minister Nirmala Sitharaman said that India's GDP could see zero or negative growth, somewhat close to the International Monetary Fund's projection of -10.3% for 2020-21. But she also insisted that a steady and sustainable recovery was underway. Meanwhile, farmers' outfits protesting against the Centre's new farm laws have announced a nationwide road blockade on November 5.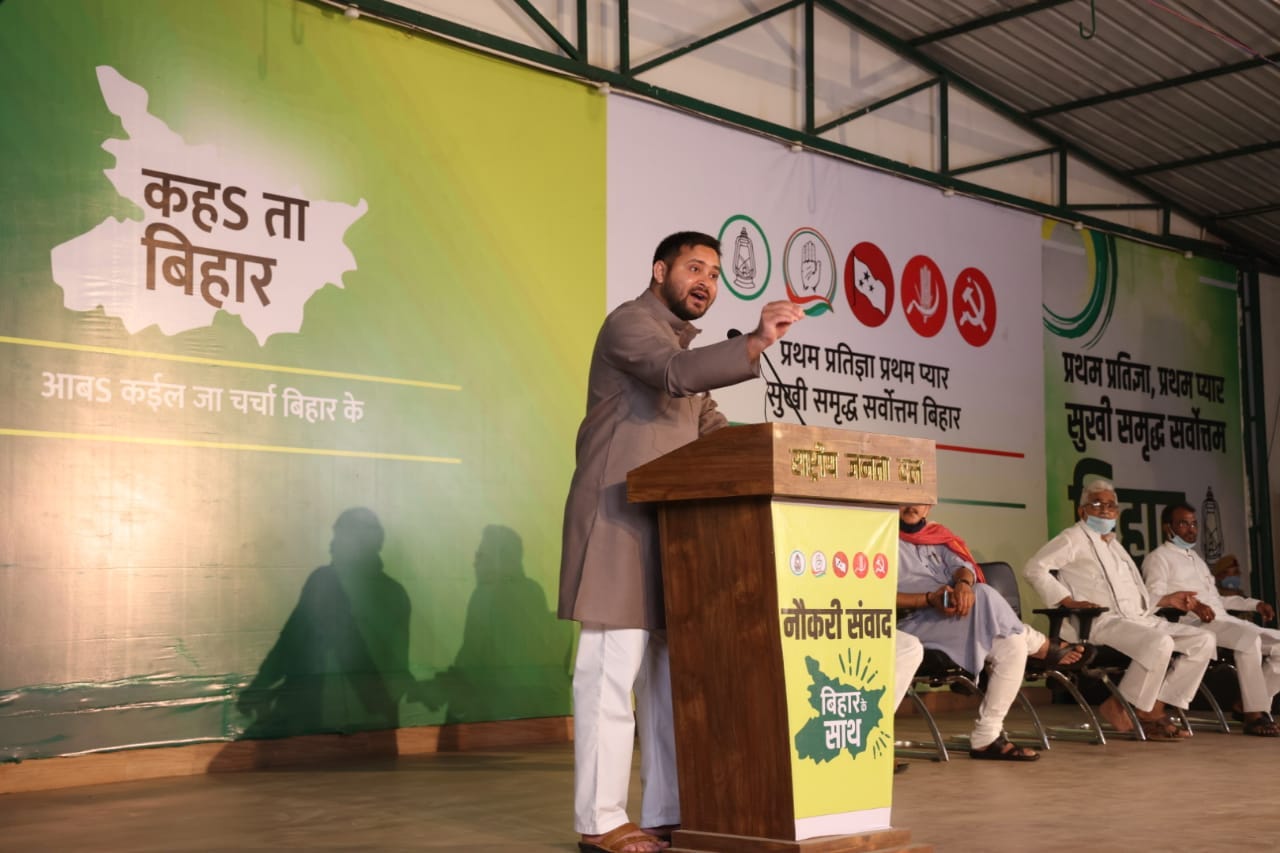 RJD candidate Tejashwi Yadav. Photo: @RJDforIndia on Twitter
And the day before 71 constituencies in Bihar go to the polls, a video surfaced of Chirag Paswan preening for the camera beside a picture of his father, who died on October 8. He discusses his hair, among other things. The video conveys the impression of a narcissist milking his parent's memory. But then, backstage pictures are rarely flattering, unless you're Brigitte Bardot. "Do I need to prove to Nitish Kumar that I am mourning my father's death?", Chirag tweeted angrily.
---
Uttarakhand CM to face CBI
Uttarakhand Chief Minister Trivendra Singh Rawat of the BJP will be facing the CBI after the Uttarakhand High Court directed the agency to file an FIR and investigate allegations of corruption against him. The court order was passed in a matter concerning Umesh Sharma, owner of the local news channel Samachar Plus, who had made a video in July 2020 about Rawat's alleged role in getting money transferred to accounts of his relatives in 2016 (as BJP's Jharkhand in-charge) to back the appointment of AS Chauhan in Jharkhand as head of the Gau Seva Ayog.
---
Kashmir: Integral inhumanism
What is the specific meaning of Kashmir being an 'integral part of India'? Many have argued, somewhat cynically, that it means that India only covets the land of Kashmir but has no love for its people. This view has strengthened with a 111-page Central notification allowing Indian citizens living outside J&K to buy land in the Union Territory. It is the biggest change facilitated by the abrogation of the special status of the erstwhile state last August, igniting fears of an eventual demographic shift in the Muslim-majority region. But the move is not welcome in Hindu-majority Jammu either, which will be affected more than Kashmir. Earlier this year, the Centre had scrapped the Permanent Resident Certificate (PRC) and replaced it with a domicile certificate, allowing outsiders to apply for jobs in J&K.
The Centre's notification has omitted the phrase "permanent resident of the state" from Section 17 of the Jammu and Kashmir Development Act, which governs the sale of land. Only permanent residents were eligible buyers earlier. While the Lt Governor says this is meant to usher in "progress, development and employment," the seven-party Gupkar alliance fighting for the restoration of J&K's special status calls the decisions a "betrayal" and a "massive assault on the rights of people of Jammu and Kashmir" and vows to fight on all fronts. Even Altaf Bukhari, reportedly propped up by the Centre as the head of a mainstream Kashmiri party, was forced to be critical, saying that "such laws of an urgent nature should have been … dealt with in consultation with the duly elected government in Jammu & Kashmir."
Elsewhere in the India of which Kashmir is an integral part, decisions on land ownership are usually taken by the elected representatives of the people of each state, not the central government.
---
Pollution: The latest Covid-19 comorbidity
Pollution hikes Covid deaths by 15%, a new study in Cardiovascular Research finds. In India, the ratio is higher, at 17% so far. This should ring alarm bells since in this season, very poor air quality prevails for days at a time in large swathes of northern and western India.
India has finally dropped to number two in the worldwide tally of countries adding maximum cases of Covid-19. The US is back at number one and France has been a surprise number three for a few days. Delhi recorded its highest single day spike so far on Tuesday, though, so there's no room for complacency. Bengaluru Urban is the worst Covid-19 affected district in India, way above second-worst affected Mumbai.
Meanwhile, VK Paul, head of the committee overseeing vaccine development, planning and distribution has refused to confirm whether a Covid-19 vaccine would be free of cost for everyone in India. He said that it would depend on the outcome of clinical trials underway. In a blow to Swachh Bharat, a Centre for Scientific and Industrial Research (CSIR) study has introduced the concept of "immune training", finding that "India's low hygiene gives it more immunity against the virus, helps in Covid fight." And confounding the Central Information Commission, which wanted to know, the electronics ministry, the National Informatics Centre and the National eGovernance Division say they do not know who created the Arogya Setu app, or how the website aarogyasetu.gov.in was created with a government domain name.
---
RBI flags Covid impact on state finances
The Reserve Bank of India's annual report on state finances minces no words on the burden on states imposed by the pandemic. It discusses the 'scissor effect' of rising expenditures and collapsing revenues and the harmful impact on fiscal health. The report recognises that the real burden of dealing with the pandemic fell on the states. It says that the effects of the economic shock will be felt for years, but the recovery of states will play a crucial role in India's recovery. The Centre's reluctance to make available their legitimate share of GST for so long is obviously going to be counterproductive for the national economy.
---
Poor little rich boy
Anil Ambani recently claimed that his personal worth was negative, when several banks invoked his personal guarantees against his group companies' defaults on loans of billions of dollars. When some Chinese banks tried to recover their $920 million loan, he told a London court that his personal net worth was zero.
In India, Anil Ambani's personal guarantees have been invoked by the State Bank of India in the Delhi High Court. Ambani has challenged claims on his personal assets as illegal. To his dismay, the Ministry of Corporate Affairs yesterday gave an affidavit in the High Court countering his argument ― the law was changed in 2018 to claim the personal assets of promoters even if a company has filed under the new Bankruptcy Code.
---
The Long Cable
Loud US, muted India and the dragon in the elephant's room
Sushant Singh
India has made a habit of signing major agreements with the US as the term of its presidents draws to an end. The nuclear deal which originated in 2005 was eventually signed at the fag end of George W. Bush's second term, in 2008. In 2016, as Barack Obama's tenure was ending, India became a 'Major Defence Partner'. And now, days before the US presidential polls, New Delhi has held a two-plus-two meeting and signed the last of the foundational military agreements with Washington.
The subtext of the visit by the US secretaries of state and defence to the Indian capital, when thousands of Indian and Chinese soldiers are deployed on the Line of Actual Control in Ladakh, is not lost on anyone. Though the Indian side has been coy about naming China, the two top US officials have not displayed any such reticence. US Secretary of Defence Mark Esper spoke of China's "increasing aggression and destabilizing actions'' in the region while Mike Pompeo, US Secretary of State, called it "tyranny by the Chinese communist party" in a television interview.
Pompeo also said that his country is "ready to do the things it can do to help deliver safety and security to the Indian people and is confident that India will do the same for us all around the world." In another interview, Pompeo reiterated that India should not feel alone or left to fend for itself, because the two countries would push back together. Many in India desire a strong India-US alliance or coalition against China, signalling that a history of hesitancy is finally discarded.
If this convergence, coalition, alliance or partnership, call it whatever you will, is meant to stand up to China, the two US officials would have definitely noted that neither Rajnath Singh nor S Jaishankar could muster the courage to mention China by name. They used the euphemism of "Indo-Pacific region" instead. Even on the border crisis, Pompeo revealed, in a meek response to a rather leading question about the "Chinese being sort of pushed back to a point where they were" on the Ladakh border, that "the Indian government hopes for there to be a disengagement".
Pompeo can afford to blow hot against Beijing but Indian officials have long been cognisant of the reality of being the neighbour of a stronger China and sharing an extensive land border with it. They recognise that strategic cooperation with the US is centred on the oceans, and is not really of any great value against the PLA on the land borders. The shadow of China looms large over the Indian neighbourhood, placing Delhi in a delicate situation. Moreover, Delhi still guards its strategic sovereignty and is unwilling to cast its lot fully with the US ― it has to keep an eye on the US presidential elections and its China policy under the new administration. The Trump team, it seems, wanted to go further, but the Modi government has been cautious due to erratic US foreign policy shifts over the years.
In Beijing, the Chinese foreign ministry spokesperson was specifically asked to comment on Pompeo's Delhi visit. He attacked Pompeo's anti-China statements but did not specifically mention India. Is India too insignificant for Beijing, or has it noted India's caution about being propped up as the Asian bulwark against China?
India may not have gone the whole distance with the US, but it has signalled its intentions by hosting this two-plus-two meet so soon after the meeting of Quad foreign ministers in Tokyo, inviting Australia to the Malabar naval exercises, and signing the BECA, or Basic Exchange and Cooperation Agreement, to share sensitive satellite and map data. Although it portends a smothering of India's indigenous GPS system, IRNSS or Navic, BECA clears the path for India to buy armed drones in the first instance and, at a later date, fighter aircraft. All US administrations have looked at India as a buyer of military platforms and equipment. Strategic signalling apart, those shouting 'Atmanirbhar Bharat' may need to look again at what exactly those words mean.
---
Prime number: 88% 
A new Nielsen report titled 'Hollywood Is For Everyone' finds that 177 million viewers watch English films and entertainment channels on TV in India. Showing a preference to TV over OTT, 88% said that Hollywood VFX and superhero stunts are better enjoyed on TV than on smartphones, and 77% said that watching films on TV while scrolling on the smartphone is the perfect combination. The study was done for Netflix and surveyed over 1,500 cine buffs from across metros and non-metros, including Mumbai, Delhi, Chennai, Pune, Ahmedabad, Lucknow and Indore.
---
Why women's work remains invisible
The Oxfam Inequality Report 2020 is out this evening, reiterating old truths but shedding new light on their causes. For instance, low participation of Indian women in the workforce is known to be one reason why Bangladesh is pulling ahead on the metric of GDP per capita. Women contribute only 7% to GDP in India, but the report explores the underlying reasons ― the lack of safe, paid work, a labour-surplus market where men are preferred, and sharply gendered attitudes to categories of work.
As we know, most women's work goes unrecognised and unrewarded, but this report puts numbers to unfairness. The ILO estimates that urban and rural women spend 312 and 291 minutes per day on unpaid care work, while men spend 29 minutes and 32 minutes. Women are thereby both income-poor and time-deprived, and their effort does not show up in the national GDP.
---
In a first, Kerala sets floor prices for vegetables
Kerala has become the first state in the country to set floor prices for 16 vegetables, which will function like the Minimum Support Price for grains to safeguard farmers' interests. The base prices will be 20% above the production cost of the vegetable and will be revised regularly. The scheme will come into effect from November 1.
And after the Income Tax raid on onion traders in Nasik and the Modi government's imposition of stock limits, traders at Asia's largest onion market have halted the auction of onion stocks. For a government which wants the benefits of free market pricing for the farmers ― remember the new farm laws ― the Modi government has been quick to ban the export of onions and relax norms for imports, besides fixing the Minimum Export Price of US$850 FOB per metric tonne. All this will matter in Bihar, where the first phase of polls began today.

---
Indians stranded in Kuwait
The Supreme Court has asked the government to "find some solution" to bring home Indians, mostly blue-collar workers from Tamil Nadu, stranded in Kuwait during the pandemic. This was in response to Additional Solicitor General KM Nataraj, who hinted that there were some "diplomatic issues" to be considered.
---
Op-Eds you don't want to miss
---
Listen up
The economist R Nagaraj speaks of crony capitalism in India "on steroids" and the problem with allowing private monopolies to get stronger. "A close nexus between private monopolies and the ruling coalition can be damaging not just to the economy, but to the politics of a nation in the long run," he tells The India Forum in The Conversations podcast.
---
Watch Out
All OTT and no play certainly makes for dull days. So savour this: the Ranga Shankara Theatre Festival has gone digital this year and is showcasing works of the six Shankar Nag Theatre Award winners.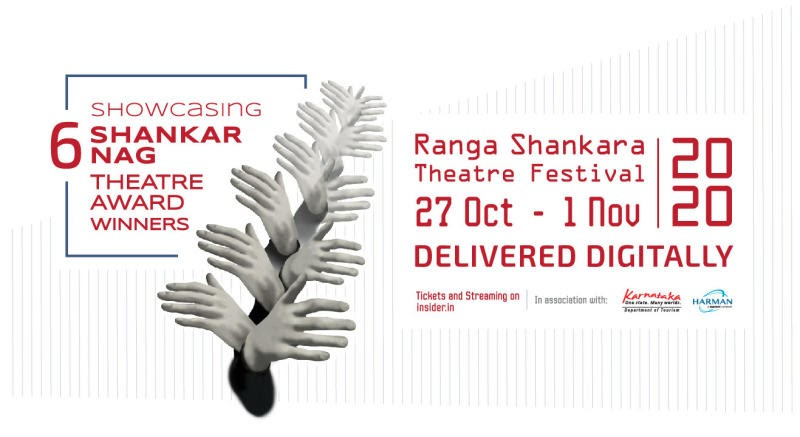 ---
Kashmiri football, Korean Tamil
Nadiya Nighat, 24, is the first woman football coach in Kashmir and her journey has been an obstacle race. "To be honest, at times, I felt down and out because of the insults and family pressure," she says. "But I never lost the hope to keep trying, at least. After all, we play to learn something in our lives. My dream is to train my players as long as possible, irrespective of gender."
Amma-Appa to nee-naan: It turns out Tamil and Korean share a list of common words.
---
That's it for today. We'll be back with you tomorrow, on a device near you. If The India Cable was forwarded to you by a friend (perhaps a common friend!) book your own copy by SUBSCRIBING HERE.