The India Cable: Pushback on Black Laws, Modi Deletes Dislike Button
Plus: Kashmir's embattled media, Punjab trashes farm laws, the creepiness of Rekha Sharma, and why fuel and onions remain expensive
From the founding editors of The Wire—MK Venu, Siddharth Varadarajan and Sidharth Bhatia—and journalists-writers Seema Chishti, Sushant Singh and Tanweer Alam. Editor: Pratik Kanjilal
---
Snapshot of the day
October 21, 2020
Pratik Kanjilal
Punjab is the first state to formally reject the Centre's new farm laws. It has legislated its own, based on minimum support price, which the Central laws had not honoured. The National Investigation Agency's chargesheet against scholar and activist Anand Teltumbde levels several allegations, including the ridiculous one that he regularly brought Maoist literature from abroad on pen drives. Clearly, neither the Maoists nor NIA have heard of WeTransfer.
Rahul Gandhi has pulled up Kamal Nath for describing BJP candidate Imarti Devi as an "item". Nath is trying to justify himself, like Digvijaya Singh had done in 2013, after referring to party MP Meenakshi Natarajan as "sau tunch mal". Meanwhile, National Commission for Women chair Rekha Sharma, appointed by this government, is desperately thumbing her phone buttons to search and destroy bizarre misogynistic tweets from the past. One involves Narendra Modi. 
The Prime Minister went on air at 6 pm yesterday, and no one took him seriously because visitations like demonetisation or lockdowns are reserved for the 8 pm slot, which has now been taken by the IPL. He spoke primarily about caution against the pandemic during the festive season, and the dislikes accumulated so fast the counter blurred. To get some likes offline, the government hiked the (declared) poll spending limit by 10%. 
The ruling alliance in Bihar is worried by viral videos of the enthusiastic crowds RJD leader Tejashwi Yadav is drawing and is counter-attacking with pictures of crowds drawn by Nitish Kumar. In India's biggest onion market, the taxman has been deployed to calm prices, in case they affect poll outcomes in Bihar. 
In a rare intervention, following the arrest of Fr Stan Swamy, the UNHCR has urged the Indian government to "safeguard human rights defenders and the rights of NGOs". And PUCL has organised an online meet towards forging a broad front between Opposition parties and dissenting groups and communities, against black laws.
---
Global oil prices tank, but fuel in India is expensive
India has the highest taxes on petrol and diesel, and the average Indian spends 17% of daily income on fuel alone, the highest share in the world. But a cash-strapped Modi government contends that there's still headroom for a fuel tax hike. "We can increase duty on petroleum by Rs 3-4, which will help us generate about Rs 50,000 crore," a senior Finance Ministry official said.
A consumer pays Rs 81.06 per litre for petrol in Delhi and Rs 79.46 per litre for diesel. The Centre's tax on diesel (basic excise, special additional excise and road/infra cess) stands at Rs 31.83/litre, against Rs 15.83/litre in October 2019, and for petrol, it is now Rs 32.98 against Rs 19.98/ litre last October.
As crude prices fell globally, 42% lower in April than last October, the consumer is paying 12% more for petrol. This is courtesy the Modi government, which had on May 5 raised excise duties on petrol and diesel by an unprecedented Rs 10 and Rs 13 per litre respectively. It expects this will gather an additional Rs 1.75 lakh crore for the current fiscal year, which will not be shared with the states.
Union excise duties are the only tax component showing an increase in cumulative collections up to July, year on year. That is why even as fuel consumption dropped sharply this year, the Modi government's excise collections from fuel sales have actually grown. The Finance Ministry has also  rejected a proposal by the Petroleum Ministry to reduce the cess on domestic crude production.
---
Punjab trashes farm laws, Centre contemplates navel
Punjab became the first state to officially reject all three controversial farm legislations that the Centre had brought to Parliament and passed in unseemly haste, not even allowing a headcount of MPs saying either aye or nay. The bills were unanimously negated in the state assembly with the two BJP MLAs abstaining, and will now go to the Governor for approval to send to the President for assent. 
Union minister for agriculture and rural development Narendra Singh Tomar has said that the Centre will deliberate on the matter. That's about all it can do, since agriculture is a state subject, although the Aam Aadmi Party has questioned the state's powers to nullify laws passed by the Centre. The Modi government is doubly worried as other Opposition-ruled states like Rajasthan and Chhattisgarh could enact similar laws in special assembly sessions.
---
UNHCR, PUCL weigh in on arrests
In an unusual move, UN High Commissioner for Human Rights Michelle Bachelet has issued a strong statement calling on the Indian government "to safeguard the rights of human rights defenders and NGOs, expressing regret at legal constraints faced by NGOs, including by the application of laws that her Office perceives to be problematic." In particular, she highlighted the tightening of laws governing foreign funding of NGOs, reducing the scope of advocacy, and the misuse of draconian laws of diffuse ambit, like the Unlawful Activities (Prevention) Act, which has been used even to discourage lawful assembly by making examples of attendees, as in the Bhima Koregaon case.  
At noon today, the People's Union for Civil Liberties organised an online meet pegged to Bhima Koregaon. The event saw a recorded statement by Jharkhand chief minister Hemant Soren. "Today it was Stan Swamy, tomorrow it will be us", he said. Also speaking were Sitaram Yechury of the CPI(M), Shashi Tharoor of the Congress, Kanimozhi of the DMK, D Raja of the CPI and Supriya Sule of the NCP, along with a wide range of activists and concerned citizens. They resolved to come together in a broad front, sinking political differences before "the India we know" ― in the words of Kanimozhi ― is damaged beyond recognition. "Even Covid has been used to suppress people," she said, noting that being silent is no longer an option. 
Yechury called for repeal of the UAPA, National Security Act and sedition law. His party has always opposed draconian laws like POTA, which can be applied arbitrarily. "It's not a question of amendment any more," he clarified. "Repeal on the floor of the House where these were passed is needed." While these laws have triggered resistance, he said, the ambit of a movement must be wider. The Constitution and its institutions stand in the way of the objective of a "theocratic, fascist" state, and are under attack. 
Father Joseph Marianus Kujur said that he owns over 60 books and papers by Father Stan Swamy, whom he describes as a "tribal by choice". At a time when the contents of people's bookshelves and pen drives are being used to criminalise them, it's a brave statement. And Adivasi journalist and activist Dayamani Barla, noted for her role in the movement against Arcelor Mittal in Jharkhand, spoke of "kala kanoon" ― black law. That's a blast from a dark place in the past. 
---
 Vande Bharat flights fare under fire
Members of the Parliamentary panel on External Affairs have criticised the "exorbitant prices" charged for flight tickets under the Vande Bharat Mission. The panel is likely
to ask the Centre to request airlines not to charge cancellation fees, return the full amount of cancelled tickets and not to price return tickets for non-­resident Indians exorbitantly. 
---
Modi dislikes dislikes
The mythos of Narendra Modi's immense popularity has been built for the past eight years around his total domination and complete control of social media, where no other leader stood a chance. That notion has been substantially dented in the last few months, when Modi's personal account and BJP social media accounts have had to shut down options for 'likes' and 'dislikes' in videos of the PM's speeches. During Tuesday's address to the nation by Modi, the BJP turned off the dislike button on its YouTube channel after 4,500 dislikes came within minutes. The comments section remained open. Three short clips from his speech, posted separately, also recorded more dislikes than likes, as in all recent videos on that channel.
This has been a regular occurrence with Modi's speeches since his August episode of Mann ki Baat earned more than 1.2 million dislikes on the party's YouTube channel, while the PMO page and Narendra Modi's page had 2 lakh and 2.87 lakh dislikes respectively. A digital connection with his support base had propelled Modi to power and given him momentum in office, but now, with the feedback turning sour, the PMO has resorted to disabling comments. Modi's address at the third leadership summit of the US-India Strategic and Partnership Forum also registered more than one lakh dislikes, about half the number of 'likes', as did a video of Modi interacting with a woman probationer, where 'dislikes' outnumbered 'likes'. It shows once again that Modi is a master communicator, but only so long as it's one-way.  Even limited feedback from the people is unwelcome. His popularity rests on total and absolute image control.
---
Follow the money
Permissible poll expenditure – the amount a candidate can officially spend on elections, both for Parliament and assemblies – has been raised by 10%. The maximum expenditure a candidate can incur for campaigning in Lok Sabha polls is now Rs 77 lakh, up from Rs 70 lakh. For Assemblies, it is now Rs 30.8 lakhs, up from Rs 28 lakhs. Of course, most well-heeled candidates have perfected the art of spending beyond these limits. And there is no cap on general election expenditure by political parties.
---
In Kashmir, muzzling Press Enclave 
In a move further undermining India's commitment to a free press, and its image overseas, the premises of Kashmir Times in Srinagar were sealed in the designated Press Enclave neighbourhood by the Estates Department. Jammu and Kashmir has suffered unprecedented gags on basic public expression, and even mobile telephony and landlines were cut for months. Even today, 4G speeds are not allowed in most areas of the Union territory. The internet shutdown here is the world's longest in a democracy. The government has sought to 'normalise' curbs after August 5, 2019, when J&K was stripped of statehood and its special constitutional status (under Article 370) was taken away.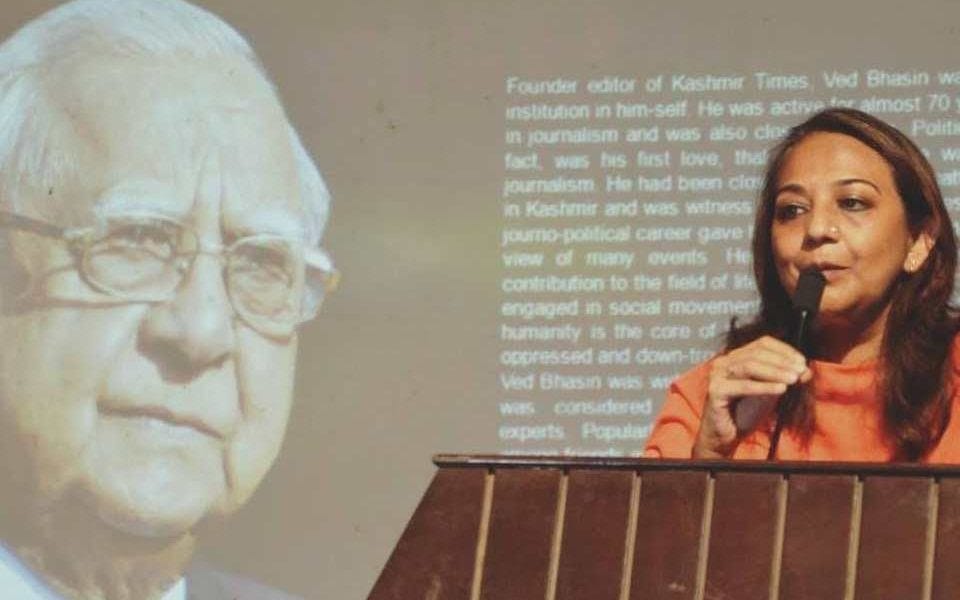 Anuradha Bhasin. Photo: Facebook/Anuradha Bhasin
This is the second such incident, after the Kashmir News Service was shut down in Srinagar on October 15. But Anuradha Bhasin, editor of Kashmir Times, is also a special person ― she is the key petitioner challenging the communications blockade in the Supreme Court. Here's what she told the international media in an important show on (the absence of) media freedom four days ago:
India has been falling in the World Press Freedom Index in the past four years, and stood at 142 amongst 180 countries in May. Such incidents can only drag the rating lower. 
---
Curious claims in Teltumbde chargesheet 
In its chargesheet against Dalit scholar and activist Anand Teltumbde in the Elgar Parishad case, the National Investigation Agency has alleged that he "used to attend international conferences under the guise of his academic visits abroad," that he brought back Maoist literature and videos in pen drives, and that these were used as training material by the CPI(Maoist). Besides, an unidentified witness claimed to have heard him speaking of reinventing Dalit militancy. Teltumbde's conference attendance is publicly available, and a scholar of resistance movements would naturally collect such material for his work. The first two charges are laughable, and the case must therefore hinge on the NIA's ability to prove that material collected by Teltumbde was used as training material for armed insurgents. And the context and credibility of the witness's statement would have to be explored.  
The chargesheet also mentions that Teltumbde knows another accused, the poet Varavara Rao. So do thousands more. Arresting them would be like a jail bharo andolan, sponsored by the government. 
---
The Long Cable
Rekha Sharma: The enemy within the NCW
Sidharth Bhatia
In a country rife with misogyny and crimes against women, it is imperative to have the institutional infrastructure to address the problem. The National Commission for Women was supposed to be one such institution. Set up in 1992 as a statutory body, its mandate is to, inter alia, review legal safeguards for women and advise the government on policy matters that affect women.
It follows that the body must be run by experts who are not just active and alert to crucial issues, but also sensitive. The present chairperson, Rekha Sharma, has shown that she is anything but.
If her past tweets are any indication, Sharma is insensitive, boorish, misogynistic and downright offensive. Her tweets from an earlier time are being circulated on social media and they uniformly show a trail of rampant nastiness. Many of them were directed against women and politicians. On September 4 this year, she posted a clearly morphed image of India's first prime minister Jawaharlal Nehru looking on at a group of scantily-clad women. "What was your grandfather doing with these nrs when India didn't even start to breathe it's own #Rahul Gandhi," she asked the Congress leader rhetorically. Lies, typos and errors ― Nehru was Rahul Gandhi's great-grandfather ― obviously mean little to her when she writes her bilious tweets.
Sharma has suddenly shot into public attention because of a startling tweet on Monday about her meeting with Maharashtra governor Bhagat Singh Koshyari, during which she discussed, among other things, "the rise in love jihad cases" . "Love Jihad" is a concocted propagandist phrase used by Hindu right wing groups to suggest that innocent Hindu women are being trapped by Muslim men into marriage as part of a carefully-planned and sustained campaign of religious conversion. It is just the kind of anti-women hate-mongering that the NCW is supposed to  fight. Instead, Sharma has tried to give it institutional legitimacy.
Appalled, online sleuths began digging into her past statements and as the unsavoury results made the rounds, Sharma went into overdrive to try and hide her outrageous past statements. She first made her account private, and then launched Operation Delete, to wipe out everything controversial. Late on Monday night, the fact-checking site @AltNews found that no less than 338 tweets had been deleted.
But the Internet has a long memory and the digital trail can never be fully covered up. A small archive of some of her tweets has been compiled.
. 
One of the tweets she may be most embarrassed by is from October 2, 2011, in which she apparently wrote disparagingly about Narendra Modi, then chief minister of Gujarat.
Considering that she was appointed chairperson by the Modi government in 2018, this wife of an Army officer who, according to her potted bio-data on the NCW site, "has worked extensively on issues impacting women's lives", ought to be squirming. Perhaps she will set up an inquiry against herself soon?
---
Diamonds aren't forever, and neither are two-wheelers 
India's diamond exports have dropped by 37% in six months this year, to their lowest ever since 2009, the year from which data is available. India polishes 90% of the world's rough diamonds, mainly in Surat, Mumbai and Kolkata. And a little nosing about shows that the drop in sales of two-wheelers is far worse than the 38.3% fall reported in the first six months of the year. 
---
Prime number: 73
The retail price of onions per kg in Chennai, as per Union Consumer Affairs ministry data. Currently, it is Rs 51 per kg in Delhi, Rs 65 per kg in Kolkata and Rs 67 per kg in Mumbai. To improve domestic availability and check prices, the government banned the export of onions last month. 

Rising onion prices often reduce governments to tears. As the Bihar campaign hots up, onion prices have shot up by Rs 1,900 to Rs 6,200 per quintal in the nation's biggest onion market in Lasalgaon, Maharashtra. Over 100 income tax officials have swooped down on big traders there to dampen prices and contain any political fallout for poll-bound Bihar, a predictable response from the Modi government which otherwise likes to boast of 'reformist' farm laws. Food still dominates the consumption basket of 90% of households, and no one knows this better than politicians. 
---
Dead and buried in Kashmir
The Army claims that its new practice of not handing over the remains of slain Kashmiri militants to their families on the plea of the Covid-19 pandemic, and burying them away from home, has worked in its favour. A senior Army officer has said that the practice has prevented local youths from picking up guns at the janazas(funerals) of militants and will continue. Meanwhile, four militants were killed in two encounters in Shopian and Pulwama districts on Tuesday even as UP CM Adityanath claimed in Bihar that the Modi government's abrogation of Article 370 had assured Pakistan that it can no longer sponsor terrorism on Indian soil.
---
China takes note of Quad, Tibetan exiles, India releases PLA soldier
The war of words between India and China continues. China reminded India of the One China policy, calling the Tibetan government in exile in India "a separatist political organisation" and asked Delhi to refrain from entering into any agreement with Taiwan. Beijing has also "taken note of" India's announcement that Australia will join the upcoming annual Malabar naval exercises with other Quad members, the US and Japan. Meanwhile, India released the apprehended PLA corporal on Wednesday morning, handing him over to the PLA at Moldo in Ladakh.  
---
For your reference
A collector's number of Social Scientist, one year after Jammu & Kashmir lost special status and the state was reduced to two Union territories, with serious international consequences. It is a collection of invited articles that "cover its feudal history, its accession to India, the background to the growth of terrorism and its present predicament. Between them, they provide a wealth of rich material for understanding the travails of the people of Jammu & Kashmir."
---
Op-eds you don't want to miss
Ekram Kabir in the Dhaka Tribune argues that millions of Indians tend to think that Bangladeshis will always remain in their backyard ― always dependent on them, and Bangladesh will remain underdeveloped. How very 1971!
Leah Verghese and Shruti Naik write on how the cases of suspected foreigners are decided arbitrarily and callously by the Foreigners Tribunal in Assam.
If China launches a land offensive, the broader Indian military strategy must be based on defending the land borders and taking the offensive mode in the maritime domain, argues Lt General Prakash Menon (retd).
In recent years, the reputation of Indian official data has taken a beating. The government's reluctance to release unfavourable data is compounded by its inability to cope with new challenges to its quality and integrity. Arjun Kumar, PC Mohanan and Amitabh Kundu give us the data on the data.
Jharkhand may have shown the way to the nation to break the connection between the politics of identity and civil rights. Aijaz Ashraf explains. 
---
Listen up
Sandip Roy speaks to Karishma Upadhyay about her new book on Parveen Babi, the glamorous Hindi film star whose life was turned upside down by her mental health struggles, and discusses how far we've come, or failed to, since then.
---
Watch Out
A fine seminar on the Bihar elections anchored by political scientist Gilles Verniers features close watchers of the election-bound state, posing as well as handling tough questions. Look out for Jeffrey Witsoe's comments (near 1:02:00). His book Democracy against Development: Lower-Caste Politics and Political Modernity in Postcolonial India has aged well. 
---
The 'I's have it
The Times of India, which rents out its paper real estate most efficiently, has pushed the envelope in today's edition, which has a dummy front page with the letter 'i' erased in all copies and headlines. I is the chemical name for iodine, and this is actually a foxy ad for an iodised salt brand, indicating the effect of its absence. 
But the paper balked at deleting the last 'i', and the masthead reads: 'The Tmes of Ndia'. Had every 'i' been deleted, it would have read 'The Tmes of NDA'. 
---
Vegetarian mugger
A crocodile's surprise visit to the Sri Ananthapadmanabha Swamy Lake Temple in Kasargod, Kerala, caught the priests off guard. The mugger is a resident of the temple lake and is reportedly a vegetarian (the fish in the lake don't count). Vegetarianism and the crocodile. Reminds one of a comic book about a great leader's childhood! 
---
That's it for today. We'll be back with you tomorrow, on a device near you. If The India Cable was forwarded to you by a friend (perhaps a common friend!) book your own copy by SUBSCRIBING HERE.