Discover more from The India Cable
India is changing. We help you interpret it. From the founding editors of The Wire — MK Venu, Siddharth Varadarajan and Sidharth Bhatia — and journalists-writers Seema Chishti, Sushant Singh and Tanweer Alam. Editor: Pratik Kanjilal
Over 9,000 subscribers
The India Cable: Reckless Building, Exemptions Behind Chamoli Disaster; PM Detects New Guild of 'Andolanjeevis'
Plus: Caucus works over Indian envoy, Twitter tangles with govt, RSS attacks agri minister, J&K about to exit RS, faceless forces defame India tea, angry Hindus learn that Meena Harris is Hindu
From the founding editors of The Wire—MK Venu, Siddharth Varadarajan and Sidharth Bhatia—and journalists-writers Seema Chishti, Sushant Singh and Tanweer Alam. Editor: Pratik Kanjilal
---
Snapshot of the day
February 8, 2021
Pratik Kanjilal
At least 150 people are missing and seven dead following the breach of a glacial lake at the Nanda Devi glacier in Chamoli district of Uttarakhand, and two hydel stations have been washed away. Climate change and hamfisted development in a fragile ecosystem are understood to be contributing factors, including the construction of roads and dams.  
India has transgressed more often than China along the Line of Actual Control (LAC), but the government does not announce it, Union Minister of State for Transport and Highways and former Army chief VK Singh said on Sunday. The 'admission' is a curious one since China has currently transgressed a broad swathe of territory across the LAC. Suggesting India has the upper hand and that China is the victim may be bravado will only fuel criticism of the government's handling of the crisis. Nine rounds of talks with China on East Ladakh have taken place, but the national security establishment estimates that "the PLA is undertaking fresh deployment and relocation of both troops and heavy equipment in all the three sectors with fresh constructions of revetments in the finger area of Pangong Tso."
Jammu and Kashmir is about to lose its representation in the Rajya Sabha after the retirement of four members from the erstwhile state in the next few days, but 4G mobile internet is back in Kashmir. Some are calling it the Rihanna Effect. The internet is back at the Delhi border, too, after repeated blackouts since Republic Day, but service is patchy. Volunteers describe how the news travels, often by motorcycle. Riders shuttle to reliable hotspots and points where locals have given public access to their wifi, uploading pre-recorded press conferences and bringing back the news of the day. The organisers also distribute 5,000 copies of the Delhi papers.  
While the US Department of State and numerous politicians and celebrities overseas have spoken up for the importance of protest for democracy, the Prime Minister is determined to swim against the current. Twitter CEO Jack Dorsey has been frowned upon by the government for 'liking' protest-related tweets. And in his reply to the Motion of Thanks on the President's address, the Prime Minister has spoken of a third category of professional citizens ― "andolanjeevis", who make a living from protest. He declared that this is a new cabal, very different from the shramjeevis and buddhijivis (those who make a livelihood from physical or mental work) who have served as the backbone of Indian society. He also spoke of a new kind of FDI ― "Foreign Destructive Ideology". The PM is famed for his ability to construct acronyms as solutions for everything, but deconstructing them is just as much fun.  
Something is brewing in the hills. Confused about whether to bat for Assam tea or Darjeeling as Assam and West Bengal go to the polls together, and the BJP has nothing much to offer either, PM Modi in an extraordinary statement told a rally in Assam of a "conspiracy hatched abroad to defame Indian tea". This is on par with Donald Trump's extraordinary conspiracy theories when he was in office. The difference is in the media coverage in the US and India. That's driven home by Marty Baron, outgoing editor of the Washington Post:
"The idea of objectivity ― I should make clear ― it's not neutrality, it's not both-sides-ism, it's not so-called balance. It's never been that. That's not the idea of objectivity. But once we do our reporting, once we do a rigorous job and we're satisfied that we've done the job in an appropriate way, we're supposed to tell people what we've actually found. Not pretend that we didn't learn anything definitive. Not meet all sides equally if we know that they're not equal. It's none of that. It's to tell people in an unflinching way what we have learned, what we have discovered."
Meena Harris is Hindu, angry Hindus are discovering. "Dude, I'm Hindu. Stop using religion as a cover for fascism," she responded on Twitter, in a sharp rebuke to rabid trolling for her tweets in support of Indian farmers. Contrary to their belief that they could browbeat her into silence, the US V-P's niece is giving it back to the bhakts. 
India will have a lot of cleaning-up to do after the mishandling of the farmers' protest. In a sharply worded editorial, the Washington Post equates Myanmar and India on internet shutdowns. Myanmar has just witnessed a military coup. Here, troll-powered machismo and state violence have backfired. Jerry Dyer, Mayor of Fresno, California, is being thanked for supporting the farmers' protest in India. A promo for the agitation was aired during the Superbowl in some states.
---
India's friends in Washington concerned about Indian democracy
After the US State Department spoke its mind, it was the turn of the senior leadership of the India Caucus, the largest country-specific caucus in the US House of Representatives, to remind the Modi government that "norms of democracy" should be maintained and the protesting farmers should be allowed to demonstrate peacefully, with access to the internet and journalists. Congressman Brad Sherman, Co-Chair of the Congressional India Caucus announced on Twitter that he convened a meeting with the Republican Co-Chair Congressman, Steve Chabot, and Vice-Chair Congressman Ro Khanna to speak with India's Ambassador to the US, Taranjit Singh Sandhu, regarding the widespread farmers' protests in India. Sandhu ducked queries about what India's closest friends on the Hill told him, only saying that they discussed "varied issues".
A year ago, Foreign Minister S Jaishankar boycotted a House Foreign Affairs Committee because its comments on Kashmir constituted external interference, but now, Sandhu has heard the Caucus without demur. While Canadian PM Justin Trudeau's statement on the farmers' protests earned his Ambassador to India a formal demarche, the Modi government has meekly "noted" the US State Department statement stressing that peaceful protests are the hallmark of democracy. Strident responses were reserved for tweets by Rihanna, Greta Thunberg, Mia Khalifa and Meena Harris, including an FIR by the Delhi Police. Incidentally, nearly three weeks after he took over as US President, Joe Biden is yet to call PM Modi or talk about India. All we hear is the hollow echo of "Abki baar, Trump Sarkar".
---
Twitter tangles with government again
The Central government has asked Twitter to remove "1,178 Pakistani-Khalistani accounts spreading misinformation and provocative content about farmers' protests. Twitter is yet to completely comply with the orders. Earlier, the platform had not given the government any satisfaction, refusing to "withhold" some accounts and content from access in India beyond a few hours. Now, apparently, the 'liking' of certain tweets by Twitter CEO Jack Dorsey has been frowned upon.
Twitter's public policy director in India Mahima Kaul recently resigned. A LinkedIn ad shows the company is seeking candidates for the key government relations position. Twitter confirmed the resignation, saying that Kaul would stay on through March and was helping with the transition. It is not clear how her exit relates to the current standoff with the government, at all, but that hasn't prevented folks on Twitter from speculating – and trending the hashtag #MahimaPleaseDontGo.
---
Apathy causes Uttarakhand's disasters
A portion of the Nanda Devi glacier broke off in Chamoli district and triggered an avalanche and a deluge in the Dhauli Ganga, Rishi Ganga and Alaknanda rivers, all tributaries of the Ganga, and caused large-scale devastation. Two power projects, Tapovan-Vishnugad and Rishi Ganga were extensively damaged. There were fears of flooding downriver and ghats were cleared in Haridwar, but no further damage is anticipated.
Building and construction work unmindful of ecological consequences caused devastating floods here in 2013, but the government has been uncaring. When Narendra Modi laid the foundation for a 900 km highway project and Char Dham Pariyojana in December 2016, he dedicated it to the flood victims, ignoring the consensus among environmentalists that over-construction had exacerbated the 2013 tragedy. The Supreme Court had intervened to reduce the damage wrought by the project, but it remains silent about the illegality at its core. A report published in 2019 said that climate change had accelerated the melting of glaciers. Scientists, experts, conservationists and activists have pointed out the apathy of the government about anticipating and preventing natural disasters in Uttarakhand.
---
Government reaps bitter harvest as farmers plant flowers
On Sunday, the farmers at Delhi's borders completed 75 days at the barricades. A series of Kisan Mahapanchayats across caste groups in Charkhi Dadri in Haryana and in Amroha in UP on the weekend kept up the pressure on the central government, which had hoped that debates in Parliament (the Congress agreed to one in the Rajya Sabha) would bring relief. Scenes like this and this in Shamli, in UP, just before panchayat polls, are causing great discomfort in the BJP. An RSS leader has actually attacked Agriculture Minister NS Tomar ― Raghunandan Sharma said that the "arrogance of power had gone to his head". The MNS's Raj Thackeray, now supportive of the BJP, castigated the Centre for fielding Bharat Ratnas, and even Lata Mangeshkar and Sachin Tendulkar, in a Twitter campaign not against "China nor Pakistan", but "our own Kisans". That they all got trolled added insult to injury.
Farmers have been sowing plants and flowers across the divide from where the government has embedded spikes and nails in the highways. At least 21 protesting farmers have gone missing since January 26, when a Republic Day tractor rally ended with violent clashes between the Delhi Police and protesters, leaving their families in despair. Farm unions have approached the India head of the United Nations Human Rights Commission (UNHRC).
---
Faruqui free, and low-key
Munawar Faruqui, the stand-up comic who has been in Indore Central jail for 36 days for a joke he did not crack, finally walked out of captivity on Saturday night. He said he has "full faith in the judiciary". He was freed a day after the Supreme Court granted him bail in a case for allegedly hurting religious sentiments, and also stayed a production warrant from UP demanding his custody. A Supreme Court judge, believed to be Justice Rohinton F. Nariman,  had to make a late night call to the judicial magistrate to execute its order. A former home minister also had to speak out against the reluctance of the Indore jail to comply with the Supreme Court directive.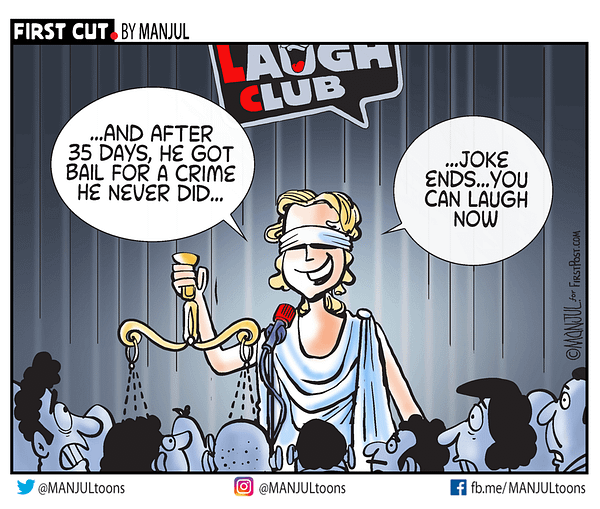 ---
Terror charge for father who alleged 'fake 'encounter' killed his son
The Jammu and Kashmir Police has booked seven people, including the father and family members of a minor who was killed in an alleged "gunfight" in Srinagar on December 30, 2020, under the Unlawful Activities (Prevention) Act (UAPA) for "organizing illegal processions under criminal conspiracy". "The police told me to stop talking to the media and to forget whatever has happened," the father, Mushtaq Ahmad Wani told The KashmirWalla, "and to shut my mouth".  On December 30, 2020, three persons were killed in an alleged gunfight in Srinagar's outskirts in Lawaypora. Their families later protested outside the Police Control Room in Srinagar, claiming their sons were innocents. Since then, the police in a series of statements have maintained that the trio had links with militants. However, the families continue to demand the bodies of their kin, who were buried in a discreet graveyard in Sonamarg, central Kashmir.
The New York State Assembly has passed a resolution calling on Governor Andrew Cuomo to declare February 5 as Kashmir American Day. The resolution states, "the state of New York endeavours to champion human rights, including the freedom of religion, movement and expression for all Kashmiri people, which are embedded within the US Constitution, through the recognition of diverse cultural, ethnic and religious identities". India has responded: "We note with concern the attempt by vested interests to misrepresent the rich cultural and social mosaic of Jammu and Kashmir to divide the people."
---
The Long Cable
In Uttarakhand, exemptions and irregular approvals paved way to disaster
Manju Menon and Kanchi Kohli
The morning of February 7 brought news of massive flooding of the Alaknanda and Dhauliganga rivers in Chamoli district of Uttarakhand reportedly caused by an avalanche or a glacier outburst. Many are dead or missing. Chief Minister Trivendra Singh Rawat prioritised the rescue and relief operations and said that the damage to hydropower dams under construction and other public and private property will be ascertained later.
The Himalayan peaks are known as the water towers of Asia and have attracted a lot of scientific attention in recent years in relation to global warming. Although experiences of climate change in the Himalayan region are widespread, India's developmental and environmental policies for the Himalayas barely recognises sudden, uneven and unpredictable fluvial changes due to climate change and their consequences to mountain ecologies and livelihoods. That is because the bulk of our climate and energy policy discussions still centre on reducing carbon emissions from fossil fuel use, and these discussions are in the air, metaphorically speaking.
Climate change has already affected global water cycles and rendered our available hydrological data wholly irrelevant in predicting new flows. Unpredictability puts paid to the usual "risks versus rewards" framework that we use in economic decision-making on infrastructure building and development projects. How can we do this if our past understanding of natural systems is useless for foreseeing the future? Our country consistently tops the list of disaster displacement in Asia.
The Himalayan region has been turned into what have been called "technological hydroscapes". There is large-scale quarrying of river beds, blasting, tunnelling, slope-cutting, dumping of excavated debris into river stretches and many activities that have transformed the mountains and rivers. Jayanta Bandyopadhyay refers to India's plans to execute large basin transfers and impoundments in these times as "hydrological obscurantism". He states that the complex hydroecology of the Himalayan river systems poses a great challenge to major engineering works as there are "great knowledge gaps". It is ironic that climate and energy policies have accepted hydropower dams as renewable energy, despite these unpredictable risks.
The central government and the judiciary have locked horns over questions of Himalayan development. While the central government has amended hydropower policies to make it more viable, scientific committees set up by the higher judiciary have suggested "bans" on mountain engineering for dams. These bans could have been seen as an interlude during which to imagine different forms of socio-economic development of mountain regions. However these were lifted for more "business as usual" mega-constructions.
Both court-appointed and government committees have also concluded that several high profile projects of the central government have been pushed through with the help of  regulatory exemptions or irregular environmental approvals. This includes "projects along NH-58 in Chamoli district", part of the Char Dham all-weather road.
Climate change and its impact on regions like the Himalayas show that we can neither go back to the past nor go on as usual. The answer lies in accepting that we are living in a rapidly transforming environment and to deal with these changes, science and politics must engage in meaningful dialogues for survival.
(The authors are environmental scholars at the Centre for Policy Research)
---
Prime Number: 2.9 lakh
Over 2.9 lakh cybersecurity incidents involving electronic banking were reported in 2020, the Rajya Sabha was informed on Thursday, according to information reported to and tracked by the Indian Computer Emergency Response Team (CERT-In). They included phishing attacks, network scanning and probing, viruses and website hacking, he added.
---
US proposes Quad leaders summit, India dithers
The US has reportedly proposed an online meeting of the leaders of the four countries of the Quad ― Japan, Australia, India and the US. But this summit was up to India, given New Delhi's "relatively cautious stance" on the framework, as per Japan Times. India is also the only Quad member sharing a land border with China and outside of US-led security alliances. 
---
Container shortage makes trade expensive 
A shortage of shipping containers for exports and fewer ships docking at Indian ports are pushing up freight rates and trade costs, impacting all export segments. Bulk cargo ships are also in short supply and high marine cost, including berth hire and pilotage, are deterring trade growth. 
State-run ports have moved out of container handling over the last two decades, leaving it to private companies, mostly foreign giants. Among the conventional ports, only New Mangalore and Mormugao are still handling containers. 
---
Deep Dive
What does it mean to be a child of an intercaste union in modern India?
Rohan Manoj in a detailed and very readable account looks at how progeny of inter-caste unions are treated. Which caste are they classified in, and how courts have looked at the phenomenon.
---
Op-Eds you don't want to miss
---
Listen up
Meena Harris's continual focus on freedoms, rights, majoritarian politics and protests in India has put trolls and the Indian state in a bind. Here's where she comes from, and why she stays on the ball ― an interview from before her aunt Kamala Harris was elected vice-president of the US.
---
Watch Out
Decoding India's nutritional puzzles
A conversation between Jean Drèze and C Rammanohar Reddy on 'Hunger and Public Inaction'. Recent evidence points to multiple concerns and puzzles related to food security and child nutrition in India. Child nutrition indicators have fallen behind those of other South Asian countries, including much poorer ones like Bangladesh and Nepal.
---
And you thought vegetarianism is cheaper
Bihar's Aurangabad district is growing hops shoots or Humulus lupulus. Traditionally used to make beer, it is also valued for medicinal properties, and even as a food. In fact, it's the world's most expensive vegetable ― at up to 1,000 Euros per kg, it is costlier than silver. Read more here (in Hindi).
---
That's it for today. We'll be back with you tomorrow, on a device near you. If The India Cable was forwarded to you by a friend (perhaps a common friend!) book your own copy by SUBSCRIBING HERE.