Discover more from The India Cable
India is changing. We help you interpret it. From the founding editors of The Wire — MK Venu, Siddharth Varadarajan and Sidharth Bhatia — and journalists-writers Seema Chishti, Sushant Singh and Tanweer Alam. Editor: Pratik Kanjilal
Over 9,000 subscribers
The India Cable: Hathras Fallout and Big Data Meets Bigger Data
MSP myths; India-China-Pakistan triangle; HIB limits and more.
From the founding editors of

The Wire

—MK Venu, Siddharth Varadarajan and Sidharth Bhatia—and journalists-writers Seema Chishti, Sushant Singh and Tanweer Alam.




Editor: Pratik Kanjilal
---
Snapshot of the day
October 8, 2020
Pratik Kanjilal
While both Republicans and Democrats fish for the PIO vote, protectionist restrictions on H-1B visas threaten the jobs of Indian coders in the US, whose employers will have to prove that American workers can't code as well, and might just bid them namaste. In India, Russia's  Sputnik V vaccine programme stands delayed because the drug regulator has refused to allow it to go directly to a Phase 3 trial. Yogi Adityanath's government is still trying to paper over its controversial handling of the Hathras rape and murder by sniffing for international conspiracies, while NRIs in London say that those efforts are making India a laughing stock. Dalits overseas, in particular, are appalled. And a Dalit in India is rapping against rape culture. 
Governments are spending much of their time fighting farm fires ― even defence minister Rajnath Singh finds himself embattled ― while the myth that most farmers do not use the MSP system has been busted. Rajnath had his hands full already ― disputes over heights occupied by Indian forces in Ladakh continue, the PLA has increased patrolling off Arunachal Pradesh and is conducting joint exercises with the Pakistan army.  
Indian and American data giants have begun to jockey for control of the world's second-biggest market, moving much faster than the regulators. Former CBI director Ashwani Kumar, who had steered the Aarushi Talwar and Sohrabuddin probes, has been found dead at home, suicide is suspected. And cinemas will open from October 15 with every other seat vacant. But what will they show? 
---
Death in Shimla
Former director of the Central Bureau of Investigation and former Governor of Nagaland Ashwani Kumar was found dead at his home in Shimla. Kumar, 70, had led an investigation into the killing of a young girl, Aarushi Talwar, at her home in Noida in 2006, and his team had accused her parents of the murder. Some reports claimed that Kumar had written a suicide note.
He had also investigated an alleged scam in the preparations for the Commonwealth Games. During his tenure as director, the CBI had filed a chargesheet against current Home Minister Amit Shah in the 'encounter' killing of gangster Sohrabuddin. 
---
GDP shock

More bad news for India. GDP is forecast to plunge in 2020-21 by 9.6% ― revised further down since June from a 3.2% drop. This  reflects the impact of the national lockdown and the income shock experienced by households and small urban service firms, the World Bank said in its latest assessment.
---
Hathras fallout
The UP government refuses to undo its 'iron fist in an iron glove' approach, which has clearly not worked so far. The family of the 19-year-old woman who was raped and brutalised in Uttar Pradesh's Hathras last month, causing her death a fortnight later, has filed a habeas corpus petition in the Allahabad high court accusing the district administration of illegally confining them in their house.
The BJP's search for preposterous conspiracy theories to deflect attention from  the UP CM's handling continues unabated, as captured by The Hindu's cartoon. Now, "sources" in the Enforcement Directorate have "hinted" and "allegedly found" (note the words) that there was foreign funding of Rs 100 crore, but it is further probing the actual sources of these funds and the real purpose behind them. This is perhaps an attempt to somehow justify the arrest of a Malayalam journalist and three others, who were held on their way to Hathras under the UAPA, a stringent terror law. UP Police has also accused them of running a website that would inculcate "anti-national" feelings in the youth. While journalists have been threatened with UAPA in Kashmir before, this is perhaps the first time a reporter has actually been arrested under the anti-terror law.
Suraj Yengde, a post-doctoral fellow at the Harvard Kennedy School and a Dalit thinker, told Al Jazeera  that "the 'Hindu Rashtra' (Hindu Nation) concept of the RSS and its allies is to keep the lowest caste permanently locked in their status. There cannot be a Hindu Rashtra without Dalits at the bottom. How does one justify the deafening silence of Hindus on the rape and murder of a Dalit Hindu by dominant caste Hindus? Hindu is a folly and fake concept". IIT Mumbai sociologist Suryakant Waghmore says the 'Valmikis of Hathras and India are up against Hindu democracy'.
Hardik Patel, Amit Chavda and other Gujarat Congress workers were detained ahead of the Pratikar rally, which was scheduled to be held from Kochrab Ashram in Paldi to Sabarmati Ashram. It was called by the Gujarat Congress to demand justice for the Hathras woman.
---
H-1B protectionism
Notwithstanding "Howdy" and "Namaste" charm offensives by Modi directed at US President Donald Trump, Washington  has announced new restrictions on the H-1B non-immigrant visa programme which will have implications for "thousands of Indian IT professionals." "So companies and agencies which hire workers on H-1B visas will have a tough time proving to the immigration agencies that such employees are not available from the domestic pool of US workers."Indians have received over 70% of the H-1B visas handed out over the last few years.
---
MSP myth called out
Farmer organisations have rebuffed the Centre's offer for talks. Agriculture Secretary Sanjay Agarwal had invited protesting and angry farmer groups for talks on October 8, but at a meeting of nearly 30 farmer outfits, the olive branch was spurned, as the "government's approach seems to be non-serious towards our concerns."Instead, they resolved to intensify their stir over the next week to increase pressure on the Punjab state government to overturn the farm laws in the state assembly by October 15. 
Harish Damodaran demolishes the prevalent myth that only 6% of farmers benefit from the Minimum Support Price procurement system. His calculations show that the existing MSP/assured price system covers over 25 million farmers across all crops, including pulses and oilseeds. The actual number could be anywhere between 15% and 25%.
PM Modi found it necessary, in a series of Hindi tweets, to assert that the welfare of the poor was paramount for him. He said that since his childhood he has believed in janta-janardan ―  the people are a manifestation of God. The Ministry of Defence ministry put out a press release along with pictures of the defence minister meeting farmer leaders in his office, along with the agriculture minister.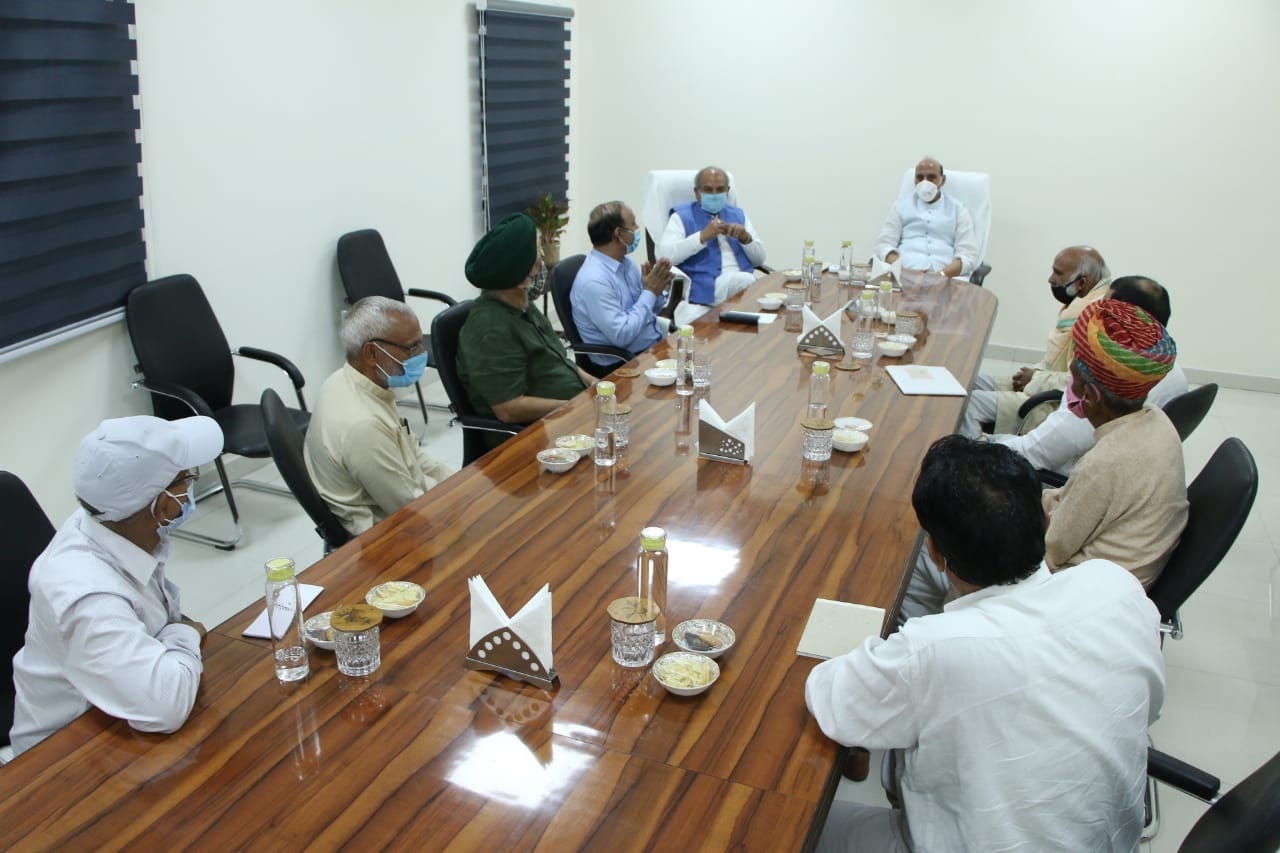 ---
No cutouts stand in this election
Elections in Tamil Nadu, due in six months, will be the first in many decades in the state without a towering personality in either of the two Dravida parties, following the deaths of J Jayalalithaa and M Karunanidhi. The incumbent AIADMK has been particularly troubled by differences among the many claimants to Jayalalithaa's legacy. Some cohesion was achieved when "burying differences, AIADMK coordinator O Panneerselvam (OPS) on Wednesday announced incumbent Edappadi K Palaniswami (EPS) as the party-led alliance's chief ministerial candidate" for the state Assembly polls.
The central agencies continue to dog the late CM's close aide Sasikala, currently serving a jail sentence. Two significant residential properties owned by her and her relatives were attached by the Income Tax department.
---
Sputnik V India launch delayed
The Central Drugs Standards Control Organisation, the Indian drug regulator, has rejected a proposal to conduct a direct Phase 3 clinical trial of the Russian Sputnik V coronavirus vaccine. It has instead "advised the promoters of the vaccine [in India, the Hyderabad-based Dr Reddy's Laboratories] to carry out a Phase 2 trial on Indian subjects first, to check immune responses triggered by the vaccine before going ahead with Phase 3." It has stated that the early human trial's sample size was too small. 
---
NIA fails to strike gold in smuggling case
In Kerala, the court on Wednesday asked the NIA for the third time whether there is enough evidence that gold smuggled through diplomatic channels was for financing terrorism. The question was posed to NIA while considering the bail plea of eight accused. The judge said, "I have no doubt that the case is of a serious nature. However, is there enough evidence that the gold was brought in for financing terrorist activities? I did not find such an aspect while going through the Case Diary."
The court also asked why evidence collection was not completed despite investigating for 85 days. It also questioned the use of UAPA in a gold smuggling case, and asked why it was assumed that gold was not smuggled for financial benefit. The NIA had no answer but to say that it needed to investigate further.
---
Prime number: 21
The BJP has the lion's share of 

lawmakers with cases of crimes against women

 ― 21 out of 76 MPs and MLAs. Among the states, at 16, West Bengal has the highest number of MPs and MLAs with declared cases of crimes against women, followed by Odisha and Maharashtra with 12 lawmakers each.
---
In high places
History doesn't repeat itself, it only rhymes. From 1962 to 2020, poorly prepared Indian troops served on the border with China. An intelligence assessment submitted to the MoD and the Prime Minister's Office in September highlighted that in the border areas of Ladakh, operational and tactical preparedness ― pertaining to habitat and soldier sustainability ― were inadequate for soldiers deployed at high altitude posts they had held on the southern bank of Pangong Tso since late August.
Though the Army has fixed the vulnerabilities now, this has significance going into the next round of military talks with the PLA on October 12. The PLA has been demanding that Indian troops first vacate these heights, occupied since late August, and if intelligence agencies assess that the Army is vulnerable and unprepared to stay at these heights in Chushul, the government may ask the troops to vacate and hope for a reciprocal response from China in other areas of Ladakh. Meanwhile, there is a new headache for India on the border in Arunachal Pradesh, where China has increased "the frequency of recce surveillance of passes along the Line of Actual Control opposite Manigong sub-sector, Siyom sector and Western RALP (Rest of Arunachal Pradesh) by employing civilians."
---
China-Pak Bhai Bhai
Ever since the border standoff between India and China began in May, military and economic cooperation between China and Pakistan has been on the rise. Chinese troops are conducting joint patrols with Pakistan's army in Pakistan-occupied Kashmir, and Beijing is helping to set up multiple surface-to-air missile launch sites and a missile defence system in the region, an unnamed Intelligence Bureau official has told The Telegraph, citing an official report. The intelligence report also spoke of joint reconnaissance exercises between Chinese and Pakistani troops in forward PoK locations such as Deolian and Jura. In his annual press conference on Monday, Indian Air Force Chief RKS Bhadauria said that there was nothing to suggest a "collusive threat", but highlighted the joint exercises.
And the Ministry of Defence has removed from its website all monthly reports since 2017, after it had taken down a monthly report of June 2020 which spoke of "unilateral aggression" by China in Ladakh.
---
Conspiracy to prove conspiracy
A new series on Scroll.in examines the claims of the Delhi Police in its 17,000-page report on the alleged "conspiracy" to foment communal violence in Delhi, in the course of the protests against NRC and CAA. Stories and interviews with people who were picked up, questioned and allegedly coerced by the Delhi Police to support their conspiracy theories, trace the dimensions of this project. Follow this Twitter thread, which references the reports as they appear.
---
India cottons on
Premium Indian cotton will now be known globally as 'Kasturi Cotton'. The brand "will represent Whiteness, Brightness, Softness, Purity, Luster, Uniqueness and Indianness." India is the second largest cotton producer and the largest consumer of cotton in the world. It produces nearly one-fourth of the world's output. 
---
But what's showing?
An important question has been raised about what cinema halls in India will play when they reopen on October 15. Mumbai is yet to talk about reopening, despite the Centre giving the go-ahead. Trade analyst Joginder Tuteja doesn't expect any major releases. "I foresee Tanhaji ― the Unsung Warrior, Baaghi 3, Angrezi Medium, Dil Bechara getting a release. They were popular on OTT platforms, and the money they get from theatres will be a bonus."
---
Big data meets bigger data
MK Venu
Regulators around the world haven't fully woken up to the deleterious impact of big data oligopolies who already threaten to dominate and guide consumer behaviour at every level. A casual phone conversation with a friend on your colour preference comes back at you in the form of an offer from an online retailer at 30% discount. In India, we are seeing the real possibility of a big telecom giant like Reliance Jio working via strategic partnerships with the likes of Facebook and Google to gain near-total control over data on 500 million Indian consumers.
A Democrat-led US House of Representatives panel has investigated big technology monopolies like Amazon, Apple, Google and Facebook for 15 months for abuse of market dominance. It has decided to make sweeping changes to antitrust laws not seen in 50 years. This will have significant effects internationally because tech giants operate seamlessly across geographies. The implication for India is that, willy nilly, it may have to take note of what Google, Facebook and Amazon do here. 
In India, they are mostly collaborating with the monopolistic Reliance Industries, which has a presence in data, retail trade and technology, though Amazon and Reliance are also quarrelling. Experts reckon that Reliance Jio is trying to emerge as a single gateway for consumer wallets for everything from daily groceries, to media, entertainment and sundry other services.
Reliance Jio recently received strategic investments from Facebook and Google. Mukesh Ambani said the Facebook collaboration would help Reliance Jio, which has the largest telecom infrastructure and broadband network, to gain intimate knowledge of 400 million WhatsApp users available with Facebook. This is nothing but big data meeting bigger data. Reliance Jio has 300 million phone subscribers and WhatsApp has 400 million users. Reliance Jio's aim is to gain intimate knowledge of 3-5 million retail shop owners who use WhatsApp, and then make these grocers soldiers in the Reliance retail army. Google will collaborate with Reliance to manufacture and market about 200-300 million cheap smartphones to replace feature phones used by the relatively poor. India is the only country where Facebook and Google have come together to work with one entity.
India's Competition Commission has flagged the possibility of abuse of dominance in the data and digital space in the future, but it is yet to act. Post facto, this may be difficult to do. Meanwhile, Reliance Industries is consolidating its dominance in the online and offline retail space, aiming to control the behaviour of the bulk of retailers and consumers. It recently bought one of the largest brick and mortar retailers, Kishore Biyani's Future Group.
Amazon has sent Reliance a legal notice. It had invested earlier in Future Group, with the condition that it would have first right of refusal in the event of a sale. Reliance Industries knows that it cannot trifle with the global retail giant. Recently, Reliance also made a huge offer to buy out Amazon's India business. Amazon hasn't responded yet, but may do a deal with Reliance to control the consumer's wallet jointly. 
The elephants have just begun their fight. What will happen to the little creatures in the grass?
---
Significant Opeds
In 'Using Facts to Hide Underlying Truths', CSDS political theorist Rajeev Bhargava analyses the political discourse on the Hathras case. It's in the grand tradition of the philologist Victor Klemperer's Language of the Third Reich.  
In Foreign Affairs, Sushant Singh (a contributor to this newsletter) writes of 'Modi's Himalayan Dilemma', a difference of opinions at the border which has turned into an intractable political, diplomatic, and economic challenge for the PM, as he finds that he can neither advance nor retreat.

James Manor writes in The Wire that British Chancellor of the Exchequer Rishi Sunak saw first-hand the manner in which Infosys Foundation – run by his in-laws – was unfairly targeted, until Narayana Murthy stopped making critical comments about the Modi-Shah regime.

---
Watch out
Bhasha Singh has run a special on Newsclick on the NRI community's response to the Hathras outrage in the UK and US. For the first time ever in London, the Valmiki community took the lead in organising protests, along with other Dalit, women's and diaspora organisations. They were unfortunately denied police permission at the last minute. An interview with Amrit Wilson of the South Asia Solidarity Forum suggests that a number of NRIs are deeply concerned and feel disgraced: "They've made India a laughing stock." And they find Adityanath's search for an international conspiracy absurd: "We all know that it's fake; they just want an excuse to throw some people in jail." 
---
Listen up
Dalit rapper Dule Rocker, who has also sung about the farmers' agitation, turns his anger on rape culture. Let's shut up now. Jack in, and listen.
That's it for today. We'll be with you again tomorrow, on a device near you. If The India Cable was forwarded to you by a friend (perhaps a common friend!) book your own copy by SUBSCRIBING.
---
From the founding editors of The Wire—MK Venu, Siddharth Varadarajan and Sidharth Bhatia—and journalists-writers Seema Chishti, Sushant Singh and Tanweer Alam. Editor: Pratik Kanjilal