The India Cable: Why Bihar Counts, and Hathras Whistleblower Doesn't
Plus: Australia joins Malabar, Sethupathi withdraws from 800, PV Sindhu from Olympics camp, Mistry mystery is afoot, and in Goa, activists receive porn from minister
From the founding editors of The Wire—MK Venu, Siddharth Varadarajan and Sidharth Bhatia—and journalists-writers Seema Chishti, Sushant Singh and Tanweer Alam. Editor: Pratik Kanjilal
---
Snapshot of the day
October 20, 2020
Pratik Kanjilal
India will repatriate the Chinese corporal who strayed into Indian territory, allegedly in search of lost yaks, and invites Australia to join navies of the other Quad nations in the Malabar Exercise next month. US Secretary of State Mike Pompeo will be in Delhi on October 26-27 for the 2+2 meet of defence and external affairs ministers, before visiting Sri Lanka and the Maldives. The India-US Basic Exchange and Cooperation Agreement (BECA) may be concluded before that, giving India access to US satellite data for more accurate systems management and weapons targeting. What this is in 'exchange' for is not clear.  
Days after West Bengal Chief Minister Mamata Banerjee recklessly promised all-night transport for shuttling crowds to Durga Puja pandals, the Calcutta High Court says that pandals will be barricaded no-go zones, for fear of spreading infection. 
BJP president JP Nadda has promised that the controversial and divisive Citizenship (Amendment) Act will be implemented soon. And while the GST flashpoint is defused after the Centre agreed to borrow to cover the shortfall in the states' share, Kerala clarifies that the entire amount must be borrowed at once as Centre-states relations worsen on other contentious issues.  
The Delhi High Court has demanded Zee News reveal the source of the leak of a statement made by a student in custody in connection with the Delhi violence in February. The court said the leak was made to "sensationalise the issue". It has promised vigilance proceedings against the police officers responsible. 
Vijay Sethupathi has pulled out of the film 800 on Muttiah Muralitharan, with the Sri Lankan cricketing icon whom he was to play himself saying that the political fallout would derail his career. MS Dhoni became the first cricketer to play 200 IPL matches. He said it was "just a number". Speaking of numbers, GST and customs duty in India are so high that flying to Dubai for a weekend trip and buying an iPhone 12 Pro (256 MB) is cheaper than buying the same handset in India.
---
Covid-19 optimism misplaced
There were 46,790 fresh Covid-19 cases in India this morning and the death toll is now 1,15,197, with 587 deaths added since yesterday. At least half of India's 1.3 billion people are likely to have been infected with the SARS-CoV-2 virus by next February, according to a Central government expert committee whose "mathematical model estimates that around 30% of the population are currently infected". This is over double of what the government's serological surveys reported, around 14%. But independent experts have pilloried the committee for suggesting that Covid-19 will run its course by February, and for claiming that the Modi government had timed the world's harshest lockdown perfectly. There is concern over the mathematical model being taken too literally. 
More warning signs: Dr Poonam Khetrapal, regional director of WHO Southeast Asia, sounded a warning about the festival season and the onset of winter: "There should be no complacency in view of the declining numbers in recent weeks. The region still reports large numbers of COVID-19 cases." Two studies from Harvard University and another from Cambridge University show that pollution compounds Covid-19. Air quality in northern India is tanking already as stubble-burning begins. 
---
Hathras case: Hospital whistleblower terminated
Dr Azeem Malik, a temporary chief medical officer at the Aligarh government hospital who publicly poured cold water on the Uttar Pradesh Police's claim that the Hathras victim had not been raped, has been told his services are no longer required. The temporary nature of his appointment is the fig-leaf for what doctors say is punitive action. Dr Malik had drawn attention to the fact that forensic samples were taken from the victim 11 days after the crime and that the absence of semen was only to be expected, given this delay. The UP Police continues officially to insist that the forensic report established that the woman was not raped.
---
Can we see some more ID?
In his keynote address to the Grand Challenges Annual Meeting, promoted by the Bill and Melinda Gates Foundation, Prime Minister Modi said that a new health ID will be deployed to ensure complete vaccination against Covid-19 in India. Led by the National Health Authority (NHA), which implements the Ayushman Bharat health coverage scheme, the National Digital Health Mission has been in the works for two years, and aims to record every contact with clinics, and every prescription issued. But already, there are privacy and data security concerns, like when Aadhar was launched. 
---
Quad navies' Malabar exercise 
As India plans the conciliatory move of returning Chinese corporal Wang Ya Long who had inadvertently crossed the LAC ― the PLA claimed that he was helping herders find lost yaks ― to the Indian side in Ladakh, Delhi made a more confrontational gesture in the form of the much-awaited announcement that Australia will be part of the annual Malabar naval exercise next month. This brings the four Quad members ― India, US, Japan and Australia – together militarily for the first time since 2007, which has already raised Beijing's hackles about an Indo-Pacific NATO.
---
Goodbye, tata to India
Indians are leaving the country in large numbers. After the Chinese, Indians constitute the largest number of immigrants to OECD countries, which include the US, Canada, Australia, Europe and Japan. Most then get citizenship or residency in those countries. In 2018, 330,000 Indians migrated, a 10% rise over the previous year. Meanwhile, in the US, a group of technology consulting firms has filed the first lawsuit challenging the Trump administration for raising minimum salary requirements for foreign professionals, making it tougher to secure H-1B visas. This affects Indians the most. 
---
The Long Cable
'We may draw national lessons from Bihar elections'
Renowned political scientist and commentator Christophe Jaffrelot, a researcher at CERI-Sciences Po/CNRS, Professor at King's College, and President of the French Political Science Association, speaks to Tanweer Alam about the Bihar assembly elections.
Tanweer Alam: Why do you think we should we pay attention to the assembly elections in Bihar?
Christophe Jaffrelot: For three reasons, at least. First, this is the only big state of the Hindi belt that BJP could never win. In fact, the party registered its first major setback in Bihar, five years ago, after the landslide 2014 victory. BJP has not won a clear majority in any state after the UP elections almost four years ago. One may argue that there is no suspense because in 2019, the BJP-JD(U)-LJP coalition won 39 out of 40 Lok Sabha seats with 53% of valid votes. But the CSDS-Lokniti National Election Survey showed that 51% of BJP voters and 28% of JD(U)/LJP voters declared that they wouldn't have voted for the NDA, but for Modi's candidacy for prime minister. So, BJP may register another setback at the state level.    
Second, the JD(U) is the last significant partner of BJP in the NDA, but the JD(U) has changed its mind several times and shifted to other partners, including the RJD. Either the BJP keeps Nitish Kumar happy, if it wants the NDA to remain meaningful, or it shows no interest in the myth that the NDA has become and anticipates the end of Nitish. Modi's BJP is not Vajpayee's BJP: it keeps alienating coalition partners and does not bother. The Shiv Sena left the NDA in 2019 and the SAD in 2020. And now, there is only one non-BJP minister in the central government, Athavale…
Third, the Bihar election is the first electoral test in a state badly affected by the Covid-related economic crisis. According to the CMIE, last spring, the state's unemployment rate was 20 percentage points above the national average, over 46%. Besides, remittances of migrant workers were most significant here ― more than one-third of revenue ― and most workers are now back to their villages… Will Biharis hold the central and state governments responsible, or are Narendra Modi and Nitish Kumar above accountability? We may draw national lessons from these provincial elections.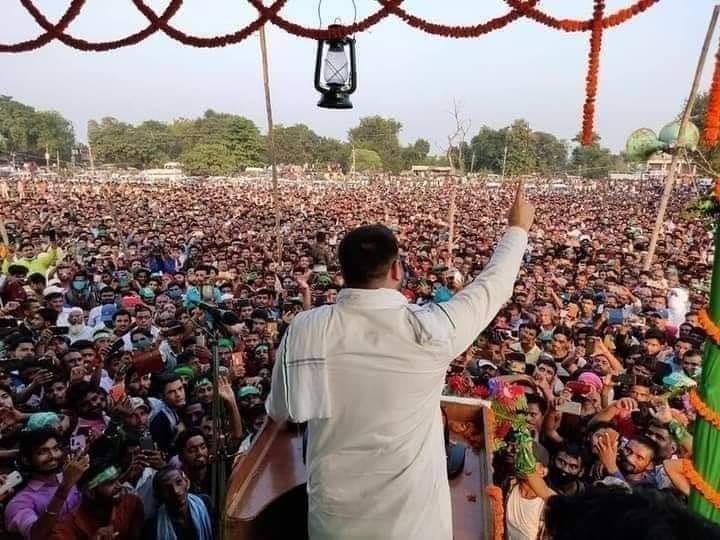 RJD leader Tejashwi Yadav at an election rally. Photo: @RJDforIndia on Twitter
TA: Does caste still matter in elections, particularly in Bihar?
CJ: Caste still matters, but in Bihar, in 2019, according to the CSDS-Lokniti National Election Survey, 65% or more of all caste groups supported the NDA: upper caste, 65% (because of the BJP), Koeri-Kurmi, 70% (because of the JD(U)) and 76% of the SCs (because of the LJP). Only the Yadavs voted en masse for the UPA, at 55% (because of the RJD).
But the role of caste must be qualified. First, class plays a role too: whereas 80% of the 'rich' Yadavs voted RJD in 2019, only 38% of the poor did, as if only those who had benefited from the Laloo Prasad regime between 1990 and 2005 continue to support his party. The fact that poor Yadavs have supported the JD(U) partly explains why the party has nominated 19 Yadav candidates out of 110 seats this year (against 12 in 2015, when 11 of them won). Out of 243 MLAs, 61 were Yadavs in 2015.
Second, religion also plays a big role in Bihar: in 2019, 77% of Muslim voters supported the UPA and the Muslims-Yadavs coalition may form a formidable core electorate behind the Opposition in some constituencies, representing 30% of the electorate.
In 2020, the role of two parties which did not contest in 2015 will have to be watched closely: Owaisi's AIMIM (which may cut into the UPA vote – and the JD(U) as well as the LJP!) and Azad's Bhim Army (which may cut into the vote of the NDA and the UPA!). In addition to these newcomers, the fact that the LJP has left the NDA but retained its association with BJP means that the party will contest seats against the JD(U) but not against the BJP. The JD(U) will also suffer from the fact that it will face the RJD ― the strongest opposition party ― in a larger number of seats than the BJP.     
TA: Speaking of Muslims, how do political parties find a balance between electoral representation of Muslims and winnability of seats?
CJ: The growing polarization of politics in Bihar, like elsewhere, should dissuade parties from nominating Muslim candidates, as they are a minority. But this state is not as badly affected as others, partly because of the relatively large number of Muslim voters (about 15% of the population) and partly because they are concentrated in a few constituencies (over 40% of the population in 13 Constituencies and over 20% in 25). According to the Ashoka University-Sciences Po SPINPER project that studies the social profile of national and provincial elected representatives, 24.4% of Congress candidates in 2015 were Muslims. This strategy worked rather well for Congress and its allies: in 2015 the number of Muslim MLAs jumped from 19 to 25, including 12 RJD MLAs, six Congress MLAs, six JD(U) MLAs and one CPI(ML).
Again this year, Congress has nominated 10 Muslim candidates out of 41 whereas the RJD has nominated 16 out of its 101 candidates. The JD(U), which cannot ignore Muslim voters either, has nominated 11 Muslim candidates out of 110. But this time, the association of the JD(U) with an increasingly dominant BJP (both parties are contesting the same number of seats this time), may alienate Muslim voters from the JD(U). 
---
Reportedly
Calling attention motion
Nastiness and rabidity are perceived to pay. This could explain Maharashtra Governor BS Koshyari's letter to Chief Minister Uddhav Thackeray, which even Home Minister Amit Shah ― he of "termites" fame ― could not defend in a TV interview. The buzz in Uttarakhand has been that Chief Minister Trivendra Singh Rawat is on his way out. By penning his obnoxious letter, Koshyari, a former chief minister of the hill state, is seen to have sent a message to the BJP leadership ― that he should not be overlooked as a replacement for Rawat. Should we expect more vitriol from the man to strengthen his candidature? Koshiyari wouldn't be the first governor to use this route to return back to active politics. Tathagata Roy, who made outrageous and communal statements as governor Meghalaya, has said he would like to plunge back into the fray in West Bengal as part of the BJP, now that he no longer holds a constitutional post.
---
Businessmen slump
Anil Ambani is not alone in claiming to be down and out. Media baron Subhash Chandra, a Rajya Sabha member elected under controversial circumstances in 2016, and ranked 27th in the Fortune list of Indian billionaires with a net worth of over $4.7 billion in 2018, has declared that his personal assets have slumped to under Rs 9.85 crore in FY20, from Rs 39.07 crore in FY15. 
---
Mistry mystery
Cyrus Mistry, who has no love lost for Ratan Tata, recently wrote to the Modi government complaining that the authorities had tweaked the bidding process for the construction of a new Parliament building to favour the Tatas. But he suddenly withdrew the complaint, prompting Congressman Jairam Ramesh to wonder why. Could someone have nudged Mistry about it being unparliamentary to suggest corruption in the very foundations of a brand new edifice of democracy?
---
Op-eds you mustn't miss
Ajit Ranade argues that a loose monetary policy which seeks to revive the Indian economy is instead worsening wealth inequality. A more prudent response would come from fiscal policy, which can directly inject cash into low income groups, or lead to job creation through government spending on infrastructure or on rural and urban job schemes.
The "inability or reluctance to comprehend the fine print of strategic geography," writes C Uday Bhaskar of India's relentlessly poor assessment of China, combined with "the lessons of history, the abiding relevance of credible military capability and the correlation of these strands to national security, have led to a series of "surprises" that peak with an all too familiar post-crisis Delhi fumble."
Authoritarian leaders like Putin and Bolsonaro have shied away from public debates, but why should Indian citizens be denied the opportunity to probe, evaluate and test the mettle of politicians in the fray, and be content with 'manufactured' perceptions, asks Lt General Bhopinder Singh.
Women, who constitute the majority of frontline health workers, are paying the heaviest price for the pandemic, both socially and in terms of health, writes Patralekha Chatterjee in Amar Ujala today.
Forget about becoming the next China, India must first beat Bangladesh, says Andy Mukherjee. The country needs to generate 8 million new jobs every year, year after year. 
In a close reading of Yogendra Yadav's new book, Making Sense of Indian Democracy, Ramachandra Guha says the political scientist-turned-politician's relentless focus on parties and elections "seriously underplays the role that ideology and organisation play in the making (and unmaking) of Indian democracy."
---
Not cricket: Tamil anger scuppers 800
When actor Vijay Sethupathi said, "Nandri, vanakkam (thank you and goodbye)," there was again surprise at the power of social media to amplify hatred and anger. Sethupathi was signed up to play the spinner Muttiah Muralitharan in his forthcoming biopic 800. But just days later, Murli himself asked him to reject the role and save his career ― Tamil sentiments were hurt since he would depict the life of a Sri Lankan Tamil who is believed to have supported the war waged by the erstwhile Mahinda Rajapaksa regime against the LTTE. Murali is the bowling coach of the IPL team Sunrisers Hyderabad, owned by Kalanithi Maran, who also owns Sun TV and is the cousin of DMK President MK Stalin. Till a day ago, Sri Lankan papers were speculating that the public anger expressed in Tamil Nadu was a publicity stunt for the film.
---
Prime number: 52%
The percentage of farmers who oppose the three farm laws passed by the Modi government, in a face-to-face survey by Gaon Connection with a sample size of over 5,000, three-fourths of whom own less than five acres of land, in 53 districts across 16 states, conducted October 3-9.
---
For the record
If there were an award for very fine nuance in the rough and tumble of Indian politics, it would go to former Karnataka chief minister HD Kumaraswamy for this classic: "I am not soft on the ruling party (BJP), but on the (BJP) government."
---
PV Sindhu decamps
India's badminton sensation PV Sindhu has abruptly left the national camp training Olympic hopefuls for London in what appears to be a huff. She has said she will be away for six to eight weeks to work on her "nutrition and recovery". But the word is that she was tired of being "controlled" and wanted to experience some freedom, this being the first time she has travelled abroad without either of her parents. She will start training soon with the England team. 
---
Listen up
Today, it is exactly 25 years since the release of  director Aaditya Chopra's romantic blockbuster Dilwale Dulhania Le Jayenge (DDLJ), starring Shah Rukh Khan and Kajol. The lead pair will get a bronze statue at Leicester Square in London to mark the anniversary. Crossing continents, DDLJ changed Hindi cinema and popular culture fundamentally. Conservative cool in branded clothes and new NRI concerns made storylines and plots distinctly stronger. Hear this podcast with stand-up comic Hasan Minhaj ― like many Indian-origin people abroad, he thought that the film reflected what 1990s India wanted to be seen as.
---
Watch Out
Centrifugal is a one-minute film which maps a woman's life. Adithya Patel, 19, a film student from Irinjalakuda in Kerala, shot this during the lockdown and is receiving rave reviews. His mother Hena Chandran wrote the script. Adithya focuses on the woman's feet, and they tell the tale of her whole life. No mean feat, attempting to unshackle herself. 
---
In Goa, talk is cheap
Goa Deputy Chief Minister Chandrakar Kavlekar on Monday sent a message with pornographic content allegedly from his mobile phone to a Whatsapp group 'Villages of Goa' run by social activists, of which he is a member. His excuse: he was "nowhere near the phone and fast asleep" when the message was sent.
And the dignity of women continues to be elevated in Madhya Pradesh politics, this time by a BJP minister. 
---
That's it for today. We'll be back with you tomorrow, on a device near you. If The India Cable was forwarded to you by a friend (perhaps a common friend!) book your own copy by SUBSCRIBING HERE.